The Jagannath Temple of Manipur
BY: S.K. MOHANTY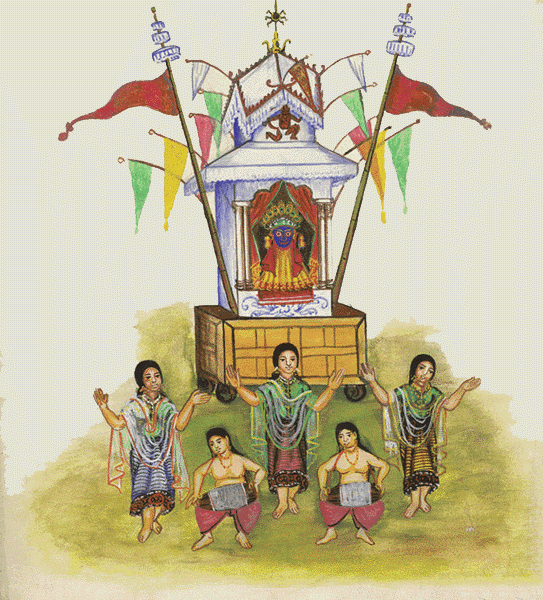 Jagannath Ratha Yatra, Manipur style
Lithograph, c. 1870
Oct 12, 2010 — JAGATSINGHPUR, ORISSA (SUN) —
Not only in Odissa, but 'Jagannath' culture has spread out all over India and the world also. We know it very well that nowadays, some countries are celebrating the Car Festival of Lord Jagannath. Some days back I went to Manipur for some work. Manipur is one of the smallest states in our country, having a population of 23,88,634 as per 2001 Census (provisional record). I spent some days in the hilly and natural areas of Manipur when I saw Bahuda Ratha Jatra of Lord Jagannath in the capital city Imphal.
Lord Jagannath, Lord Balabhadra and Devi Subhadra are being worshipped in Govindji Temple. That temple is divided by two parts. One part is for Lord Jagannath, and another side is for Lord Govindji (Radha Krishna).
The height of this temple is near about 66 feet. Govindji temple's architectural style is different from other temples. The temple looks like a Gambuja, which is neither South Indian nor North Indian style.
The worship of Lord Jagannath was started in 1832, during the reign of King Ganibhir Singh. In the British period, Lord Govindji and Lord Jagannath were worshipped in one temple at Kanglasha, the old capital of Manipur. This new temple was built by king Churachand in the year 1908.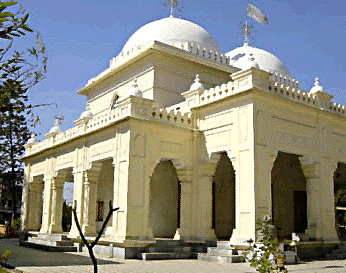 Govindaji Temple, Manipur
The idols of the deities are made of mango wood. According to a worshipper, all idols were made of mango wood by the suggestion of Puri Pandas. One small Jagannath Murti is installed in place of Sudarshan under the three idols of Lord Jagannath, Lord Balabhadra and Devi Subhadra. In Puri Jagannath temple, Sudarshan, is there. But in place of Sudarshan, an idol of Jagannath is being worshipped since long time in Manipur.
A composite animal, the kanglasha, is placed in a kneeled down position under the Ratna Singhashan. That animal has a body of half lion and half dragon, which is the state emblem of Manipur.
Interestingly, the three idols have hands with palms. To my knowledge, Garoi Ashrama at Naugan in the District of Jagatsinghpur is also having such idols of the Trinity, having hands with palms and fingers. I visited some states all over India, but I have never seen palms in the hands of Jagannath idol. This is the uniqueness of Jagannath idols of Manipur.
During the Ratha Yatra (Kangchingba) festival, the Pahandi of Lord Jagannath is very attractive. Thousands of devotees attired with white dress dance in musical tuning. That scene looks very attractive and evokes spirituality in heart and mind, which is beyond description.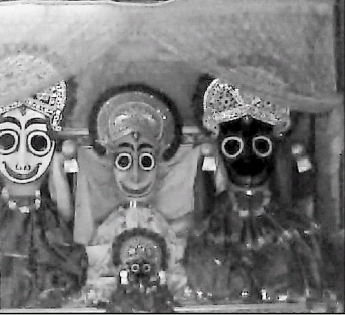 Lord Jagannath, Baladeva and Subhadra, Manipur
When I learned that one Jagannath temple is there in Manipur, before commencement of Rathayatra I went to the temple campus and met some Pujaks and trustee board members for having discussion on Jagannath Culture in Manipur. I came to know about the legend of Jagannath and what is the difference between Puri culture and Manipur culture. When did Jagannath culture get started in Manipur? I asked some basic questions, but I could not get the satisfactory answers.
Then I saw one book on Jagannath Culture, entitled Sri Sri Jagannath Upasana, written by Nabakumar Singh in Manipuri language in Bengali scripts, and two small books available in the trustee board office about Jagannath Culture. I thought, if I will come another time, I will deeply study Jagannath Culture in Manipur.
Santosh Kumar Mohanty lives at Dua, Durga Nivas, Borikina, district Jagatsinghpur. Source - Orissa Review, July 2010. Article edited slightly for readability.


The Sun News Editorials Features Sun Blogs Classifieds Events Recipes PodCasts
Copyright 2005, 2010, HareKrsna.com. All rights reserved.