The Bhu-mandala
Tattva Group

BY: BHAKTIN EMILY NAYHREE

Feb 21, DUBLIN, IRELAND (SUN) —
An Introduction
For decades, ISKCON scientists, Sanskrit scholars and devotees in general have been puzzled by the remarkable and almost unbelievable descriptions of the Bhu-mandala earth disc described in the Fifth Canto of Srimad Bhagavatam, and its incredible dimensions, features, shapes, oceans, mountains, etc. None were able to resolve the obvious differences when compared to conventional modern Cosmology and how our known earth fits in. Many theories were put forth to explain this such as, multi-layered meanings by Sukadeva Goswami, other dimensional landmasses beyond our vision, the miniature duplicate Bharat-varsha idea, etc. But nothing seemed 100% certain and clear and the entire concept has remained an ongoing mystery.
FULL STORY


Romapada Swami
Leave of Absence

BY: SUN STAFF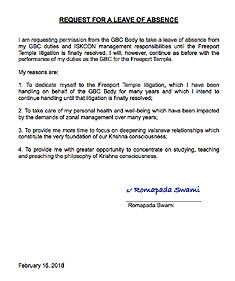 Feb 21, USA (SUN) —
REQUEST FOR LEAVE OF ABSENCE
I am requesting permission from the GBC Body to take a leave of absence from my GBC duties and ISKCON management responsibilities until the Freeport Temple litigation is finally resolved. I will, however, continue as before with the performance of my duties as the GBC for the Freeport Temple.
FULL STORY



BY: PRAHLADA NRSIMHA DAS

Feb 21, FRANCE (SUN) — I heard a little of Prahladananda Maharaja's recent class in Mayapur and what appears, coming from him, to be threats and attempts to intimidate the Mayapur assembly of devotees. That is very often practiced in ISKCON: if you dare to criticize ISKCON's high authorities, your life will be destroyed! Who will not be afraid of that?
Therefore, if those devotees read me, I want to tell them that there is absolutely no harm in having one's own opinion about everything and everyone, including ISKCON's so-called big leaders. Devotees just have to try to build their personal opinion as rightly as possible. And that, on the basis of Srila Prabhupada's genuine books and philosophy, on the basis of what other devotees say everywhere and also on the basis of their own intelligence and intuition which Krsna gives them, mainly through their japa.
FULL STORY


The Science of Congrega- tional Chanting of the Name of the Lord, Part 5

BY: SUN STAFF

Feb 19, CANADA (SUN) — By HDG A.C. Bhaktivedanta Swami Prabhupada, 'Back To Godhead', Jan 1, 1944, Vol. 01 & 04.
Such is the unbounded mercy of the Lord on us but still we are so much wretched that we have no inclination for chanting His Name in spite of His being so easily available for the fallen souls of the Age of quarrel. There is nothing to lose or nothing to spend-but everything to gain by chanting the Name of the Lord but still we have no genuine desire for their chanting and we must see to the causes why we are so much disinclined although the Lord has become so merciful on us.
FULL STORY



BY: PRAHLADA NRSIMHA DAS

Feb 19, FRANCE (SUN) — Every attempt made by ISKCON's media to counter what is often rightly said on other news sites, shows the same usual tactic. A tactic which is also used intra-muros by its leaders: to build myths and to make-believe. And, of course, make-believe makes a very bad couple and wedding with our exact philosophy. On contrary, make-believe absolutely needs the creation of superstition. And superstition goes together with fear and abusive, subtle intimidation of others. Everyone has long known that.
To the opposite, the exact science of Krsna Consciousness, and its public expression, destroys myths and fake beliefs and assertions. Therefore, to make people believe, for instance, that to have received initiation in Srila Prabhupada's time and therefore to be an "exclusive Prabhupada disciple" confers special extraordinary hidden spiritual powers and ability to give very special blessings (which is, of course, perfectly wrong), it absolutely requires using the tool of created myth and superstition. For this above assertion does not resist either our philosophy and any intelligent analysis nor any consideration of facts.
FULL STORY



BY: CAITANYA DAS

Feb 19, MANCHESTER, ENGLAND (SUN) —
Consciousness to whom does it belong
Conscious energies originating from
Consciousness a supreme source
A delightful blissful force
Consciousness meant to please
Submit and share and heed
Consciousness meant to link
Consciousness ready to think
A way of service driven by
A consciousness sweet and shy
Consciousness needs inspiration
Never alone less more frustration
Supreme consciousness never alone
He has become many and He has shown
How consciousness meets
And in Union complete
Only to separate again
And unite and increase
Spiritual hankering won't cease
FULL STORY


The Science of Congrega- tional Chanting of the Name of the Lord, Part 4

BY: SUN STAFF

Feb 19, CANADA (SUN) — By HDG A.C. Bhaktivedanta Swami Prabhupada, 'Back To Godhead', Jan 1, 1944, Vol. 01 & 04.
Then again Sree Krishna Samkirtan being transcendental sound, we must distinguish Him from any of the mundane sounds. The mundane sound is always different from the object designated by the sound. For example we may cite that the mundane sound 'water' is always different from the object water designated by the sound water. When we are thirsty we may repeat the word 'water' and 'water' by sounds for one hundred and a thousand times, still we shall not be able to quench our thirst by such constant practices. That is the imperfectness or mundane inebriety of the mundane sounds. But Sree Krishna Samkirtan although descends from the transcendental kingdom apparently like the mundane sounds, just to favour us for His being audible by our present imperfect senses, He should never be concocted as one with the mundane sound.
FULL STORY


Parishads: Sri Purusottama Das Thakura

BY: SUN STAFF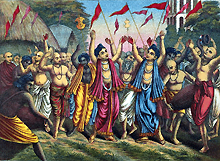 Feb 19, 2018 — CANADA (SUN) — The Appearance day of Sri Purusottama Das Thakura is observed on February 19th.
sadasivasuto namna nagarah purusottamah
vaidya-vamsodbhavo namna dama yo vallavo vraje
Nagar Purushottam was previously the cowherd named Daman in Vraja. He is now born in a Vaidya family as the son of Sadashiva. (Gaura-ganoddesa-dipika 131)
FULL STORY



BY: PRAHLADA NRSIMHA DAS

Feb 17, FRANCE (SUN) — In continuation of my last article and the topic of spiritual self-responsibility, I've noticed many times that many devotees believe only in what they want to believe. And make a confusion between Santa Klaus and both Krsna and Srila Prabhupada. Or dress them with Santa Klaus' red clothes. That is both offensive and silly.
I've heard many times, including from leaders, that we were already saved because we joined this movement for Krsna Consciousness. We just had to wait for death. Or some similar eccentric theories. With, at the same time, the eternal public nauseating self-outpourings of how one was so fallen and without any quality. Wow! That is humility!
FULL STORY


The Science of Congrega- tional Chanting of the Name of the Lord, Part 3

BY: SUN STAFF

Feb 17, CANADA (SUN) — By HDG A.C. Bhaktivedanta Swami Prabhupada, 'Back To Godhead', Jan 1, 1944, Vol. 01 & 04.
According to Lord Chaitanya, this Sree Krishna Samkirtan is glorified for the following reasons:
Sree Krishna Samkirtan is glorified because by His influence the darkness of Nescience cast over our pure consciousness is dissipated. The Nescience is our forgetfulness of the service of the Lord, the All-attractive Personality of Godhead.
FULL STORY


Regional Compositions
of Sri Ramayana,
Part 14

BY: SUN STAFF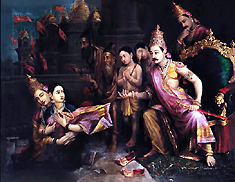 Feb 17, CANADA (SUN) — The last in a serial presentation of the preeminent versions of Sri Ramayana.
CONTEMPORARY VERSIONS OF SRI RAMAYANA
We conclude our series on the many variations of Sri Ramayana with some of the contemporary and dramatic versions from stage and screen.
Among the contemporary prose versions of the epic is Sri Ramayana Darshanam by Dr. K. V. Puttappa in Kannada, and Ramayana Kalpavrikshamu by Viswanatha Satyanarayana in Telugu. Both of these have received the Jnanpith Award.
FULL STORY


Losing the Whole Thing

BY: BHAKTA TORBEN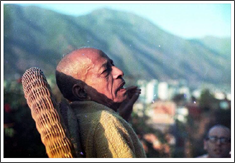 Feb 17, DENMARK (SUN) — We cannot allow Bhagavad-gita to be understood by anyone´s imagination

That is not allowed in the Bhagavad-gita by the author

Krishna says in the fourth chapter that as soon as the parampara system of understanding is lost, then the whole thing is lost
FULL STORY




BY: SUN STAFF

Feb 17, CANADA (SUN) — New items in the Sun's Classified ads section.
[ Real Estate ]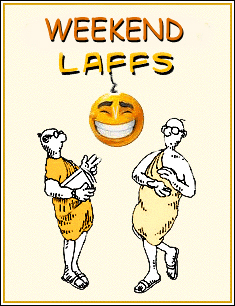 Feb 17, CANADA (SUN) — The Sun's weekly cartoon series.
FULL STORY