Preaching in USSR
1973-1991

BY: SITALATMA DAS

Apr 25, RUSSIA (SUN) — This is in continuation of Shyamasundara Prabhu's article posted earlier, "Preaching in USSR 1980-81".
Sometime in 2009, ISKCON TV recorded a long interview with Kirtiraja Prabhu and Hari, former Harikesha Swami, where they talked about preaching in Soviet Union from their side of the Iron Curtain. They give a slightly different take on the story told by Shyamasundara Prabhu - they don't mention that Calcutta temple was also involved in that mass mail campaign of 1980-1981.
FULL STORY


BRAZIL: Chandramukha Swami & Karmi Rock Band

BY: KRISHNA DASA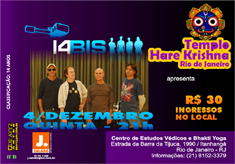 Apr 25, BRAZIL (SUN) —
14 Bis is a famous band of pop rock music. It has nothing to do with bhakti at all, its members are just ordinary meat-eating karmis. They actually closed the temple's doors for this. You had to pay R$ 30 if you wanted to come in and watch their show (and see the Deities being offended).
Proof this thing happened in August 2016 is here.
FULL STORY



BY: PRAHLADA NRSIMHA DAS

Apr 25, FRANCE (SUN) — I read Vyswambhara das's article entitled "Sad" and I myself became, suddenly, very saddened because of his obvious illusion.
First, just a detail… His byline says "France", but, as far as I know, he has not been in France for more than 20 years and so. He is more or less speculating about a situation he doesn't know at all! He speaks from Canada, I suppose, and only on a very sentimental basis.
FULL STORY


Mathura: Boy Drowns
in Swimming Pool of ISKCON-run School

BY: STAFF CORRESPONDENT

Apr 25, MATHURA, UTTAR PRADESH (IE) — 13-year-old Kartik, a 7th class student in Delhi was drowned yesterday.

A 13-year-old boy drowned in the swimming pool of a boarding school run by the International Society for Krishna Consciousness (ISKCON), police said Tuesday.

The incident took place yesterday when Kartik, a 7th class student in Delhi, was taking a bath in the pool of the Bhakti Vedanta Gurukul and International School (BGIS), Vrindavan station incharge Uday Pratap Singh said.
FULL STORY



BY: CAITANYA DAS

Apr 25, MANCHESTER, ENGLAND (SUN) —
Who wants to have the moon
So many have tried
So many spiritually died
Who wants to wear the ring
So many have tried
So many have spiritually died
One group to another
One person or other
Lord of the ring
See what they bring
Time and time again
Repeating error insane
Professor Einstein claimed
FULL STORY


Parishads: Sri Gadadhara Pandit Goswami

BY: SUN STAFF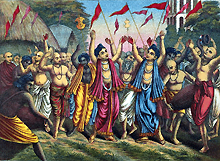 Apr 25, CANADA (SUN) — The Appearance day of Sri Gadadhara Pandit is observed on April 25th.
The incarnation of love who previously was the queen of Vrindavan, Radha, is now the beloved of Gaura named Srila Gadadhara Pandit. Svarupa Damodar himself indicated that he was Vraja's goddess of fortune, the Lakshmi who was previously the beloved of Shyamasundara in Vrindavan. She today has become the goddess of fortune of love for Gaura and is known as Srila Gadadhara Pandit. Lalita, who is also known as Anuradha, is Radha's closest friend and confidante. She has also entered into Gadadhara, as was shown in the play Chaitanya-candrodaya. (Gaura-ganoddesha-dipika 147-150)
FULL STORY




BY: SUN STAFF

Apr 25, CANADA (SUN) — New items in the Sun's Classified ads section.
[ Wanted ]

In Response to
Bhakti Vikasa Swami

BY: SANAKA RSI DAS

Apr 23, ENGLAND (SUN) — Bhakti Vikasa Maharaj, could you clarify your Pposition on the use of Corporal Punishment?
Hare Krsna Bhaktivikas Maharaj,
Please accept my obeisance. All Glories to Srila Prabhupada.
I am grateful that you have taken the time to reply to and for your Asirvaadam. I noted, however, that you omitted to address some of the more important points raised the first time around and that your reply published on the Sun is slightly different from the version you posted on your website.
FULL STORY


A Response to H.H. Bhakti Vikas Swami

BY: MAHAVIDYA DAS (ACBSP)

Apr 23, UK (SUN) —
An interesting reply to Sanaka Rsi prabhu from H.H. Bhakti Vikas Swami.
Maharaja says "a little fear is good" in the upbringing of children...
Yes, I'm a father of 3 and grandfather of 6 children,
and I would be inclined to agree…
"a little fear is good".
But as we have seen in the ISKCON gurukulas
does...
urinating in one's dhoti as a 7 year old while one waits to be beaten...
does this count as "a little fear"?
How about a 5 year old being punched in the face by an ashram teacher because you wore your dhoti into the bathroom...?
Or being made to choose the cane that you were to be beaten with…?
Being made to eat one's own vomit...?
Etc... etc... etc.
The list of horrors goes on... and on.

FULL STORY



BY: GIRIBARADHAI DAS

Apr 23, INDIA (SUN) — Dear Bhakti Vikasa Swami. Asirvadam. (Blessings) Jaya Srila Prabhupada.
I don't have a dog in this fight but having nothing else to do I looked at what was going on between you and H.G. Sanaka Rsi Prabhu and the Cost of Silence documentary which he made.
I just love when people quote the 9.30 Bhagavad Gita verse to try to escape justice. However, there is a word in that verse that's really important. A small word with a big consequence. One "little" word makes a big difference, as you well know. The little word "if."
FULL STORY



BY: CAITANYA DAS

Apr 23, MANCHESTER, ENGLAND (SUN) — I would like to understand just what Srila Prabhupada meant when referring to his society as being operated materially and spiritually, with some control centrally, but also with freedoms for individuals to express their devotion. Just what are the main areas of direction and control that should be legislated throughout the society?
Can temples and presidents and GBC men set their own agenda? It seems they can up to a point, but obviously there is a limit. What is that limit? How are we to measure when a temple or the GBC have gone beyond the limits? Probably our society needs definite goals and guidelines of priorities which presidents and GBC can follow.
FULL STORY



BY: BHAKTA GREG

Apr 23, DUBLIN, IRELAND (SUN) —
I've been blind my whole life,
Never seen a thing.
Deaf as a mule too,
Ignorant of others feelings.
My sense of touch loses its grip,
Always with tendency to slip.
Vocally my sound is almost nil,
Dumbed-down near inaudible.
Smell and taste are not something
sharp to me anymore, misled if I
follow with them at the fore.
The mind is a burden
of more weight than I can bear.
The noetic plane became dull,
too infrequent to pay its fare.
FULL STORY


NBS#60: After Finding
a Qualified Guru

BY: NITYAM BHAGAVATA-SEVAYA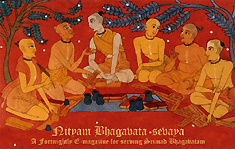 Apr 23, MUMBAI, INDIA (SUN) —
With NBS#60, the fifth canto of Srimad Bhagavatam begins. It covers the topics: After receiving initiation and instructions from a bona fide guru, a fortunate disciple should follow the path of the previous sadhus. Those who are proud neglect the previous mahajanas and create new paths. As a result, they proceed on an inauspicious path and ruin themselves.
FULL STORY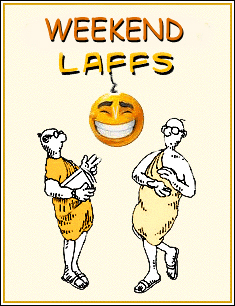 Apr 23, CANADA (SUN) — The Sun's weekly cartoon series.
FULL STORY



BY: VYSWAMBHARA DAS

Apr 21, FRANCE (SUN) — The following report comes from France and was sent by H.G. Nitai Gaurasundara Prabhu. This Prabhu was first initiated by Bhagavan das and became an enthusiastic sankirtana leader for many years. When Bhagavan fell, he was reinitiated by Tamal Krsna Gosvami. He then became president of the Paris Temple, a position he has struggled to maintain against all odds for more than twenty years. He translated the present French edition of Srila Prabhupada's Bhagavad-gita As It Is as well as the Sri Caitanya-caritamrta in its entirety. Over the years he also acted as editor and publisher of various magazines to promote Krsna consciousness in France.
FULL STORY



BY: H.H. BHAKTI VIKASA SWAMI

Apr 21, INDIA (SUN) —
Dear Sanaka Rsi Prabhu, Asirvadam. Jaya Srila Prabhupada!
Thank you for your polite and thoughtful letter. The issues the CPO (ISKCON's Child Protection Office) deals with are indeed very serious. I appreciate the CPO's effort in highlighting the issues and working towards finding solutions for protecting our children. In your letter, you highlight three main issues: The conduct of certain senior members of our society; socially acceptable conduct in the current era; and use of fear as an instrument of discipline.
FULL STORY



BY: PRAHLADA NRSIMHA DAS

Apr 21, FRANCE (SUN) — Recently we got in Dandavats.com this communication from the GBC: "Principles for Creating a Diksa-guru System for ISKCON". So, on the basis of some of Srila Prabhupada's (at least supposed to be... we'll see that later in this paper... ) quotes taken from letters, the GBC explains its way and process for allowing some persons to become diksa gurus:
"Similarly, in the Vedic scriptures we will not find directions for Vaisnava institutions to endorse or authorize spiritual positions like sannyasa or diksa-guru. Our evidence for the legitimacy of the GBC establishing such processes consists of Srila Prabhupada's instructions and activities."
FULL STORY



BY: SHYAMASUNDARA DASA

Apr 21, INDIA (SUN) — The following is from a text I wrote sometime ago about various famous, ancient Vedic astrologers. Chapter 4 section 16 is on the life of Sriman Varaha Mihira. Varaha Mihira is in many ways even more important than Parasara Muni for the reason that while there are several ancient commentaries on the work of Varaha Mihira none exist for those of Parasara Muni. Hence, we do not really know what the actual corpus of Parasara Muni's work is but we do know about Varaha Mihira. It is for this and many other reasons that in South India Varaha Mihira is held in greater esteem than Parasara Muni.
FULL STORY


How to STOP Wars with Spiritual Education, by Srila Prabhupada!

BY: RONALD SINGH

Apr 21, SACRAMENTO, CALIFORNIA (SUN) —
Prabhupada: But you Irish people, you are never tired to fight. (laughter)
O'Grady: No. We've been fighting for three thousand years now.
Prabhupada: I think the fighting is going on still.
O'Grady: Very much so. Very badly, very bad now, very bad. What do you do about that? And that's a serious question. Is it morally correct to be sitting here, for me to be sitting here...
FULL STORY