Constitution for ISKCON As It Is - Article 9

BY: SUN EDITORS

Aug 18, CANADA (SUN) —
ARTICLE 9 - SADHU-SANGA
9.1 The Association of Devotees
9.1.1 "The spiritually powerful message of Godhead can be properly discussed only in a society of devotees, and it is greatly pleasing to hear in that association. If one hears from devotees, the way of transcendental experience quickly opens, and gradually one attains firm faith that in due course develops into attraction and devotion." [73]
FULL STORY


Dialectical Spiritualism: William James, Part 3

BY: SUN STAFF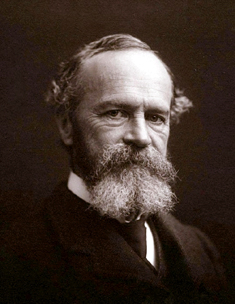 Aug 18, CANADA (SUN) —
XI. AMERICAN PRAGMATISM - William James (1842 - 1910)
Syamasundara dasa: For James, the mind must survive the body, since the mind is not dependent on the body for its existence.
Srila Prabhupada: That is a fact. When the gross body is finished, the subtle body consisting of the mind, intelligence, and ego remains. These guide us to another gross body. They are like the aroma coming from a rose. We can see the rose, but we cannot see the aroma. Still, the aroma is being scattered by the air. Similarly, when the spirit soul gives up the gross body, it is carried by the mind, intelligence, and ego. According to our desire, that subtle body enters another gross body.
FULL STORY



BY: CAITANYA DAS

Aug 18, MANCHESTER, ENGLAND (SUN) —
Mahaprabhu sowed a mango seed
That quickly fructified and grew
But dearest Srila Prabhupada
Did you not do that too
The tree of Sri Caitanya bloomed
With beautiful ripe fruits
People struck with wonder
Their flavour every tongue suits
But the seed Prabhupada planted
In thousands of hearts worldwide
Are ripening mangoes trees of succession
And their taste cannot be denied
FULL STORY


NBS#68: Janmastami Special Edition, Part - 3: When Brahma Returns

BY: NITYAM BHAGAVATA-SEVAYA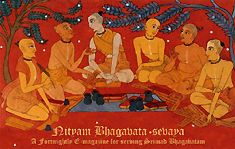 Aug 18, MUMBAI, INDIA (SUN) —
On the auspicious occasion of Sri Krishna Janmastami, we wish to humbly offer a series of special editions. NBS#68 describes how Brahma, though maintaining a mood of reverence, immersed himself in the great ocean of Krishna's sweetness. After praising Sri Krishna with great devotion mixed with knowledge, Brahma asks some questions.
Features:
1) When Brahma Returns - Conversation between Sukadeva Goswami and Maharaja Pariksit
2) After the Disappearance of Yogamaya's Influence - Srila Vishvanatha Chakravarti Thakura
3) Brahma's Prayers to The Supreme Lord - His Divine Grace A.C.Bhaktivedanta Swami Prabhupada
4) Why Krishna Did Not Respond to Brahma's Prayers - Srila Vishvanatha Chakravarti Thakura
5) Brahma Leaves for His Own Abode - Srila Vaiyasaki
6) Prayer to Yogamaya - Srila Bhaktivinoda Thakura

FULL STORY


Slaughterhouse Project
at Navadwip Dham Scrapped

BY: GOPAL DAS

Aug 18, NAVADWIP DHAM (SUN) — Nadia district administration today formally announced scrapping of rupees 4-crore abattoir (slaughter house) project in the wake of displeasure and protest by the Hindu monks of 26 religious organizations of Nabadweep, Mayapur and Swarupganj, which include ISKCON and Bharat Sevashram Sangha.

The monks today expressed their happiness on the decision of the administration, even though they did not appear to be convinced enough in absence of any formal written order issued by the district administration. The monks categorically said that the announcement lacks transparency and strong enough to create doubts.
FULL STORY


Nandotsava - Birth Ceremony of Lord Krsna

BY: SUN STAFF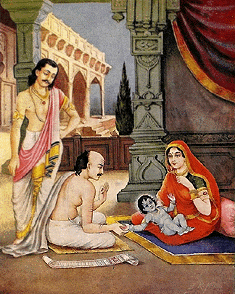 Aug 16, CANADA (SUN) — Nandotsava, observed on August 16th, from Srimad Bhagavatam 10:5:1-17, Translation and Purport by His Divine Grace A.C. Bhaktivedanta Swami Srila Prabhupada.

TEXTS 1-2

Sukadeva Gosvami said: Nanda Maharaja was naturally very magnanimous, and when Lord Sri Krsna appeared as his son, he was overwhelmed by jubilation. Therefore, after bathing and purifying himself and dressing himself properly, he invited brahmanas who knew how to recite Vedic mantras. After having these qualified brahmanas recite auspicious Vedic hymns, he arranged to have the Vedic birth ceremony celebrated for his newborn child according to the rules and regulations, and he also arranged for worship of the demigods and forefathers.
FULL STORY


Vyasa Puja Offering to His Divine Grace Srila Prabhupada

BY: JAYA MADHAVA DAS (ACBSP)

Aug 16, MOSCOW, RUSSIA (SUN) — Dear My Eternal Spiritual Master and Real Father, Your Divine Grace Srila Prabhupada. Please accept my obeisances at you Lotus Feet.
On this most Auspicious day, in the most inauspicious of times, I beg your mercy to me and your true followers.
My Vyasa Puja - Offering 2017
You Came alone to the NY USA to bring us KRSNA's Name
Among the Sudras and Demonic City, you came anew.
You preached Strongly devotional service to God was true
You gave the us the Holy Names and told us, its not something
we can change or like some new age mundane yoga games.
FULL STORY


Constitution for ISKCON As It Is - Article 8, Part 4

BY: SUN EDITORS

Aug 16, CANADA (SUN) —
ARTICLE 8 - GURU-TATTVA (Cont'd)
8.6.5 Regulation and Oversight of Diksa
8.6.5.1 Diksa initiation shall not be institutionally controlled within the Society. There shall be no regulatory mechanism for approving those wishing to take up the service of diksa-guru, nor is any form of permission required, beyond the rules of etiquette described in § 8.6.4.2 and § 8.6.4.7.
8.6.5.2 The Society shall have no responsibility for ensuring that qualified diksa-gurus are available to those candidates wishing to become initiated. Such arrangements are dependent upon Chaitya Guru, and are a personal matter between guru and disciple.
FULL STORY



BY: PRAHLADA NRSIMHA DAS

Aug 16, FRANCE (SUN) — "..... In this verse, both blind following and absurd inquiries are condemned. One should not only hear submissively from the spiritual master, but one must also get a clear understanding from him, in submission and service and inquiries..." Bhagavad-Gita 4-34, Purport from Srila Prabhupada)
"To those who are constantly devoted and worship Me with love, I give the understanding by which they can come to Me" (BB 10-10)
FULL STORY



BY: CAITANYA DAS

Aug 16, MANCHESTER, ENGLAND (SUN) —
Is God Love, yes and death are well
Not for the soul of course
But those attracted to heaven or hell
Is God known in many different ways
Yes for He is everything
But direct in the sadhu's gaze
Can there be variety of exchanges
With our Lord
Unlimited as souls there are, the blessings
He'll accord
Unlimited Lord comes in unlimited forms
And unlimited souls as well
Each with their attraction and in
Dunderbuts they fell
But in the greater picture we're told
Sri Krishna in Vrndavana shows
All the sweetest qualities
As the road to rasa shows
FULL STORY



BY: BHAKTA TORBEN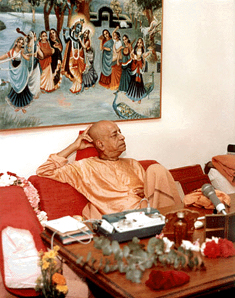 Aug 16, DENMARK (SUN) —
"Anyābhilāṣitā-śūnyaṁ.
Zero.
All everything zero, make it zero.
Śūnyam. Jñāna-karmādy-anāvṛtam [Cc. Madhya 19.167].
Jñāna-karma means there is some aspiration of profit. Karmīs, they are trying to be elevated in higher planetary system.
FULL STORY


Why Krsna Comes
to This World

BY: SUN STAFF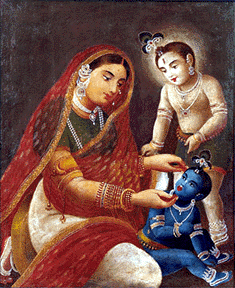 Aug 14, CANADA (SUN) — By His Divine Grace A.C. Bhaktivedanta Swami Srila Prabhupada.

August 1973 at the Bhaktivedanta Manor, in the countryside near London. Several thousand guests (including the Indian High Commissioner) listen to His Divine Grace A.C. Bhaktivedanta Swami Prabhupada speak about the day Lord Krsna made His appearance on earth.

Your Excellency the High Commissioner, ladies and gentlemen, I thank you very much for your coming here and participating in this ceremony - Janmastami, the advent Bhagavad-gita Krsna says,
FULL STORY


Sweetest Description of Janmastami-lila

BY: SUN STAFF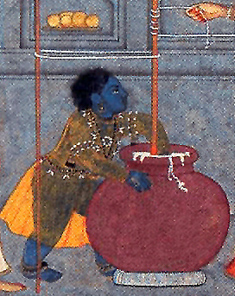 Aug 14, CANADA (SUN) — From Ananda Vrindavan Champu by Srila Kavi Karnapura, Translated by Bhanu Swami & Subhaga Swami, published by Mahanidhi Swami.

Now we will discuss the truth about the transcendental birthplace of Bhagavan and the appearance of Lord Sri Krishna. Once upon a time, Bhumi, the predominating deity of the earth, felt overburdened by different demons posing as members of the royal order. Feeling aggrieved upon seeing her miserable condition, the lotus-born Brahma appealed to Ksirodakasayi Visnu, the maintainer of the universe, saying, "Please deliver Goddess Bhumi who is feeling greatly distressed by these demoniac kings. Only You can remove this terrible influence from the earth."
FULL STORY


Constitution for ISKCON As It Is - Article 8, Part 3

BY: SUN EDITORS

Aug 14, CANADA (SUN) —
ARTICLE 8 - GURU-TATTVA (Cont'd)
8.6.3 Qualifications of Diksa Guru
8.6.3.1 The bona fide spiritual master (diksa, siksa, or vartma-pradarsaka) is one who delivers the pure siddhanta in disciplic succession. (§ 8.1)
8.6.3.2 "…any person who seriously desires real happiness must seek a bona fide spiritual master and take shelter of him by initiation. The qualification of the bona fide guru is that he has realized the conclusions of the scriptures by deliberation and is able to convince others of these conclusions. Such great personalities, who have taken shelter of the Supreme Godhead, leaving aside all material considerations, should be understood to be bona fide spiritual masters." [59]
FULL STORY