Worship of Lord Brahma, Part 27

BY: SUN STAFF

Lord Brahma




Sep 04, CANADA (SUN) — A serial exploration of places of Lord Brahma's worship.


Lord Brahma, Sampradaya Acarya

One month ago, when we began this Sun series on places in India where the worship of Lord Brahma is found, we never expected to discover so many sites. It has long been commonly accepted that there are a rare few Brahmadev temples in all of India, usually quoted as anywhere from two to seven in number. We have now identified 14 main temples in which Lord Brahma, in catur-mukha or full murti form, is the presiding deity; 9 temples dedicated to Brahma but without installed deities; another 14 temples where a Brahma lingam is the presiding deity; 7 temples dedicated to Brahma Yaksa deities; 6 Brahmastambas and pillars; 1 predominant free-standing Brahma murti; and two murtis which, while not the presiding deity, are predominant subsidiary temple murtis. In addition to these, we have seen a number of other notable rock carvings or sculpted images of Brahma, and there are more to follow.

We have been very enlivened to discover the great devotion offered to the father of our Brahma Madhva Gaudiya Vaisnava Sampradaya, and we hope that our readers also remain engaged as we carry on this systematic presentation of the remaining Brahma worship sites, which are significant in number.

Today we begin our final sweep through Andhra Pradesh, beginning with the village of Lingampally, which is home not only to an ancient Brahma temple, but also to one of the main matha branches of the Madhvacarya line. As part of their presentation of Dvaita Vedanta, the present Shri Uttaradi Matha acarya offers the following explanation of the genesis of the Brahma Sampradaya. His enumeration of the parampara actually begins one step prior to Lord Brahma, and includes the Pre-Madhva saints. The list is presented as follows:

Sri Hamsa
Sri Brahma
Sri Sanakaadi
Sri Durvasa
Sri Jnanidhi Tirtha
Sri Garudavahana Tirtha
Sri Kaivalya Tirtha
Sri Jnanesha Tirtha
Sri Paratirtha
Sri Satyaprajna Tirtha
Sri Pragnya Tirtha
Several other yatis
Achyutapreksha
Sri Madhvacarya
In his introduction to Bhagavad-gita As It Is, Srila Prabhupada presents the early parampara members in the 'List of 32', as follows:
Krsna
Brahma
Narada
Vyasa
Madhva
Shri Uttaradi Matha describes the origination of the Brahma Sampradaya in this way:
"Historically speaking, Sri Uttaradi Math is the original seat of Jagadguru Sri Madhvacharya. From reliable sources we come to know that Madhvacharya has inherited this seat from Sri Achyuta Preksha, who belonged to the Ekadandi Order of Brahma Sampradaya.
There is a legend on how this Brahma Sampradaya was initiated. At the time of Creation, Shri Narayana, the supreme God, moved primordial matter into numerous forms in an evolutionary process and gave the infinite souls, who were under his care from unoriginated times, physical bodies suited to their nature, karma and effort. He created the entire universe including the earth, with its Sadhana Bhoomi – the land where merits turn out to be fruitful.
The Supreme God also wanted to bless the souls with divine knowledge, by which they can attain salvation. For this purpose Shri Narayana himself incarnated as Shri Hamsa and adorned the pontifical seat called the Hamsa-Pitha. As He is also known as Uttara, the Math initiated by Him came to be known as Uttara-Adi Math (The Math initiated by Sri Uttara).
Sri Hamsa initiated Shri Brahma as his first disciple-pontiff and revealed the divine knowledge to him. He also gave him the idols of Shri Sita and Shri Rama for daily worship in Uttaradi Math. As these idols preceded all other idols of Sri Sita and Rama, they were called as Sri Moola Sita and Moola Rama idols (Moola means original or the first).
Accordingly Shri Brahma worshipped Shri Moola Rama and Shri Sita for a very long time in his capacity as pontiff of Shri Uttaradi Math and passed the pontifical seat to Sanaka. This tradition continued for a long period of time until the advent of Kali Yuga. Even though the tradition continued unabatedly, it could not openly continue due to the attacks from demonic groups until Sri Madhvacharya's incarnation. Madhvacharya revived and rejuvenated the tradition and poured new life into it."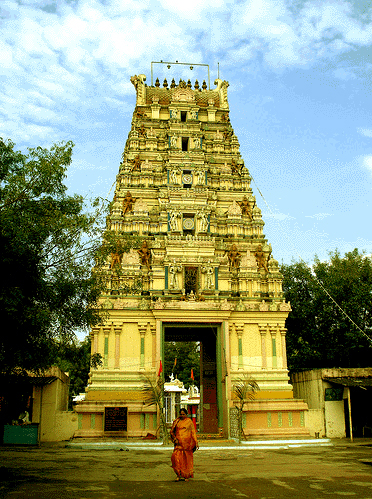 Lingampally Temple
Lingampally, Bhel Colony
Lord Brahma in Lingampally, Andhra Pradesh
Lingampally (Serilingampally), once a small village, is now a large municipality in Vemulawada mandal of Karimnagar district, Andhra Pradesh. It is home to an ancient Brahma Temple, said to be modeled after, or reminiscent of the Brahma Temple of Varnasi. The Lingampally temple is one of this town's most important religious shrines. Not surprisingly, many locals say that outside of Pushkar, Lingampally is the only Brahma temple in all of India.
Located near Hyderabad, on National Highway 9, Lingampally has become a residential area populated by many IT workers, and is now one of the fastest growing zones of Hyderabad.


The Sun News Editorials Features Sun Blogs Classifieds Events Recipes PodCasts
Copyright 2005, HareKrsna.com. All rights reserved.