An Afternoon with Bhaktimarg Swami
BY: ROCANA DASA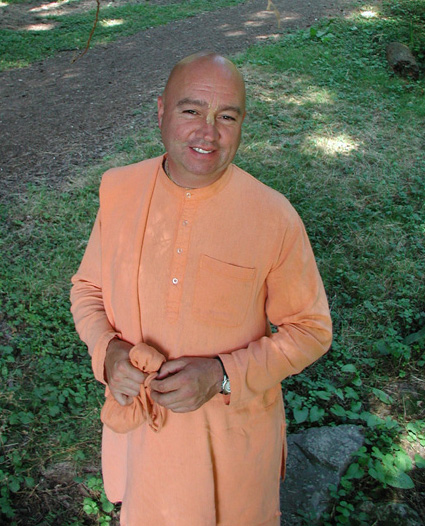 Sep 21, USA (SUN) — Last month, I had the opportunity to engage in a long, personal visit with HH Bhaktimarg Swami while he was passing through Portland, Oregon. Externally, it appears that Bhaktimarg Swami and I took divergent paths. He is a Swami and an initiating guru, whereas I am married, living outside the institution, and not giving diksa. Despite our different circumstances, when we get together and discuss relevant issues facing us as individuals, and facing the movement to which we've dedicated our lives, we see that there is very little difference between us on the most important personal levels.
Along with this article, we are publishing a three-part Podcast today, which you'll find in the PodCasts section of the site. In that audio broadcast, I describe in detail the many issues Bhaktimarg Swami and I discussed that day, particularly related to ISKCON management and the GBC's position on guru-tattva.
While Bhaktimarg Swami and I are dealing with these issues in different ways, we basically agree wholeheartedly on where the problems lie philosophically, and on what it would take to correct these problems. We also agree that it would take an act of God or a collective, Society-wide outcry to bring about any meaningful change in the direction the present-day institution is headed.
What made my encounter with Bhaktimarg Swami so unique was not only that our personal circumstances are so different, with him being a respected member of high standing within the institution while I'm completely outside that structure, it was our ability to share our thoughts, frustrations and realizations spontaneously, in a mood of love and trust.
Bhaktimarg Swami had an opportunity to share his thoughts with me in a way that it's seldom possible for him to do, even with close associates within the institution, where he must always guard against being misinterpreted in ways that will cause him grief later. For me, it was a unique opportunity to speak with an old friend who is still inside the institution, but is actually open to hearing what I have to say. The positive feedback he provided was very appreciated.
If the International Society for Krishna Consciousness was truly functioning as a society, rather than becoming more and more of a church, then this type of association would transpire much more readily. If senior Godbrothers/sisters both within and outside of the institution had the opportunity to freely associate and speak their minds, many of our problems could be easily resolved and we would be able to enjoy the type of society we envisioned ISKCON becoming when we were young. Today, under the current circumstances, the only means we have for sharing our minds across the barrier of "inside/outside" is via the Internet. Of course, expressing oneself in the written word has its limitations.
According to the Nectar of Instruction, association means congregationally chanting, sharing prasadam together, and revealing your mind. Today, the commonly accepted conception of association is simply that one joins together in kirtan and takes prasadam. If there's any discussion, it's typically on a fairly superficial platform or in some kind of lecture format. Like reading a text on the Internet, this kind of communication tends to be more impersonal than personal.
I find that the quality of association I enjoyed with Bhaktimarg Swami is very difficult to come by. To associate with someone of Bhaktimarg's qualities and dedication is in itself a rare thing. The fact that he is genuinely and sincerely looking for solutions to the same problems I am makes it a particularly relishable experience for me. I believe that this level of communication is what Srila Prabhupada wanted his disciples to do in terms of associating.
I hope that the PodCast describing our long discussion will be of interest, and will convey at least some of the value I derived from my afternoon with the Swami.
Prabhu PodCast
"An Afternoon with Bhaktimarg Swami"

| The Sun | News | Editorials | Features | Sun Blogs | Classifieds | Events | Recipes | PodCasts |

| About | Submit an Article | Contact Us | Advertise | HareKrsna.com |
Copyright 2005, HareKrsna.com. All rights reserved.