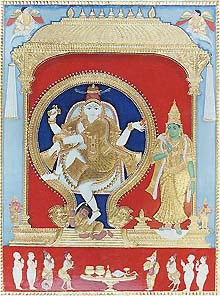 Aug 9, CUDDALORE (SUN) —Local officials recently recovered three priceless ''panchaloha'' (five metal) icons at Thangavel colony near Udaiyarkudi, Kaattumannar Koil in Tamil Nadu. Police said the icons, each weighing about 100 kg, were recovered when a house-owner dug a pit.
The recovered Deities included a 12-foot Nataraja, Goddess Sivakamasundari and Somaskandar. Police said a team, led by the Kaattumannar Koil Tahsildar, recovered the Deities, on being informed by the villagers. Workers stumbled upon the first at a depth of three feet. They immediately information the local police and revenue officials, who came to assist in carefully unearthing the other two Deities.
Villagers said the Deities could have belonged to the 200-year-old Anantheeswarar temple and could have been buried to hide them from the Mughals. They said the Lord Nataraja could be bigger than the famous one at Chidambaram. All three were being kept at the Tahsildar office at Kaattumannar Koil, and local people were making a beeline to have Their darshan.
Residents of Kattumannarkoil area are now demanding that the Deities be immediately installed in the Anantheeswarar Temple. A decade ago, another set of Deities was taken from the dilapidated Anantheeswarar temple to Thiruvarur, and have not yet to be returned. The temple was renovated in 2004 and is now thought to be a space residence for the Deities.
The areas of Kattumannarkoil and Chidambaram are renowned, historically and spiritually, and many Vaishnavite and Saivite temples reside here.

| The Sun | News | Editorials | Features | Sun Blogs | Classifieds | Events | Recipes | PodCasts |

| About | Submit an Article | Contact Us | Advertise | HareKrsna.com |
Copyright 2005, HareKrsna.com. All rights reserved.