Calcutta Woodcuts, Part 8
BY: SUN STAFF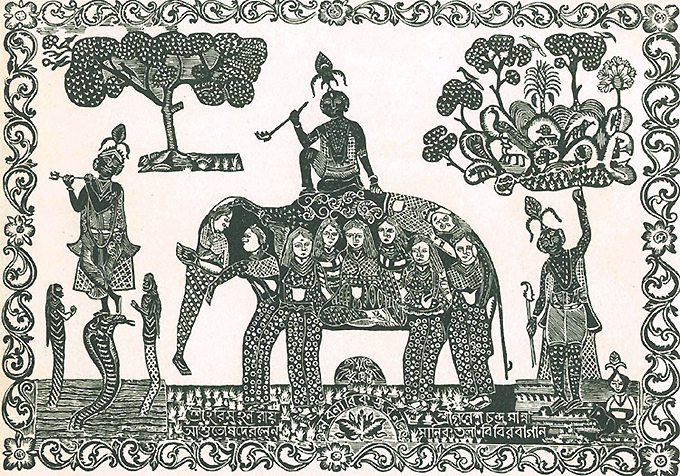 In a Bower
Jul 12, 2011 — CANADA (SUN) — Re-presenting a 2005 Sun Feature series on transcendental art: the rare woodcut prints of nineteenth century Calcutta.
Like several of the woodblock prints we've explored, today's print was also done in color. During the 19th century in Calcutta, the dominant color used for graphic prints was black. Only later were colors freely layered onto such woodcuts. Even then, a limited number of colors were used: mostly red, yellow and green.
The paper used was somewhat like modern newsprint, which allowed for easy mixing and coordination of colors. These colored pictures had a timeless quality because the color on the print always looked as though they were freshly printed. In the spontaneity evident in the laying over of colors, one got a personal sense of the artist's personality. The result was an impression of immediacy, a sense of na´vetÚ, and a delightful mood of spiritual glorification.
In today's print, we have a combination of scenes from Lord Krsna's Vrindaban lila. The piece is entitled "Men and Women in a Bower", although the main figure is more popularly known as the "mystical elephant". These 'mystical' prints are well known in India's art archives, where Krsna lila scenes, often with the gopis, have been rendered in the form of deer, elephants, camels, and other forms.
Here with see the nine gopinis, most dressed in matching outfits, postured to fit within the shape of an elephant. Lord Krsna sits atop the carrier with his flute. The Lord's headpiece is beautifully rendered in a peacock eye, with lightly feathered fronds. A small stone with peacock motif is beneath the elephant.
To the left is a scene of Krsna dancing atop Kaliya's head, with two of Kaliya's wives on either side, begging for Krsna's mercy on their husbands. Above Krsna's head is a splendid tree, which is likely the famous tree where Krsna rested after this pastimes.
On the right is a delightful scene of Krsna holding Giri Govardhana aloft. The artist has masterfully designed Govardhana Hill with trees, plants, flowers, rocks, grasses, and an amazing multitude of birds and animals, all in one compact illustration.
Beneath Krsna's feet, on both the right and left side images, we have foundations unique to the picture. On the left, the typical water scene; on the right, layered terra firma suggesting the earth of Vrindavan. Beneath the Govardhana scene, a small cowherd boy, probably Balaram, sits with a slightly formed little black cow. On both side images, Krsna sports the same stylized headpiece.
The piece is framed with a nicely stylized border of flowers and paisleys (styled after mangos). Engraved in Bengali at the bottom are a number of names: Shri Hari Mohan Ray, Ashutosh Der Lane, Nara Narir Kunjaban, Shri Ganesh Chandra Manna, Maniktala, Bibit Bagan. It's unlikely that all these personalities co-created the engraving, but can assume they may have been associated somehow with the publication this engraving originally appeared.
The woodcut measures 24 x 29 cm.


The Sun News Editorials Features Sun Blogs Classifieds Events Recipes PodCasts
Copyright 2005, 2011, HareKrsna.com. All rights reserved.