A Lower-key Kind of Krishna

BY: SARAH PULLIAM

Srivathsa Veera, 5, rings the bell on a statue of an elephant considered to be a royal animal. Some Hare Krishnas say West Virginia's New Vrindaban Community is their version of Mecca. It includes a domed palace plated with 22-karat gold and is a site that attracts both devotees and casual visitors. [Photos by Chris Russell, Disptach]
Jul 18, MOUNDSVILLE, WEST VIRGINIA, USA (COLUMBUS DISPATCH) — The Hare Krishnas have shifted their religion from communes to cubicles, from the hills of West Virginia to mainstream America. In the 1970s, the form of Hinduism thrived. Men in robes handed out books on street corners, and most outsiders identified the movement with followers who passed out flowers at airports across the country. Their most famous devotee, George Harrison of the Beatles, added to their mystique. But Harrison died in 2001. Lawsuits by the airports the Krishnas frequented scuttled their most visible outreach effort.
And most threatening to the movement were accounts of physical and sexual abuse of children at Krishna boarding schools in India and the United States. Temples paid $9.5 million in court settlements in 2005, and several filed for bankruptcy. The number of devotees dwindled. But the religion didn't die.
The Hare Krishnas reinvented themselves. Their temples now are more worship areas than communes. They welcome people with only a casual interest in the movement and don't require the rules or dress of full Hare Krishna devotees. "It's become very congregational in form as opposed to communal," said E. Burke Rochford Jr., a sociologist at Middlebury College in Vermont who has studied the movement for more than 25 years.
"Unlike in the '70s, one can have a casual interest and nobody's going to ask you to forsake your life and move into the temple."
In Columbus, the small group of Hare Krishna devotees has doubled in the last two years to 200. Devotees believe Krishna is the supreme being, and that all living beings are either reincarnated or go to an eternal resting place. About 50,000 visitors, including many from Columbus, travel to the New Vrindaban temple just across the Ohio border in Moundsville, W.Va., each year for festivals, 24-hour chanting celebrations or just to see the Palace of Gold, according to Nityo Dasa, co-president of New Vrindaban. Some compare the Palace of Gold to a miniature version of Mecca, the holy city to which many Muslims travel annually.

Left: A pilgrim prays before an altar at the New Vrindaban Community in Moundsville, W.Va., a spiritual destination for many Hare Krishnas. Right: Some are moved to dance during the chanting of the Hare Krishna mantra.
The farm community attracts devotees and visitors from all over the country who come to see the palace plated with 5 pounds of 22-karat gold. The domed structure is filled with crystal chandeliers, stained-glass windows and carved wood furniture.
"It was envisioned to be a place where you can still get a big, grand experience," said Sujoy Bhowmik of Columbus, who visits the temple a few times each year.
Kirtanananda Swami Bhaktipada began building the commune in 1968. Like the rest of the movement, the West Virginia temple found itself in trouble. In 1990, the federal government indicted Bhaktipada on conspiracy to murder two Hare Krishna dissidents, five counts of racketeering and six counts of mail fraud. An investigation determined that he had committed sexual abuse against two children from 1987 to 1994.
New Vrindaban was excommunicated -- removed from the officially sanctioned list of Krishna temples and communities. The flow of visitors slowed. Devotees came less and less. But temple leaders didn't give up. They restructured. Now, four boards of directors keep the 1,500-acre community going, but it has not grown as much as it did in the '70s.
"Since that time, we've had to deal with the fallout of (Bhaktipada's) activities," Nityo Dasa said. "We have basically been trying to maintain the project."
During a 24-hour chanting service in June, men sit on the right, women on the left. Many of the men have shaved heads with a small tuft of hair sprouting from the back of their heads; most of the women wear traditional Indian saris and dangling earrings. Blacks and whites sing and chant along with devotees of Indian descent.
Swami Prabhupada brought the International Society of Krishna Consciousness to the United States in 1966. No one knows exactly how many people follow Krishna nationwide, but Rochford estimates about 50,000 people are part of the movement.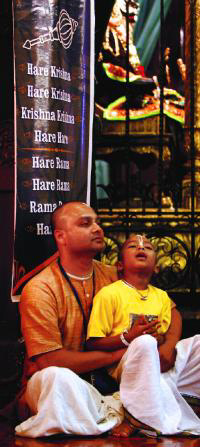 Naveen Krishna Das and son Narahari Das, 6, of Columbus, chant together at the New Vrindaban temple in West Virginia. Hare Krishna followers in Columbus have a temple
at 379 W. 8th Ave.
Prabhupada envisioned the Krishna movement to be a communal lifestyle for Americans. However, many of the communes found it difficult to sustain themselves financially, so the movement has slowly shifted out of its communes and into communities.
And although Prabhupada originally envisioned the movement to include mostly Americans, the majority of devotees are of Indian descent, Rochford said.
"He was somewhat disinterested in immigrant Indians," he said. Prabhupada thought they were materialistic and not as devoted.
Many of the devotees in Columbus do come from Indian immigrant backgrounds, but Krishna also attracts many Ohio State University students. Rochford said that a community thrives in a place like Columbus because of the city's many college students.
"It's a very comfortable thing for students who are interested in Eastern religions and vegetarianism," he said.
The Columbus congregation outgrew its temple at 379 W. 8th Ave., so the devotees began worshipping at the First Unitarian Universalist Church at 93 W. Weisheimer Rd. in Clintonville last August, according to Piyush Gupta, who sits on the temple's council.
Krishnas are "not as visible as the '70s, when you had missionaries in robes singing on the streets and giving out books," he said. "It's not so flashy, but it's probably more substantial because, now, it's more family-oriented and focused on sharing it with other families."
Click here to see a Slide Show
Podcast
Dispatch religion writers interview professor Graham Schweig
about the Hare Krishna movement.

The Sun News Editorials Features Sun Blogs Classifieds Events Recipes PodCasts
Copyright 2005, HareKrsna.com. All rights reserved.