Caitanya Mahaprabhu's Tirtha-yatra - Part 29
BY: SUN STAFF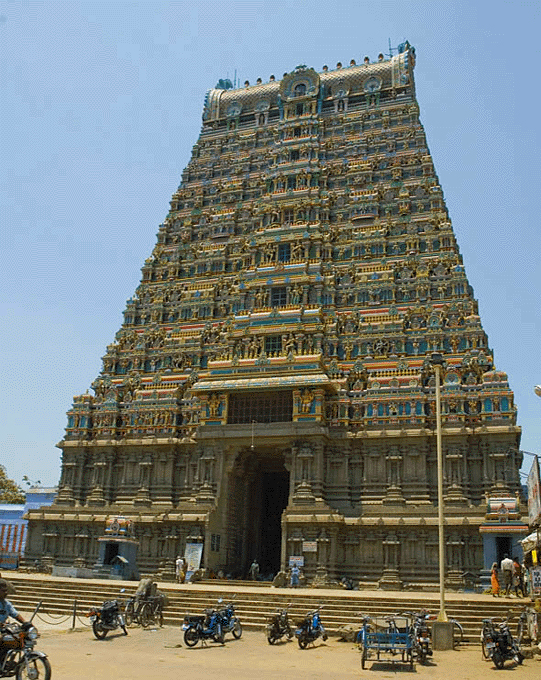 Kasi Viswanathar Temple at Tila-kanci
Feb 24, CANADA (SUN) — A serial exploration of the holy sites visited by Lord Caitanya.
Tila-kanci
Lord Caitanya's tirtha-yatra throughout South India covered many locations in Tamil Nadu, including today's stop, Tila-kanci. In the summary of Sri Caitanya-caritamrta Madhya Lila 9 we read:
Madhya Lila 9 Summary:

"The Lord next visited the places known as Pandya-desa, Tamraparni, Naya-tripadi, Ciyadatala, Tila-kanci, Gajendra-moksana, Panagadi, Camtapura, Sri Vaikuntha, Malaya-parvata and Kanya-kumari. The Lord then met the Bhattatharis at Mallara-desa and saved Kala Krsnadasa from their clutches."
Later in Madhya Lila, we find some additional information on the Lord's pastimes at Tila-kanci:
Madhya 9.220:

ciyadatala tirthe dekhi' sri-rama-laksmana
tila-kanci asi' kaila siva darasana

"After this, Sri Caitanya Mahaprabhu went to a holy place known as Ciyadatala, where He saw the Deities of the two brothers Lord Ramacandra and Laksmana. He then proceeded to Tila-kanci, where He saw the temple of Lord Siva.

PURPORT
Ciyadatala is sometimes known as Cheratala. It is near the city of Kaila, and there is a temple there dedicated to Lord Sri Ramacandra and His brother Laksmana. Tila-kanci (Tenkasi) is about thirty miles northeast of the city of Tirunelveli."

[Please note the BBT editors' parenthetical addition of "(Tenkasi)", which does not appear in Srila Prabhupada's original purport.]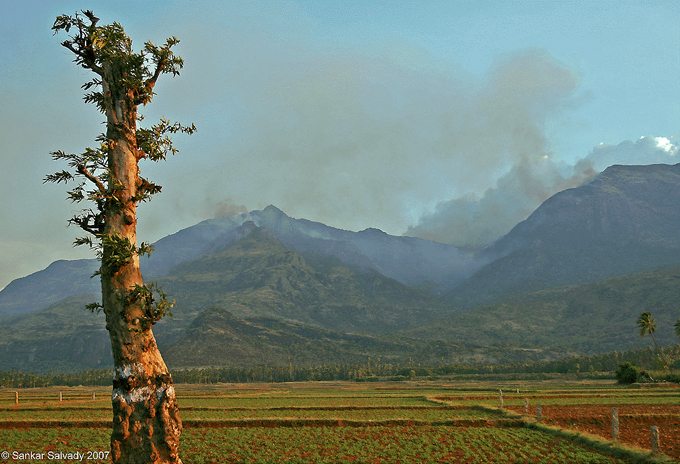 Western Ghats at Tenkasi
Tila-kanci, or Tenkasi, is a village in Tirunelveli district of Tamil Nadu, in the foothills of the Western Ghats. It is just a few kilometers from the Kerala border, at the southern tip of the Konny Forest Reserve.
Also known as South Kasi, Tenkasi is famous for its ancient Kasi Viswanathar Shiva Temple, which was visited by Lord Caitanya. Also known as the Ulagamman Temple, the name of Shiva's consort here, it was built by Parakrama Pandian. The rajagopuram was inaugurated in 1440 A.D., and completed in 1505, just a few years prior to Sri Caitanya's visit.
Kasi Viswanathar Construction
In 1824, the temple was struck by lightning, and the resulting fire cut the original flat-topped gopuram nearly in half. Restoration work began in the late 1960's, and was completed around 1990. Given another fresh coat of paint in 2006, the first few feet up from the ground has been left unpainted, denoting the original portion of the temple that survived the lightning strike.
The presiding deity here is Kasi Viswanathar, who appears to be the original Shiva deity visited by Lord Caitanya. There are three sannidhis, or shrines in the sanctum sanctorum, which are the abodes of Shiva, Ulagamman (Devi), and Murugan.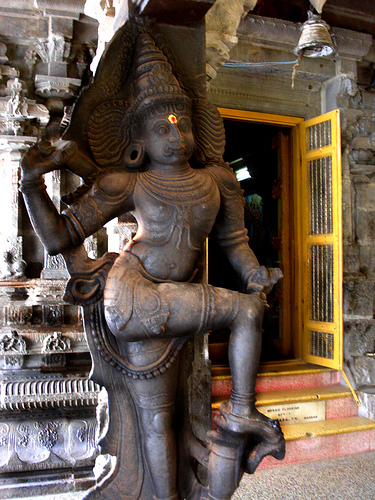 Dwarapalaka, Temple Guard
This temple has many beautiful sculptures and is known for its musical stone pillars, each of which emits a different musical note when tapped. The entrance is very grand, with heavy steps leading in. At 180 feet high, Kasi Viswanathar's rajagopuram is among the tallest in southern Tamil Nadu, visible from great distances.
Another ancient temple in Tankasi, the Kulasekaranathar Temple, has been closed for a great many years. There is also a Kannimaramman (Devi) Temple in the middle of the town, beside a large temple pond.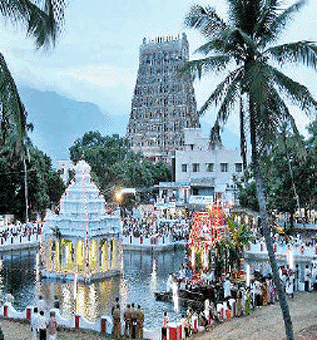 Kasi Viswanathar Temple Compound
The history of Kasi Viswanathar began seven centuries ago, when King Parakrama Pandian was on pilgrimage to Varanasi (Uthara Kasi), where he traveled each year to worship Lord Viswanatha. Ond day, the Lord appeared in the king's dream and instructed him to construct a temple here, naming it Tenkasi or Dakshina Kasi. While searching for a land to build the temple on, the King discovered a Nandi murti in the Chitra River. At that place, he constructed the temple and installed the Deity of Lord Shiva.


The Sun News Editorials Features Sun Blogs Classifieds Events Recipes PodCasts
Copyright 2005, 2010, HareKrsna.com. All rights reserved.