Caitanya Mahaprabhu's Tirtha-yatra - Part 21
BY: SUN STAFF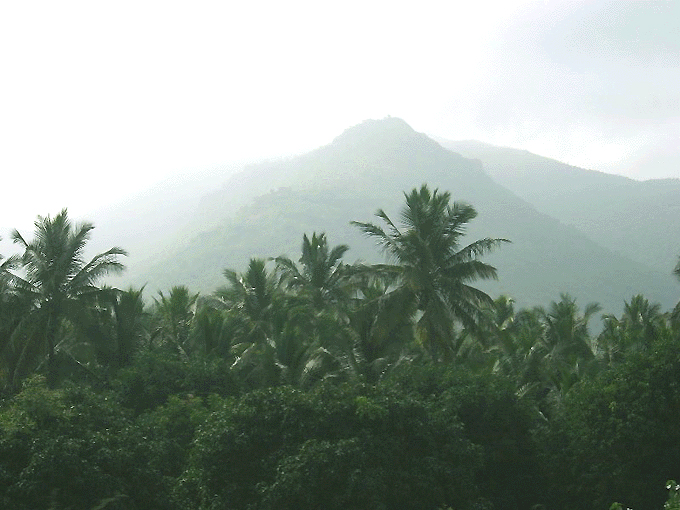 Panagadi Hills
Feb 16, CANADA (SUN) — A serial exploration of the holy sites visited by Lord Caitanya.
Panagadi
In the summary of Sri Caitanya-caritamrta Madhya Lila 9, we read about Lord Caitanya's travels in South India, which included a stop at the village of Panagadi in Tamil Nadu. Located in the southern tip of India, Panagadi is just a half-hour's drive due south, to the shores of the Arabian Sea.
Madhya 9 Summary

"The Lord next visited the places known as Pandya-desa, Tamraparni, Naya-tripadi, Ciyadatala, Tila-kanci, Gajendra-moksana, Panagadi, Camtapura, Sri Vaikuntha, Malaya-parvata and Kanya-kumari. The Lord then met the Bhattatharis at Mallara-desa and saved Kala Krsnadasa from their clutches."
While few details are found in the Caitanya-caritamrta or elsewhere in Vaisnava literature about Caitanya Mahaprabhu's pastimes at Panagadi, later in Madhya Lila we find some information, along with Srila Prabhupada's specific comments as to the location of Panagadi-tirtha: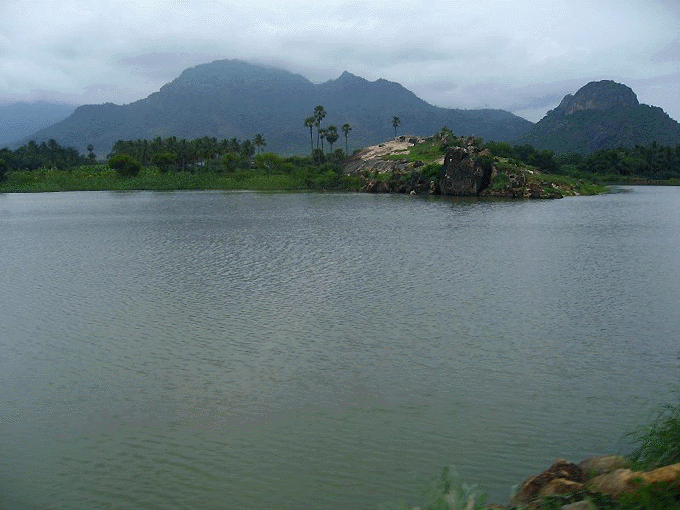 Panagadi Hills



Madhya 9.221

gajendra-moksana-tirthe dekhi visnu-murti
panagadi-tirthe asi' dekhila sitapati

"Lord Sri Caitanya Mahaprabhu then visited the holy place named Gajendra-moksana, where He went to a temple of Lord Visnu. He then came to Panagadi, a holy place where He saw the Deities of Lord Ramacandra and Sita.

PURPORT
The Gajendra-moksana temple is sometimes mistaken for a temple of Lord Siva. It is about two miles south of the city of Kaivera (Nagercoil). Actually the Deity is not of Lord Siva but of Visnu.

Panagadi (Pannakudi) is about thirty miles south of Tirunelveli. Formerly the temple there contained the Deity of Sri Ramacandra, but later the devotees of Lord Siva replaced Lord Ramacandra with a deity of Lord Siva named Ramesvara or Rama-linga Siva."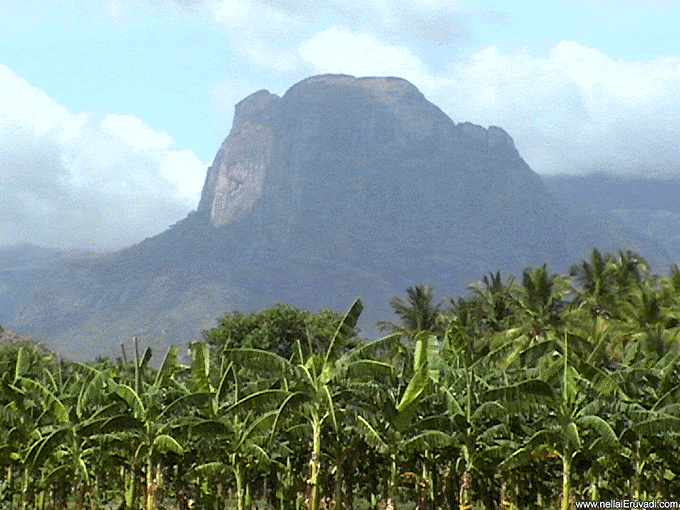 Eruvadi Mount
The village of Panagadi is similarly named Pannakudi, Panaikkudi, and Panagudi. It is a place of great natural beauty, with the Western Ghats bordering it on the west side, and a chain of protective mountains round about. The area is rich in agriculture, with many cashew trees and mangos. A beautiful waterfall named Kuthara Paanjan favors the area.
Today, Panagudi is best known as a center for wind power, and is home to one of the largest wind farms in the world. In collaboration with the Russians, a nuclear thermal plant is now being constructed there. The winds come off the Arabian Sea and are caught in the cup-shape of the Panagudi hills.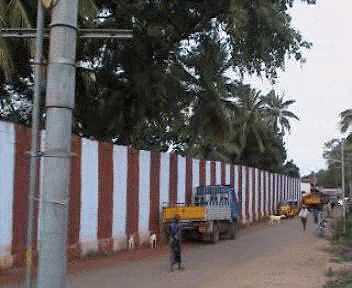 Panagai Ramalingeswar Temple
The Panagudi Temple that Lord Caitanya Mahaprabhu visited can still be visited today, but as Srila Prabhupada notes in his purport above, the Deities in residence are not the same Personalities seen by Mahaprabhu.
The temple at present is painted in a traditional Tamil Nadu design of semman and white pattai, or saffron and white stripes on the temple compound walls. In addition to this Ramalingeswar temple, with Shiva as presiding Deity, there is a Venkatachalapathy temple nearby, the abode of Visnu, Bhu and Sri Devis, along with the temple of Nellaiappar and Kanthimathi, whose gopurams are visible for some distance.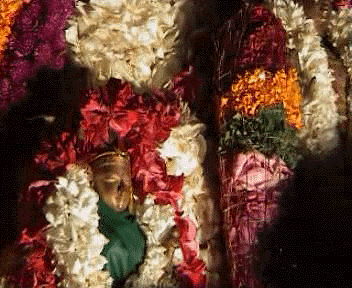 Sri Ramalingeswar

The Sun News Editorials Features Sun Blogs Classifieds Events Recipes PodCasts
Copyright 2005, 2010, HareKrsna.com. All rights reserved.