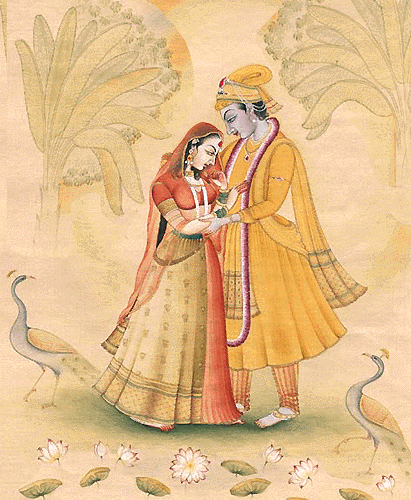 "Radha and Krsna display Their pastimes through Krsna's internal energy. The pleasure potency of Krsna's internal energy is a most difficult subject matter, and unless one understands what Krsna is, one cannot understand it. Krsna does not take any pleasure in this material world, but He has a pleasure potency. Because we are part and parcel of Krsna, the pleasure potency is within us also, but we are trying to exhibit that pleasure potency in matter. Krsna, however, does not make such a vain attempt. The object of Krsna's pleasure potency is Radharani; Krsna exhibits His potency, or energy as Radharani and then engages in loving affairs with Her. In other words, Krsna does not take pleasure in this external energy but exhibits His internal energy, His pleasure potency, as Radharani. Thus Krsna manifests Himself as Radharani in order to exhibit His internal pleasure potency. Of the many extensions, expansions and incarnations of the Lord, this pleasure potency is the foremost and chief.

It is not that Radharani is separate from Krsna. Radharani is also Krsna, for there is no difference between the energy and the energetic. Without energy, there is no meaning to the energetic, and without the energetic, there is no energy. Similarly, without Radha there is no meaning to Krsna, and without Krsna there is no meaning to Radha. Because of this, the Vaisnava philosophy first of all pays obeisances to and worships the internal pleasure potency of the Supreme Lord. Thus the Lord and His potency are always referred to as Radha-Krsna. Similarly, those who worship the name of Narayana first of all utter the name of Laksmi, as Laksmi-Narayana. Similarly, those who worship Lord Rama first of all utter the name of Sita. In any case -- Sita-Rama, Radha-Krsna, Laksmi-Narayana -- the potency always comes first."

Caitanya-caritamrta, Adi lila Introduction
Bhaktivedanta Book Trust. HDG A.C. Bhaktivedanta Swami Srila Prabhupada.

Lord Sri Krsna
Srimati Radharani