Puri Bahuda Yatra Peaceful

BY: SUN STAFF CORRESPONDENT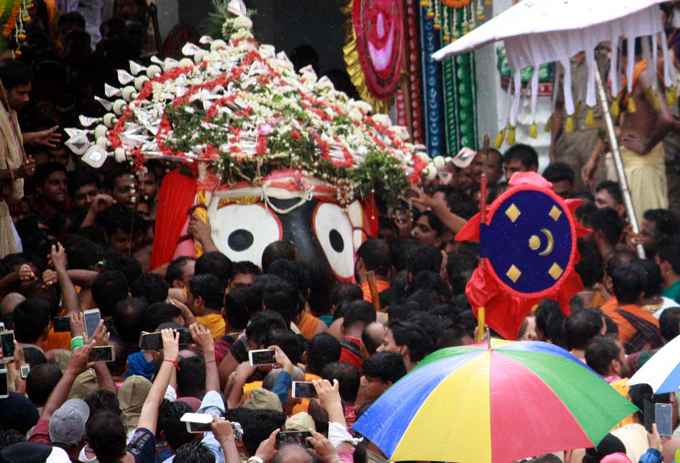 Jul 04, 2017 — JAGANNATHA PURI, ORISSA —

Undeterred by the molestation of a group of women in Gundicha Temple on Sunday, lakhs of devotees turned up here and bid adieu to Lord Jagannath, Balabhadra and Goddess Subhadra as the Deities started Their homebound journey, marking Bahuda Yatra on Monday.

The three chariots of the Deities reached Jagannath Temple by 7 p.m., though not a single chariot had managed to reach Gundicha Temple on June 25 Rath Yatra. The Deities will move into the sanctum sanctorum on July 6 after completion of two key rituals on the chariots over the next two days.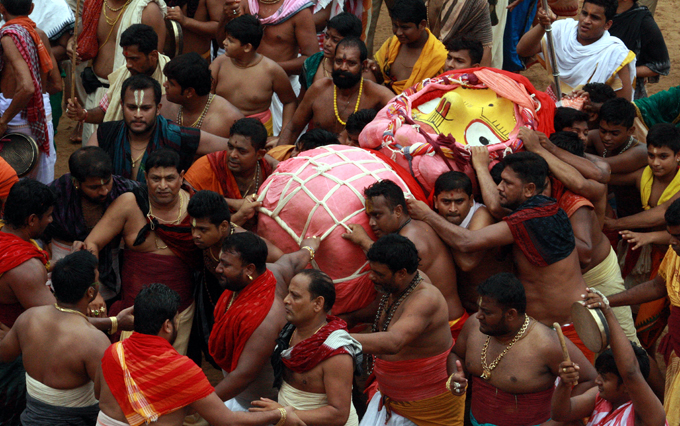 The temple administration, which was jittery after an axle of Subhadra's chariot broke in the run-up to car festival, heaved a sigh of relief. "By God's grace and servitors' cooperation, the Rath Yatra and Bahuda Yatra became smooth and successful. We also succeeded in preventing pilgrims from climbing the chariots, as directed by Orissa High Court in 2014," temple's Chief Administrator, Pradeep Kumar Jena said.

However, the police, which boasted of controlling the Rath Yatra crowd smoothly, was left red-faced on Sunday when some police personnel allegedly molested women in Gundicha Temple. "We are inquiring into the allegation. But the festival passed off peacefully. Now our priority is to ensure smooth conduct of Suna Besha (golden besha of Deities) on Tuesday and Niladri Bije (entry of Deities into temple) on Thursday," said SP (Puri) Sarthak Sarangi. During Niladri Bije last year, some priests heckled Puri collector Aravind Agarwal when he opposed the presence of their family members on chariots.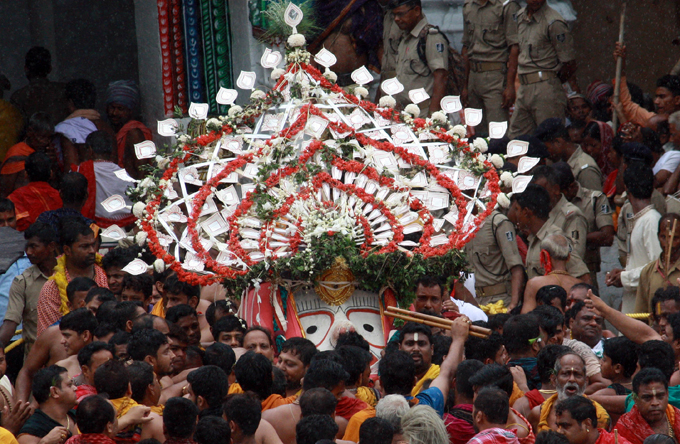 On Monday, the ambience of the 'home-coming festival' was in no way different from that of Rath Yatra, which had witnessed nearly seven lakh devotees. Frenzied devotees went gung-ho and were jostling for space to catch a glimpse of the triad Deities during pahandi procession, in which the giant wooden idols were brought from Gundicha Temple onto the chariots amid rhythmic beats of cymbals, gongs and conch.

The three Deities boarded Their respective chariots in scheduled time after a set of rituals inside the Gundicha Temple. The chariots rolled on the three km. Grand Road towards Jagannath Temple soon after Gajapati Dibyasingha Deb performed his conventional 'sweeping ritual' (chhera pahanra) on the decks of the chariots.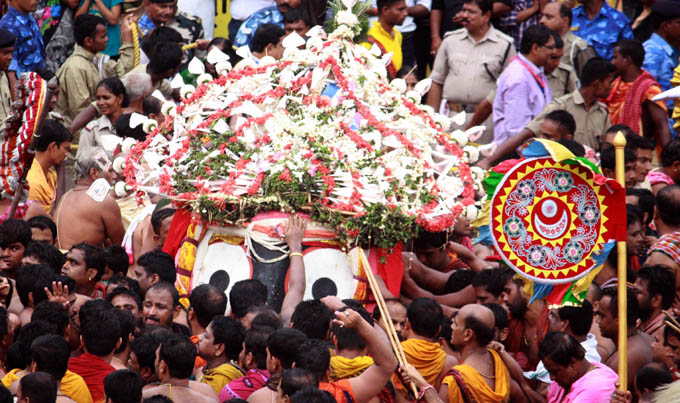 Lord Jagannath
[ Photo: Sampradaya Sun ]