The Bhaktivedanta Archives Needs Your Help!

BY: EKANATHA DASA
Jul 19, 2012 — SANDY RIDGE, NORTH CAROLINA, USA (SUN) —
THE BHAKTIVEDANTA ARCHIVES NEEDS YOUR FINANCIAL HELP!
Urgent. Urgent.
For 34 years the Bhaktivedanta Archives has endeavored to complete the many tasks of professionally preserving the original works of Srila Prabhupada while also attempting to keep them from being destroyed by time, natural disturbances and human errors.
New Vault
While we have a temporary storage with proper climate and temperature controls, we are planning to construct a robust vault for the long-term safekeeping of Srila Prabhupada's original legacy which consists of documents (letters, manuscripts, hand-written and typed essays, transcripts, the Jaladuta diary, 26 2nd Ave. diaries, etc.), photos, slides, negatives and audio (cassettes, reels, digital media including the Hindi and Bengali spoken words).
This new vault will be a place to properly store and protect the priceless original documents from theft, natural catastrophes such as floods, fires, tornadoes, etc. (Remember many years ago there was a fire in Gita Nagari that caused the destruction of important documents.) The estimated cost to construct the vault is $69,700.
Please download and read:
The Future of the Bhaktivedanta Archives
Vani Samadhi - Future Vision
and Vault Cost Estimate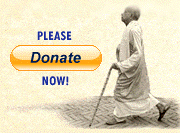 Original Audio
An equally important responsibility has been to release all of Srila Prabhupada's original audio and re-proofreading the related audio transcripts. However, this has been a challenging effort mainly due to lack of manpower and finances.
Please Hit the Donation Button
We humbly request that anyone who reads this please try to give at least $11.- per month (on automatic monthly withdrawals). All you have to do is just hit the donation button on this banner. There are already some devotees giving more, but if a minimum of 500 devotees were to give at least $11.- per month, we would be getting close to completing some of these important tasks. $1,600.- has been received thus far towards the new vault.
All donors will receive monthly updates of our progress as well as a yearly report - and some SP nectar will be send to you!
Again, please help us in this important service!
Thank you.
The Archives staff
For more information please contact: ekanatha@prabhupada.com