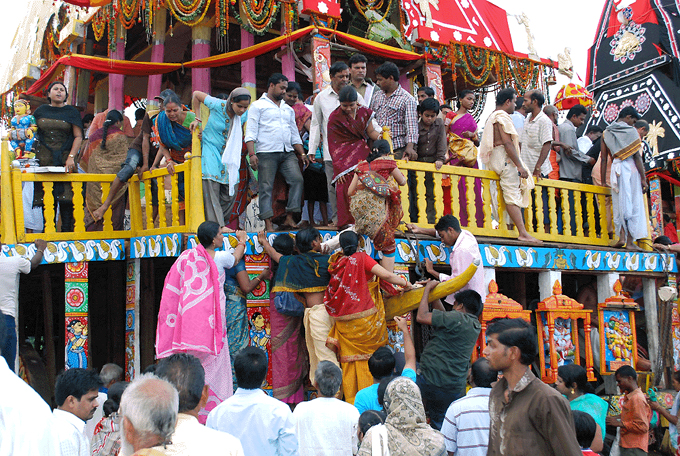 [ Click for larger version ]
Photos: Sampradaya Sun
Jul 05, 2011 — JAGANNATHA PURI, ORISSA

— The imbroglio stemming from the police assault on priests of Jagannath Temple in Puri on Monday ended on Tuesday. Priests, who had stalled the Pahandi procession (escorting the Deities to Gundicha Temple from chariots) of Lord Jagannath, Balabhadra and Subhadra, protesting the police action, continued the ritual on Tuesday night.
"We had a meeting on Tuesday afternoon. It was decided unanimously that the Pahandi ceremony would be made in night. The impasse is over. We do not want the Deities to suffer anymore," Premananda Dasmohapatra, secretary of Daitapati Nijog of the 12th century shrine told media persons.
The triad Deities were stranded on Their chariots after the priests refused to take Their Lordships to Gundicha Temple. A number of people, including some priests were injured in the lathi charge. The violence took a heavy toll on rituals of the reigning Deities.
The aggrieved priests, however, did not take the help of police in steering the Deities from the chariots to Gundicha Temple.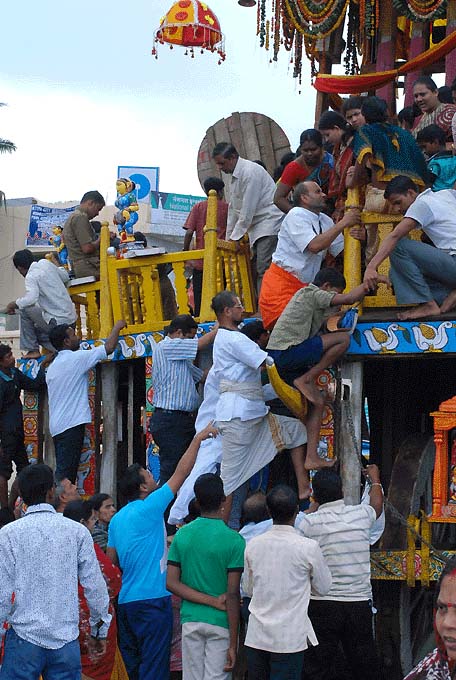 Earlier the Gajapati Maharaja of Puri, Dibyasingha Deb, expressed shock over the incident and advised the state government to conduct an administrative inquiry into the matter. Orissa Chief Minister Naveen Patnaik exhorted the priests not to ignore the Deities on Their chariots.
As part of the save-facing act, the police on Monday evening suspended four constables of Orissa State Armed Police (OSAP) after they were found guilty during the probe. Police scanned the video clippings captured by CCTV cameras and found the four constables guilty.
Puri SP Amitendranath Sinha said, "Some priests tried to help climb guests onto Lord Jagannath's chariot through an exit route. When police prevented them, the priests first attacked them with coconuts."
Meanwhile, unfazed by Tuesday's lathi charge, a large number of devotees turned up at Gundicha Temple to have glimpse of the Deities onboard the chariots.