Puri Rath Yatra Begins on Tragic Note

BY: SUN STAFF CORRESPONDENT

Photos: Sampradaya Sun
[ Click for large version ]




Jun 21, JAGANNATHA PURI, ORISSA — The nine-day Rath Yatra festival unfolded on a tragic note following the death of two devotees in an alleged stampede on Grand Road on Thursday. The tragedy struck hours before the chariot pulling started.

While one of the deceased was identified as K. Ravana Ama (30) from Visakhapatnam, identity of the other victim, an elderly male, was not ascertained immediately. The mishap took place when a teeming mob was jostling for space to have glimpse of Jagannath, Balabhadra and Subhadra aboard Their chariots.

"Doctors would find out the exact cause of their death. We are also trying to verify whether any stampede took place," Puri District Collector Arvind Agarwal said.



"Both the victims were received dead at hospital. We do not know whether the woman was present in the Rath Yatra crowd. But the unidentified elderly man was brought to the hospital by some volunteers, engaged in the festival. He fainted in the crowd on Grand Road," Chief District Medical Officer (Puri) Dr. Gyanendra Kumar Sahoo said.
Though the weather was not hot and humid, scores of pilgrims were hospitalized after they fainted in the crowd at different locations. "Many reported nausea and headache. They were discharged soon after treatment," the CDMO said.
The twin deaths once again brought to fore the poor crowd management by police during the grand festival. Though security was tightened for an incident-free Rath Yatra, all calculations went wrong. At some places, the police were seen wielding force to quell the mob.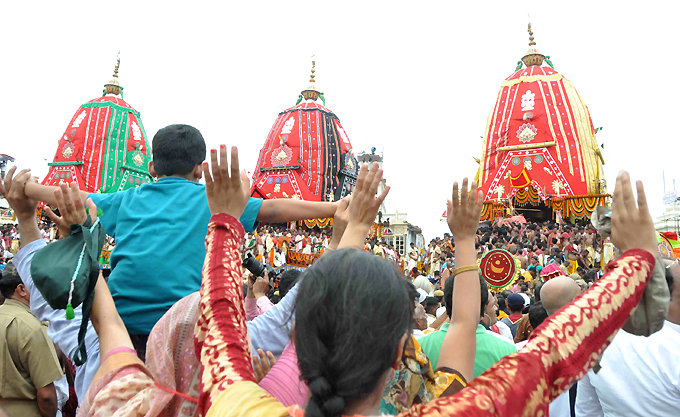 Crowd mismanagement had trigged stampedes during Rath Yatra in 2008, 2010 and 2011. While six pilgrims were trampled to death in 2008, one each died in 2010 and 2011 car festival. Crowd control had gone for a toss on second day of 2011 Rath Yatra, when a section of police and priests picked up a fight, leading to lathi-charge in front of the chariots at Gundicha temple. More than thirty people from both sides were injured in the scuffle.
Earlier Odisha DGP Manomohan Praharaj said police took adequate steps to control the crowd. Asked whether the kin of the deceased would receive insurance benefit launched by the Jagannath Temple administration, the shrine's PRO Laxmidhar Pujapanda said, "We would inquire into the claim when family members of deceased approach us. If the death was accidental, they will definitely receive the insurance cover."
The temple administration recently insured the Grand Road, lanes and by-lanes connecting to the Grand Road for the benefit of pilgrims. The temple will pay Rs 1 lakh to the kin of the deceased in case of accidental deaths at those designated locations.
The "stampede" deaths did not affect the proceedings of Rath Yatra, temple officials said. A number of tourists were also hospitalized after being rescued from the sea by lifeguards. Till reports last reached, no drowning incidents were reported.