50 pc Pay Raise for Chariot Makers

BY: SUN STAFF CORRESPONDENT

Carpenters put finishing touches on Jagannath Ratha Yatra chariots
[ Click for larger version (all pictures)
Photos: Sampradaya Sun




Jun 10, 2012 — JAGANNATHA PURI, ORISSA — The daily wage of carpenters engaged in construction of the chariots for the forthcoming Rath Yatra in Puri has increased 50%. The Jagannath Temple administration hiked the wage following resentment among carpenters over poor payment. The pay raise became effective Sunday, with carpenters being paid Rs 262 per day now, as compared to the Rs 175 that they were getting until up to Saturday.

A jittery state government enhanced their payment after the carpenters earlier expressed apprehension about delay in completion of the chariot making. The annual car festival will be observed on June 21st.



"They will now work overtime to complete the construction work of chariots at least two days before Rath Yatra. It will take another day or two for decorating the chariots with flowers, appliqué embroideries and colourful clothes," said temple Public Relations Officer Laxmidhar Pujapanda.
Sources said the carpenters are now putting in three hours extra effort to meet the deadline. "We are now starting off around 7 am till6 pm. Earlier, we used to start our work around 11 am. This time we faced problem due to the scorching heat," said Narasingha Mahapatra, chief carpenter of Lord Balabhadra's Taladhwaja chariot.
"Now we are happy after the pay hike. Earlier we were feeling let down," said Raghunath Subudhi, another carpenter said.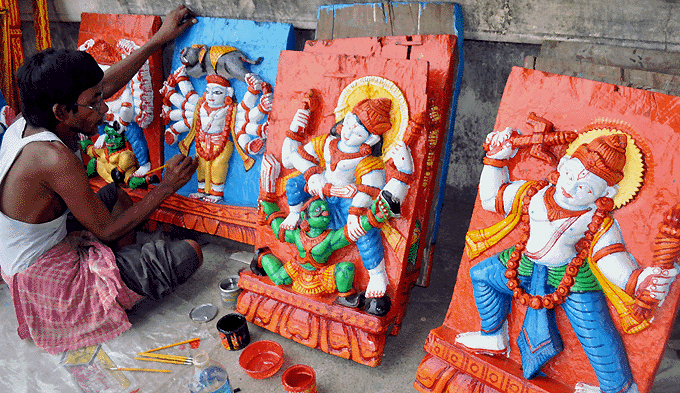 Construction work on chariots for the nine-day annual festival started on the auspicious occasion of Akshaya Tritiya on April 24. Every year, the shrine administration engages seventy-five carpenters for the construction of chariots. The carpenters toil hard for around fifty-eight days to make the iconic chariots.
While the height of Lord Balabhadra's chariot will be 45 feet, the chariots of Lord Jagannath and Devi Subhadra stand at 45. 6 feet and 44.6 feet, respectively.
"Since decades, we are devoting ourselves for the Lord for 58 days only. Rest of the year we work at different places and earn more than Rs 200 per day easily. But here we were getting less," said another carpenter.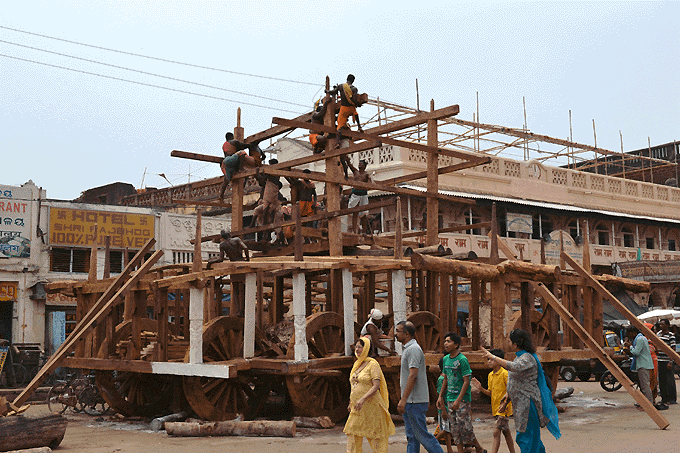 "The temple administration is increasing carpenters' incentive almost every year. Besides, they receive some prize money every year," Pujapanda said.
"Chariot making here is not an easy task. Unlike others, we do not follow any measurement skills. We simply guess the measurement and work on the askew-shaped timbers," said carpenter Bhagaban Maharana.
In 2006, a Dhaka-based temple had roped in the Jagannath temple administration to send some carpenters to Dhaka for making a huge chariot for their temple's festival. Impressed by the beautiful chariot making in Puri, a Bhopal-based museum in 2004 had proposed to the state government to preserve the Puri chariots in that museum. But that offer was turned down by the temple priests.