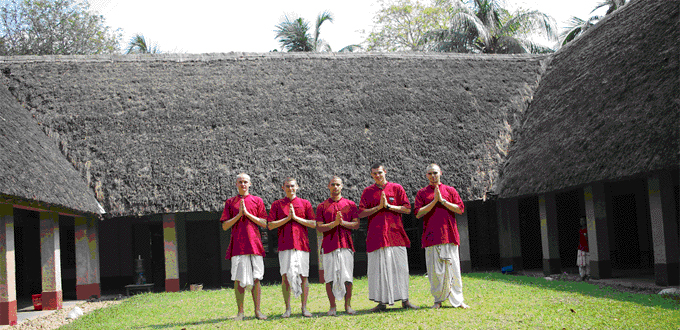 Left to Right: Oisin das, Krsna das, Balaram das, Syam Bihari das, Govinda das
"To the Himalayas, please"- Ashram boys
May 21, 2011 — SRIDHAM MAYAPUR, WEST BENGAL (SUN) — Himalayan Yatra for Graduates of Srila Prabhupada Asrama, Sri Mayapur
Yes, it is our youth at the Srila Prabhupada Ashram of the ISKCON International School at Sri Dham Mayapur. They are not asking for high tech stuff, girls, movies, or a party at "Pizza Hut". They just asked if we could take them on pilgrimage for their high school graduation.
They're not replicas of Druva or Prahlada Maharaj, but get close to them and you will find in their hearts a bud of devotion; in their sweet kirtan the essence of Lord Chaitanya's teachings; and in their desires the influence of having lived years of austerity and simplicity at the ashram, willingly renouncing all comforts and tolerating the ups and downs of our movement.
Mahasaya, they said, "Take us to the Himalayas. We can visit Vasista Muni's cave, the famous Jakhoo Hanuman Temple in Shimla, enter the gateway to Yamunotri and Gangotri, take darshana of Ganga Mai at Haridwar and Hrisikesh." They almost convinced me here. One boy said, "We are willing to take the cheapest train." That was it! My heart melted. Their humble attitude did it. We must make it happen for them.
I'm appealing to the worldwide ISKCON family for contributions. Help make this graduation dream possible. It is only 7000 rps ($155) per student. Please contact Ashram Director, Rama Vigraha das (ACBSP) at 8653144583 or e-mail: rvigrahadas@yahoo.com. Donations outside India use Western Union to: Partha Sarati Chakraborty, ISKCON, MAYAPUR, NADIA, WEST BENGAL, INDIA pin 741313
Rama Vigraha das (ACBSP)
Director for Srila Prabhupada Asrama of the International School at Sridham Mayapur