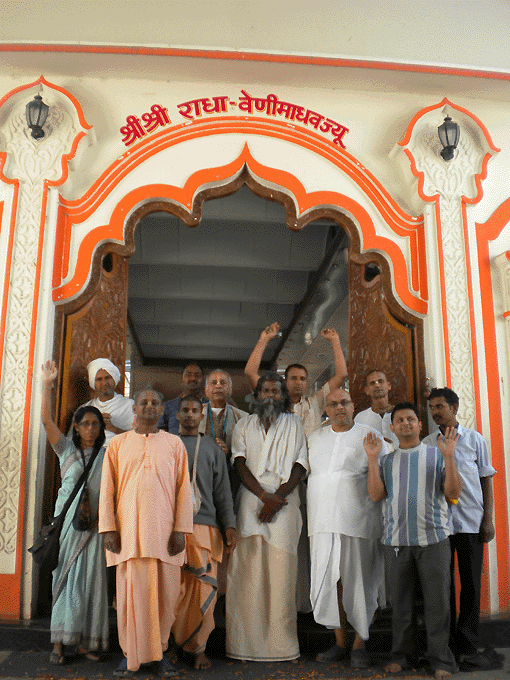 HH Jaya Krishna das, President, Braj Rakshini Hari Naam Pracharini Sabha, Maan Mandir, Barsana with HG Radha Jivan das, ISKCON Alachua, HG Acharya das, TP, ISKCON Allahabad, HG Lakshmi Hari das, ISKCON, Allahabad, Minaxi Gopika dd, ISKCON Leicester, UK (extreme left), Dr. Prayag Narayan Misra, Director, Communications, Chaitanya Cultural Center, USA
Mar 01, 2011 — PHOENIX, ARIZONA, USA (SUN) —
A gathering of devotees from around the world at ISKCON Allahabad numbering thousands will start on March 1st from Triveni Sangam and end in the Prime Minister of India's office in New Delhi on April 15th.
The cleaning operation and march on foot and vehicles has been organized under the guidance of HG Ramesh baba ji of Barasana, Brajbhumi, Mathura, with volunteers from Maan Mandir, Gahavar vana, in Barsana, Mathura supported by ISKCON devotees from all over the world. Objectives are to clean the Yamuna in Delhi and other cities from drainage and pollution brought about by chemical and leather industries in particular, along with the public in general.
In the holy city of Vrindavan, the supply of drinking water is not directly from the Yamuna but through water collected at Wazirabad dam, which is full with pollutants. It is suggested to make the Yamuna free from all pollutants by constructing new canals side by side along river Yamuna in order to carry dirty water to the sea rather than dumping it into Yamuna. Closing all drains ending at Yamuna will ensure clean water up to Sangam at Prayag, Allahabad.
Maan Mandir Braj Rakshini Hari Naam Pracharini Sabha has organized this march with the support of devotees from worldwide ISKCON preaching centers, and will sing Hari Naam all the way from Allahabad to New Delhi during 45 day walking marathon.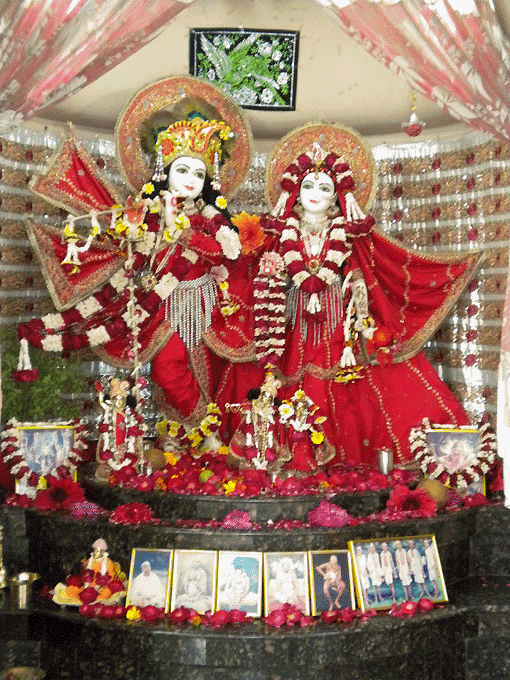 Sri Sri Radha Veni-Madhava
Presiding Deities at ISKCON Allahabad