Panch Prayag
BY: SUN STAFF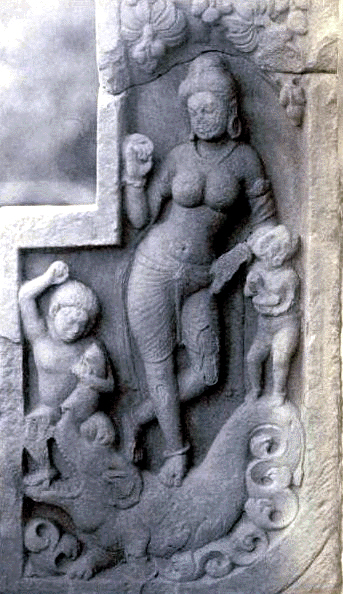 Ganga Ma with Makara-vahana and Attendants
Besnagar, Madhya Pradesh, Gupta Period, 5th-6th c.
Museum of Fine Arts, Boston
Dec 28, 2012 — CANADA (SUN) — Places of Pilgrimage: A serial exploration of the Pancha Prayag.
Following our recent Feature series on the Holy Dhams of Naimisharanya and Chitrakoot, today we begin a survey of the Panch Prayag – the five sacred river confluences of the Ganges River. The Panch Prayag begin in the Garhwal Himalayas, in the state of Uttarakhand. The word prayag means 'confluence' in Sanskrit. The five member rivers of Panch Prayag are Vishnu Prayag, Nanda Prayag, Karna Prayag, Rudra Prayag and Dev Prayag, named in the sequence of their descending flow from the Himalayas.
As the maps below indicate, sacred waters flow directly into the main branch of the Ganges from three of the Char-dhama – Gangotri, Kedernath and Badrinath – and naturally many tirthas are located throughout this region. Waters from the fourth Char-dhama, Yamunotri, do not pass through the Panch Prayag system. Rather, these waters join the Yamuna at the Triveni Sangam in Allahabad. At their confluence, the Yamuna is larger than the Ganges.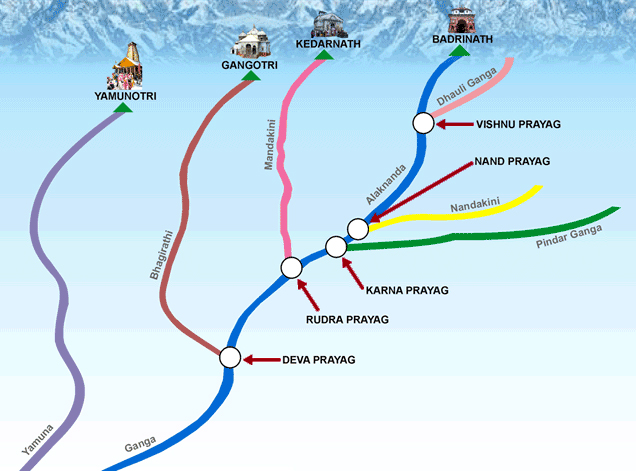 The Panch Prayag
[ Image courtesy Rnarayanaswami.net ]
Vishnu Prayag on the Alaknanda River is the first of the Panch Prayag, being one of the source streams of the Ganges. The Alaknanda is then joined by the Dhauli, Nandakini, Pindar, Mandakini, and Bhagirathi Rivers, respectively.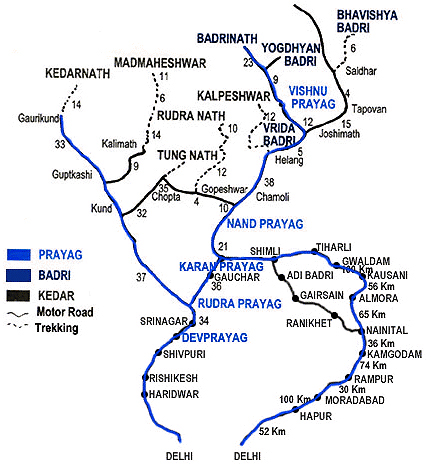 The Alaknanda River descends from the foot of the Satopanth, a triangular lake located at nearly 15,000 feet above sea level. Satopanth is named for the Trimurti: Lord Brahma, Lord Vishnu and Lord Shiva, who come to this place to take holy bath. The waters are kept clean by local birds who remove pollutants from the lake. They are said to be Gandharvas in disguise, guarding the waters of Satopanth.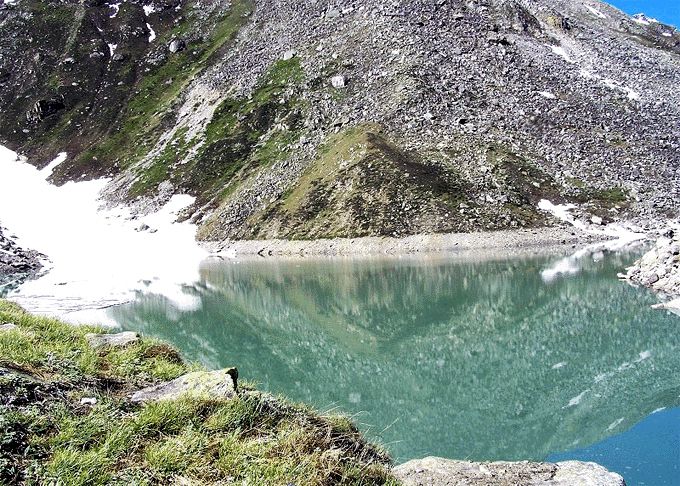 Satopanth Lake
The Alaknanda is also fed by the Bhagirath Kharak glaciers near Nanda Devi peak in Uttarakhand. These waters cascade over 142 miles, encompassing the five prayags. At Dev Prayag, the Alaknanda flows south into Rishikesh and Haridwar, two of the southern-most tirthas on the Ganges before it flow southeast of Delhi.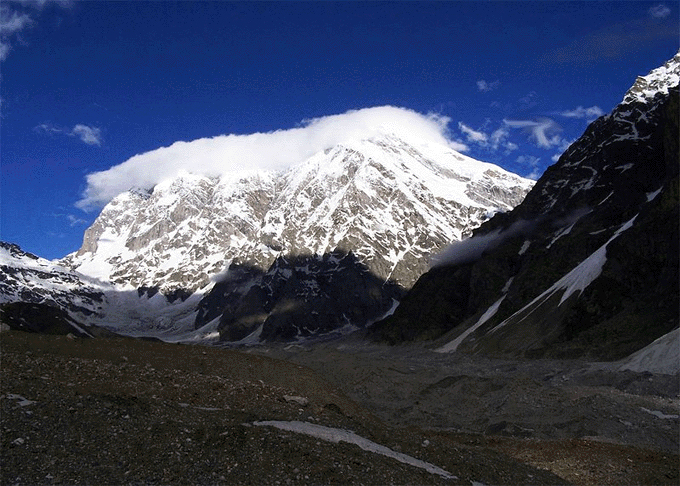 The Garhwal Himalayas near Satopanth Tal

The Sun News Editorials Features Sun Blogs Classifieds Events Recipes PodCasts
Copyright 2005, 2012, HareKrsna.com. All rights reserved.