Vaisnava Ke (What Kind of Devotee Are You?) - Part 2
BY: SUN STAFF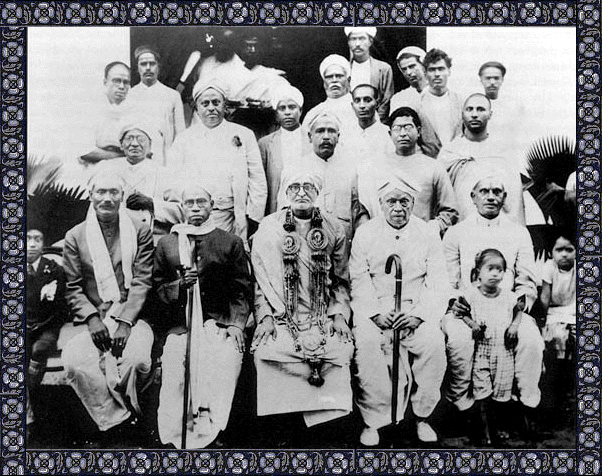 Dec 28, CANADA (SUN) — A poem in 19 verses by HDG Srila Bhaktisiddhanta Saraswati Thakur ľ Part 2.
Translation of verses 1 through 4 by HDG AC Bhaktivedanta Swami Prabhupada. Translation of remaining verses by HH Jayapataka Swami.
Verse 11

sei du'ti katha, bhula' na sarvatha
uccaih svare kara "hari nama-rava"
"phalgu" ara "yukta", "baddha" ara "mukta,"
kabhu na bhaviha, ekakara saba
sei-these; duti-two; katha-topics; bhulo-forget; na-do not; sarvatha-in any circumstance; uccaihsvare-in a loud voice; kara-do; hari nama rava-chanting of the holy name; phalgu-false renunciation; ara-even; yukta-linked with Krsna; baddha-bound in material nature; ara-even; mukta-liberated from material entanglement; kabhu na-never; bhaviha-consider; ekakara-one form; saba-all
TRANSLATION
My dear mind, you should never, under any circumstances, allow yourself to forget the two instructions of Sanatana Gosvami. Constantly engage yourself in loudly chanting the glories of the holy names of Lord Krsna!
Never consider dry renunciation and yukta-vairagya (appropriate renunciation) to be equal. Do not confuse actions appropriate for a conditioned soul with the activities of an eternally liberated soul. Never think that everything is one without difference.
Verse 12

yatha yogya bhoga, nahi tatha roga
yanasakta" sei, ki ara kahaba
yasakti-rahita", ysambandha-sahita",
vijaya samuha sakali ymadhava"
yatha yogya-as is necessary for surviving; bhoga-enjoyment; nahi-is not; tatha-in that way; roga-a diseased condition of materialistic consciousness; anasakta-detached from sense gratification; sei-he; ki ara-what more; kahaba-can be said; asakti-attachment; rahita-without; sambandha-relation; sahita-with; vijaya-objects of the senses; samuha-all; sakali-all; madhava-Krsna.
TRANSLATION
Material facilities and gratification of the senses experienced while acting for self-preservation or in the faithful execution of one's duties in Krsna consciousness are not the cause of fall down into materialistic consciousness. Rather, such a purely engaged devotee is truly detached from sense gratification, what more shall I say?
The pure devotee acts in Krsna consciousness without attachment to the objects of the senses, remaining conscious of his relationship as the eternal servitor of Lord Krsna, the Supreme Personality of Godhead. The pure devotee is fixed in his attachment to rendering pure devotional service to the Lord and thus he sees all apparently material objects of sense enjoyment as non-different divine energies of Lord Madhava, ie. they are seen in terms of how they can be utilized in the devotional service to Lord Madhava and not according to their material sense-gratificatory value.
Verse 13

se yyukta-vairagya", taha ta' saubhagya
tahai jacete harira vaibhava
kirtane yahara, ypratiiaha-sambhara"
tahara sampatti kevala ykaitava"
se-this; yukta-vairagya-renunciation for Krsna's enjoyment; taha-that; ta-indeed; saubhagya-good fortune; tahai that alone; jasete-in the material world; harir-the Lord's; vaibhava-display of wealth; kirtana-in the chanting the Lord's names; yahara-whose; pratiiriha-sambhara-heaps of desire for fame; tahara-its; sanpatti-wealth; kevala-only; kaitava-cheating.
TRANSLATION
The devotee who engages his material possessions in the service of Lord Krsna while regulating his material activities of sense gratification according to the injunctions of the revealed sastras (refer to previous verse) is actually a yukta-vairagi or a devotee situated in full and appropriate renunciation. He is certainly most fortunate. Even while living in the midst of the material world, whatever opulences he possesses and whatever actions he performs are all aspects of the spiritual opulence and potency of Hari (Lord Krsna), the Supreme Personality of Godhead.
However, if someone is outwardly chanting the holy names of the Lord, or even if he is externally engaged in kirtana, or preaching the glories of the holy name, but actually is motivated by pratiiriha desires, i.e., is under the control of desires to enhance his own material reputation or temporary position, then whatever apparent opulences or influence he may have achieved by his efforts are simply the products of cheating, and therefore simply temporary products of maya, the illusory energy.
Verse 14

yviiaya-mumukiu", bhogera bubhukiu,"
du'ye tyaja mana, dui yavaisnava"
ykuioera sambandha", aprakuta-skandha,
kabhu nahe taha jasera sambhava.
viiaya-material world; mumukiu-one who desires liberation from; bhogera-enjoyment; bubukiu-one who desires to enjoy; duye-both; tyaja-reject; mana-O mind; dui-both; avaisnava-not Vaisnava; kuioera-of Krsna; sambanbha-relation; aprakuta-non material; skandha-chapter; kabhu nahe-never; taha-that; jasera-materialism; sanbhava-origin.
TRANSLATION:
My dear mind, due to your false pride you sometimes think, "I am liberated from all attachments to this material world!", and other times you think, "I am an expert enjoyer of material sense gratification!" You must reject both these mentalities as both outlooks are totally "non-Vaisnava".
Instead you should remain fixed in your relationship as an eternal servitor to Lord Krsna, performing unmotivated devotional service. This pure devotional service belongs to the spiritual world which is far beyond the influence of this material world of birth and death. While thus purely engaged in Krsna consciousness it is not possible for the material illusion or material contamination to remain.
Verse 15

mayavadi jana", kuioe tara mana,
mukta abhimane se ninde vaisnava
vainsavera dasa, tava bhakti-aŠa,
kena va sakicha nirjana-ahaba
mayavadi jana-those who say the world is illusion and the Absolute Truth is impersonal; kuioe tara-other then Krsna; mana-mind; mukta abhimane-thinking themselves liberated and proud; se-he; ninde-criticizes; vaisnava-the Vaisnavas; vaisnavera dasa-servant of the Vaisnavas; tava-your; bhakti-devotion; aŠa-aspiration; kena va-why then; sakicha-do I call; nirjana-solitary; ahaba-battle.
TRANSLATION
The mayavadi's (impersonalist's) mentality is totally separate from Krsna consciousness. Although they are fallen souls conditioned by the material nature, due to illusion they imagine they have achieved liberation from material birth and death, and due to their false pride they commit the greatest offense of blaspheming pure devotees of the Lord. My dear mind, you are a servant of the servant of Lord Krsna! Certainly your desire is to achieve pure loving devotional service to Lord Krsna! Then why do you call me to be trapped in this deadly cage of solitary devotional service (nirjana bhajana)? Why do you want me to imitate the mayavadi impersonalist's practice of making a false show of renunciation and committing offenses against the pure devotees of Lord?
Verse 16

ye yphalgu-vairagi", kahe nije ytyagi",
se na pare kabhu haite yvaiioava"
haripada chasi', ynirjanata basi"
labhiya ki phula, yphalgu" se vaibhava
ye-who; phalgu-vairagi-false renunciate; kahe-says; nije-himself; tyagi-renunciate; se-he; na pare kabhu haite-can never be; vaiioava-a Vaisnava; haripada-the lotus feet of the Lord; chasi-rejecting; nirjanata-solitary practices; basi-I increase; labhiya-obtaining; ki phala-some result; phalgu-false; se-this; vaibhava-accumulation.
TRANSLATION
Someone, who falsely renounces objects as material, which can actually be utilized in devotional service to Lord Krsna, is known as a phalgu-vairagi. Due to false pride, he claims to be a great renunciate. However, by his practice of dry renunciation, a phalgu-vairagi is never able to become a Vaisnava, a pure devotee of Lord Krsna.
Discarding the eternal shelter of pure devotional service to the lotus feet of Guru and Lord Krsna, the phalgu-vairagi may practice what may appear to be Krsna consciousness in his separate or solitary "home" away from the Krsna consciousness association of the society of devotees, but what transcendental result does he achieve for all his efforts? Whatever so-called Krsna conscious result he is achieving is simply a form of material illusion with no actual eternal Krsna conscious value!
Verse 17

radha dasye rai', chasi ybhoga-ahi,"
ypratiirihaŠa" nahe ykirtana-gaurava"
yradha-nityajana", taha chasi' mana
kena va nirjana-bhajana-kaitava
radha-dasye-in the service of Radharani; rai-remaining; chasi-give up; bhoga-ahi-snake of enjoyment; pratiirihaŠa-desire for material position; nahe-is not; kirtana gaurava-the glory of kirtana; radha nitya jana-being the eternal servant of Radha; taha-that; chasi-give up; mana-O mind; kena va-why then; nirjana-bhajana-solitary worship; kaitava-cheating.
TRANSLATION
My dear mind, now, with determination, let us remain eternally in the service of the servant of the servant of Srimati Radharani, the spiritual Embodiment of the purest love for Krsna! Give up every last trace of attachment for the vicious snake of material desire for sense gratification (subtle or gross). Give up all desires for achieving cheap fame or some position of temporary material importance through chanting the Holy Names of Krsna, as with these material desires one cannot realize the transcendental glories of congregational chanting of the Holy Names of Lord Krsna in sankirtana.
My dear mind, completely give up these illusory attachments and totally surrender yourself in the service of Srimati Radharani's eternal devotees! Why shall we leave the transcendental association of confidential devotees to engage in the cheating process of solitary worship (nirjana bhajana)?
Verse 18

vrajavasigaoa, pracaraka-dhana,
pratiiriha-bhikiuka ta'ra nahe yŠaba"
praoa ache tanra, sehetu pracara,
pratiirihaŠa hina -ykuioagatha" saba
vrajavasi gaoa-the inhabitants of Vrndavana; pracaraka-preacher; dhana-wealth; pratiiriha bhikiuka-beggars for fame; tara-they; nahe-are not; Šaba-dead bodies, without life; praoa-life; ache tanra-they have; se hetu-for that reason; pracara-preaching work; pratiirihaŠa hina-devoid of desire for material fame; kuioa-gatha-songs; saba-all.
TRANSLATION
The Vrajavasis' (eternal associates of Krsna in Vrndavana considered by Lord Caitanya Mahaprabhu to be the best and most perfect devotees) personal treasure is preaching the glories of Lord Krsna. They are always glorifying Krsna. They never desire any cheap popularity or temporary material position, which is hankered after by the living dead. These eternally liberated devotees perform the confidential service of preaching the glories of the Supreme Personality of Godhead and His Holy Name, because they possess real compassion and the eternal life of Krsna consciousness. Completely free from all motives for personal material reputation and temporary influence, the pure devotees are completely and irrevocably bound to Lord Krsna through ties of loving devotional service.
Verse 19

Šridayitadasa, kirtanate aŠa,
kara uccaii svare yharinama-rava"
kirtana-prabhave, smaraoa svabhave,
se kale bhajana-nirjana sambhava
Šri dayitadasa-Ń Bhaktisiddhanta Sarasvati Thakura; kirtanate-for kirtana; aŠa-having aspiration; kara-please perform; uccaii-svare-in a loud voice; harinama-rava-chanting he holy names of the Lord; kirtana-prabhave-by the influence of kirtana; smaraoa-by remembrance of the Lord; svabhave-by the nature of; se-that; kale-time; bhajana-worship; nirjana solitary; sambhava-possible.
TRANSLATION
This a-dayita dasa (His Divine Grace Bhaktisiddhanta Sarasvati Rihakura - the humble servitor of the all-merciful Srimati Radharani) simply desires to be absorbed in the nectar of spreading the glories of Lord Krsna's holy names. My dear mind, now let us loudly chant the holy names of Krsna so we can continuously remain in the ocean of transcendental nectar. The congregational chanting of the holy names of Krsna awakens the transcendental quality of natural spontaneous loving remembrance of Lord Krsna (including the Lord's form, qualities and pastimes). At that moment the confidential realization and pure practice of "solitary" loving devotional service to Their Lordships Sri Sri Radha-Krsna is possible.


The Sun News Editorials Features Sun Blogs Classifieds Events Recipes PodCasts
Copyright 2005, HareKrsna.com. All rights reserved.