Sri Garga Samhita
BY: SUN STAFF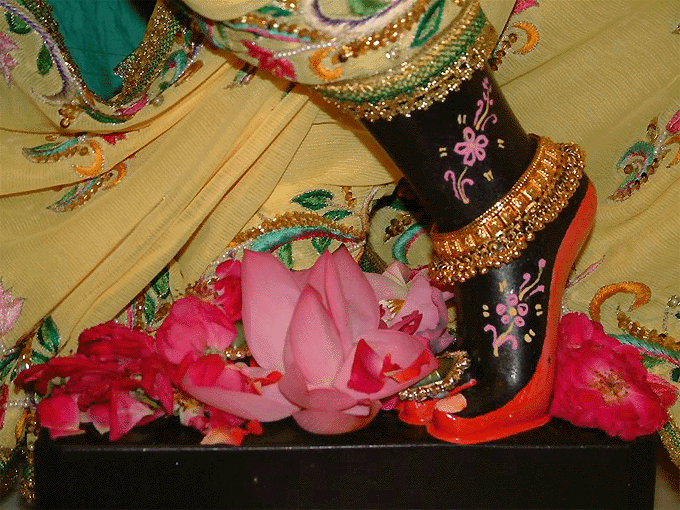 Syam Caran, Vrindavan
Dec 15, CANADA (SUN) —
Chapter One
Sri-Krishna-mahatmya-varnana
Description of Sri-Krishna's Glories
Text 1


om narayanam namaskritya
naram caiva narottamam
devim sarasvatim vyasam
tato jayam udirayet
Before reciting this Garga-samhita, which is the very means of conquest, one should offer respectful obeisances unto the Personality of Godhead, Narayana, unto Nara-Narayana Rishi, the supermost human being, unto mother Sarasvati, the goddess of learning, and unto Srila Vyasadeva.*
Text 2


sarad-vikaca-pankaja-sriyam ativa-vidveshakam
milinda-muni-sevitam kulisa-kanja-cihnavritam
sphurat-kanaka-nupuram dalita-bhakta-tapa-trayam
calad-dyuti-pada-dvayam hridi dadhami radha-pateh
In my heart I place the splendid feet of Radha's Lord, feet that eclipse the glory of autumn lotuses, are served by hosts of bumblebee sages, are marked with lightning and lotus and decorated with glistening golden anklets, and break the three sufferings of the devotees.
Text 3


vadana-kamala-niryadyasya piyusham adyam
pibati jana-varo 'yam patu so 'yam giram me
badara-vana-viharah satyavatyah kumarah
pranata-durita-harah sarnga-dhanv-avatarah
May Satyavati's son Vyasa, who enjoys pastimes at Badarikasrama, who is the best of men, who drinks the transcendental nectar of the glory of Lord Krishna's lotus face, and who is an incarnation of the Lord who carries the Sarnga bow, protect my words.
Text 4


kadacin naimisharanye
sri-gargo jnaninam varah
ayayau saunakam drashtum
tejasvi yoga-bhaskarah
Once Sri Garga Muni, who was the best of the wise, very powerful, and a brilliant sun of yoga, went to see Saunaka Muni.
Text 5


tam drishtva sahasotthaya
saunako munibhih saha
pujayam asa padyadyair
upacarair vidhanatah
Seeing him, Saunaka and the sages at once stood up and worshiped him by washing his feet and presenting many offerings according to ancient tradition.
Text 6


sri-saunaka uvaca

satam paryatanam dhanyam
grihinam santaye smritam
nrinam antas tamo-hari
sadhur eva na bhaskarah
Sri Saunaka said: The auspicious travels of saintly devotees bring peace to they who stay at home. It is a saintly devotee, and not the sun, the removes the darkness in people's hearts.
Text 7


tasman me hridi sambhutam
sandeham nasaya prabho
katidha sri-harer vishnor
avataro bhavaty alam
Therefore, O lord, please destroy the doubt in my heart. How often does Lord Vishnu, who removes all that is inauspicious, descend to this world?
Text 8


sri-garga uvaca

sadhu prishtam tvaya brahman
bhagavad-guna-varnanam
srinvatam gadatam yad vai
pricchatam vitanoti sam
Sri Garga Muni said: O brahmana, you have asked a worthy question. The description of the Lord's transcendental qualities brings auspiciousness to they who hear, speak, and ask.
Text 9


atraivodaharantimam
itihasam puratanam
yasya sravana-matrena
maha-doshah prasamyati
Of this they tell the story of an event in ancient history, simply by hearing of which great sin is removed.
Text 10


mithila-nagare purvam
bahulasvah pratapavan
sri-krishna-bhaktah santatma
babhuva nirahankritih
In the city of Mithila in ancient times lived a powerful king named Bahulasva, who was peaceful at heart, free of false ego, and a great devotee of Lord Krishna.
Text 11


ambarad agatam drishtva
naradam muni-sattamam
sampujya casane sthapya
kritanjalir abhashata
Seeing the best of sages Narada descend from the sky, (the king) worshiped him, offered him a seat, and with folded hands addressed him.
Text 12


sri-bahulasva uvaca

yo 'nadir atma purusho
bhagavan prakriteh parah
kasmat tanum samadhatta
tan me bruhi maha-mate
Sri Bahulasva said: O wise one, please tell me why the beginningless Supreme Person, who is beyond the material energy, places His transcendental form in this world?
Text 13


sri-narada uvaca

go-sadhu-devata-vipra-
vedanam rakshanaya vai
tanum dhatte harih sakshad
bhagavan atma-lilaya
To protect the cows, devotees, demigods, and Vedas, Lord Hari, the original Supreme Personality of Godhead, placed His own transcendental form and pastimes in this world.
Text 14


yatha natah sva-lilayam
mohito na paras tatha
anye drishtva ca tan-mayam
mumuhus te muhur muhuh
As a magician is not bewildered by His own magic tricks, although others may be bewildered, so the Supreme Personality of Godhead is not bewildered by the magic tricks He does with His illusory potency, although others who see them are bewildered again and again.
Text 15


sri-bahulasva uvaca

katidha sri-harer vishnor
avataro bhavaty alam
sadhunam rakshanartham hi
kripaya vada mam prabho
Sri Bahulasva said: How often does Lord Vishnu, who removes all that is inauspicious, descend to this world to protect the devotees? O lord, please kindly tell me.
Text 16


sri-narada uvaca

amsamso 'msas tathavesah
kala purnah prakathyate
vyasadyais ca smritah shashthah
paripurnatamah svayam
Sri Narada said: In the Smriti-sastra the great sages who have Vyasa as their leader explain that the Lord descends in six kinds of forms: 1. amsamsa (a part of a part), 2. amsa (a part), 3. avesa (entrance into a jiva), 4. kala (a full part), 5. purna (full), and 6. paripurnatama (most full).
Text 17


amsamsas tu maricy-adir
amsa brahmadayas tatha
kalah kapila-kurmadya
avesa bhargavadayah
The amsamsa incarnations begin with Marici, the amsa incarnations begin with Brahma, the kala incarnations begin with Kapila and Kurma, and the avesa incarnations begin with Parasurama.
Text 18


purno nrisimho ramas ca
svetadvipadhipo harih
vaikuntho 'pi tatha yajno
nara-narayanah smritah
The Smriti-sastra explains that the purna incarnations are 1. Nrisimha, 2. Rama, 3. Lord Hari, the ruler of Svetadvipa, 4. Vaikuntha, 5. Yajna, and 6. Nara-Narayana.
Text 19


paripurnatamah sakshac
chri-krishno bhagavan svayam
asankhya-brahmanda-patir
goloke dhamni rajate
The paripurnatama form of the Lord is Sri Krishna, who is the original Supreme Personality of Godhead Himself. He is the master of countless universes. He is splendidly manifest in the realm of Goloka.
Text 20


karyadhikaram kurvantah
sad-amsas te prakirtitah
tat-karya-bharam kurvantas
te 'msamsa viditah prabhoh
The amsa incarnations are said to oversee the execution of the Lord's mission (in the world). The amsamsa incarnations are understood to perform the work of executing those missions.
Text 21


yesham antar-gato vishnuh
karyam kritva vinirgatah
nanaveshavatarams ca
viddhi rajan maha-mate
O great soul, O king, please know that in the various avesa incarnations Lord Vishnu enters (a jiva), executes His mission, and then departs.
Text 22


dharmam vijnaya kritva yah
punar antaradhiyata
yuge yuge vartamanah
so 'vatarah kala hareh
Millennium after millennium Lord Hari's kala incarnations teach and establish the principles of religion, and then disappear.
Text 23


catur-vyuho bhaved yatra
drisyante ca rasa nava
atah param ca viryani
sa tu purnah prakathyate
The purna incarnations are said to include the catur-vyuha incarnations. They are said to be the places where heroic powers and the nine rasas are seen.
Text 24


yasmin sarvani tejamsi
viliyante sva-tejasi
tam vadanti pare sakshat
paripurnatamam svayam
Others say that the form of the Lord where all powers and glories enter is His paripurnatama form, the original form of the Lord Himself.
Text 25


purnasya lakshanam yatra
tam pasyanti prithak prithak
bhavenapi janah so 'yam
paripurnatamah svayam
The transcendental qualities people see distributed among the Lord's purna incarnations are all present in the Lord's original, paripurnatama form.
Text 26


paripurnatamah sakshac
chri-krishno nanya eva hi
eka-karyartham agatya
koti-karyam cakara ha
The Lord's original, paripurnatama form is Sri Krishna and no one else. Coming (to this world) to execute one mission, He executes millions of missions.
Text 27


purnah puranah purushottamottamah
parat paro yah purushah paresvarah
svayam sadanandamayam kripakaram
gunakaram tam saranam vrajamy aham
He is perfect and complete. He is the oldest. He is the most exalted of exalted persons. He is greater than the greatest. He is the Supreme Person. He is the master of the exalted. Of He who is full of bliss, who is jewel-mine of mercy, who is a jewel-mine of transcendental virtues, I take shelter.
Text 28


sri-garga uvaca

tac chrutva harshito raja
romanci prema-vihvalah
pramrisya netre 'sru-purne
naradam vakyam abravit
Sri Garga said: Hearing this, the king became very happy. Overcome with love and the hairs of his body erect in ecstasy, he wiped his tear-filled eyes and spoke to Narada.
Text 29


sri-bahulasva uvaca

paripurnatamah sakshac
chri-krishno kena hetuna
agato bharate khande
dvaravatyam virajate
Sri Bahulasva said: Why did Sri Krishna, the original, paripurnatama form of the Lord, come to the land of Bharata and gloriously appear in Dvaraka?
Text 30


tasya goloka-nathasya
golokam dhama sundaram
karmany aparimeyani
bruhi brahman brihan-mune
O brahmana, O great sage, please describe the countless deeds and beautiful Goloka realm of He who is the master of Goloka.
Text 31


yada tirthatanam kurvan
chata-janma-tapah-parah
tada sat-sangam etyasu
sri-krishnam prapnuyan narah
When a human being visits many holy places and devotedly performs a hundred years of austerities, he will attain the association of the devotees. Then he will attain Sri Krishna Himself.
Text 32


sri-krishna-dasasya ca dasa-dasah
kada bhaveyam manasardra-cittah
yo durlabho deva-varaih paratma
sa me katham gocara adi-devah
When, my heart melting with love, will I think "I am the servant of the servants of Sri Krishna's servants?" Will the Supreme Personality of Godhead, whom even the greatest demigods cannot attain, appear before me?
Text 33


dhanyas tvam raja-sardula
sri-krishneshto hari-priyah
tubhyam ca darsanam datum
bhakteso 'tragamishyati
O tiger of kings, you are fortunate. Sri Krishna honors you. Lord Hari loves you. The Lord of the devotees will come to reveal Himself to you.
Text 34


tvam nripam srutadevam ca
dvija-devo janardanah
smaraty alam dvarakayam
aho bhagyam satam iha
Lord Janardana, the master of the brahmanas remembers both Srutadeva and you, the king. Ah, the good fortune of the devotees here in Dvaraka!


The Sun News Editorials Features Sun Blogs Classifieds Events Recipes PodCasts
Copyright 2005, HareKrsna.com. All rights reserved.