Prasadam - Chickpeas, Part Three
BY: SUN STAFF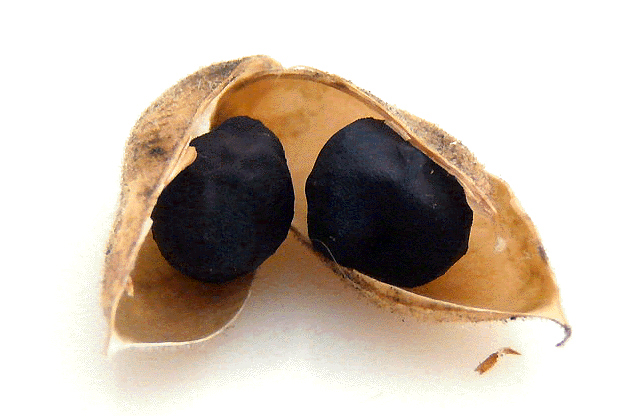 Nov 29, 2016 — CANADA (SUN) — A journey through India: border to border, bhoga to prasadam.
According to historians, the earliest known use of chickpeas in India dates back to 2000 B.C., in Uttar Pradesh. But as we read in yesterday's segment, Radharani was cooking besan cakes for Krsna in Vrindavan long before then.
In an ancient Kannada manuscript called the Lokopakara, written by Chavundaraya in 1025 AD., he describes a preparation called Majjige Huli, made with cumin, mustard, pepper, clove, coriander and chikpeas. This spicing combination could be used in chickpea sabji, as a spice on dry roasted chickpeas, or mixed into a chickpea paste like hummus, but the ancient dish was most likely a wet sabji.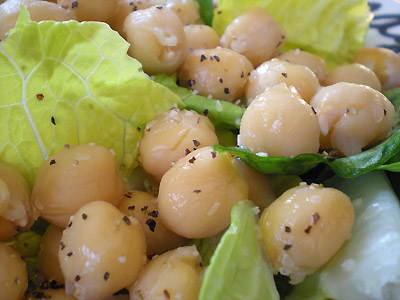 Chickpea Salad
Obviously, there is a very long history of cooking with chickpeas, and a diverse approach to using the foodstuffs. While modern scientists are just now trying to patent the method, chickpeas have long been used in beverages in India, steamed then mashed and blended into a smooth consistency, with aromatic spices and milk or yoghurt added, for a smooth delicious drink.
Dried split chickpeas can be used in the same way nearly all pulses or dals are eaten. Many confections are made from them, like puran-poli (a sweet bread), mysore-pak or phutanas (puffed chickpeas).
Mysore-pak
Bengali gram flour (besan) is used to make an endless number of preps -- as a batter coating, a dal or sabji thickener, or as a binder, e.g., in koftas or kabobs. Traditional breads like dhokla are made with besan, and it's often mixed in with other flours to make roti and parathas.
Parched or roasted chickpeas are ground into a flour called sattu, which is a staple ingredient in Bihar and Uttar Pradesh. Sattu is usually a mixed flour, composed of 2/3 fresh roasted chickpea besan and 1/3 roasted barley flour. In Bihar, a typical mid-day meal includes fire-roasted sweet potatoes, boiled chickpeas and sattu roti. While besan works in rotis, it's not typically used for chappatis, which need to be lighter then the dense besan will accommodate.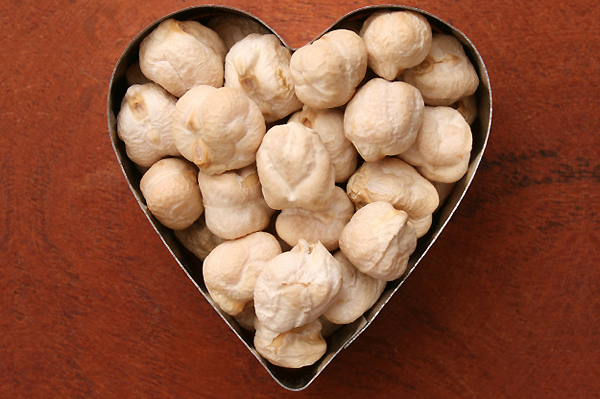 The sattu mix of besan and barley flours forms a very nutritious foodstuff, and farmers in central India take sattu roti as a main part of their meal. Here's a nice description of a traditional sattu bread, paraphrased from a reminiscence about the foods eaten by Bengalis who were transplanted in Bihar:
"…the [sattu] dough, mixed with chopped oil pickle and/or green chili, the crowning glory would be its use as a stuffing for litti. A thick wheat flour dough ball stuffed with sattu dough, roasted directly over cowdung patties may not sound like much, nor fit Western standards of haute cuisine, but I would give much to taste once more the litti made by skilled hands: the fresh ground flour, the patient kneading, the cowdung created of a diet of leaves, straw and fodder and an entire universe just vanished in the twinkling of an eye. No ghee, no nothing, just littis for dinner."
Another excellent bread using sattu is made this way: in a little ghee fry some cumin along with minced ginger and green chili until they're crisped. Next add a little masala, brown sugar, and sattu. Keep stirring and fry a few minutes more, for a nice dry filling to roll into the layers of parathas or stuff into dalpuris or kachoris.
Bengalis make a traditional prep from a sattu dough that's cooked and worked to a very soft consistency, almost like a liquid paste. It's eaten plain alongside rice and sabji, and even in dal, almost like a khaddi gravy.
A favorite Bengali snack food is puffed rice coated in mustard oil and sattu, then tossed together with peanuts, green chilis, and black salt. Likewise, many snack foods found in India are coated very lightly in spiced besan after being fried or toasted with a little oil.
For a sweet treat, whisk sattu into hot milk to get a medium-thin gruel, then add sliced bananas, brown sugar, and a little cardamom.
No presentation on chickpeas would be complete without a recipe for Chana Chole – the traditional sabji of fresh cooked chickpeas in a spicy tomato base. In Hindi and Punjabi, chana is used to describe both white and black chickpeas, but actually, chana are the small green variety, while chole are the larger white variety. Whatever you call them, no Punjabi meal – whether a mid-day lunch or an opulent feast – is liable to found without a steaming bowl of Chana Chole on the table.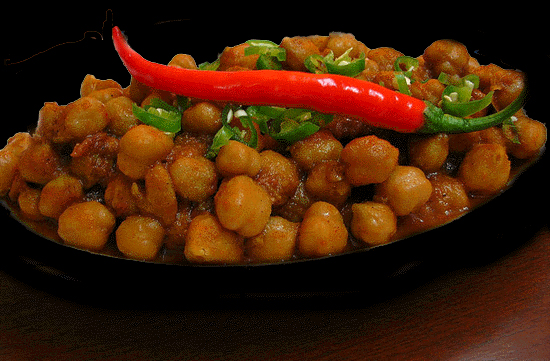 Chana Chole



Chana Chole

Ingredients:


2 cups Chickpeas, soaked overnight
1 tsp Turmeric powder
½ tsp Asofoetida
Salt to taste
1 large ripe Tomato
1 inch fresh Ginger, cut in pieces
1 inch fresh Ginger minced
1 tsp Garam Masala powder
Ghee for tempering
a handful Coriander Leaves, chopped
a green or red chili

Add the chickpeas along with the turmeric, asofoetida, salt, chopped tomatoes, and pieces of ginger, and enough water to cover an inch above the ingredients. Cook on medium high until the chickpeas are nicely soft.

In a little ghee, fry the minced ginger until crispy, then add the garam masala, frying until the mixture dries, then add a little liquid from the chickpeas and stir. Add the cooked chickpeas and mix thoroughly. Cover and cook until done. With a mixing spoon, mash a few chickpeas up to add body to the gravy. Garnish with chopped coriander and thin-sliced chili, and offer.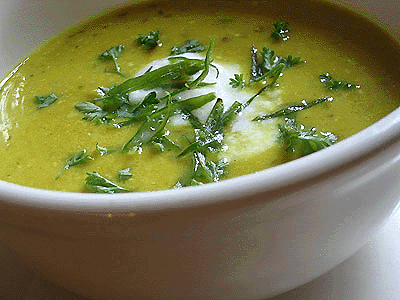 Chickpea, Chili and Coriander Soup



Chickpea, Chili and Coriander Soup

Ingredients:


1 cup Chickpeas
½ cup Yoghurt Whey or ¼ cup Lemon Juice
1 Tblsp Coriander seeds
1 Tblsp Cumin seeds
1 Tblsp Ghee
3 large Chilies, red or green, seeded and minced
¼ tsp Asofoetida
1 tsp Turmeric
1 Lemon, juiced and zested
a handful fresh Coriander leaves
1/4 cup Yoghurt
Salt to taste
fresh ground Black Pepper

For garnish:
1 Green chili, julienned
fresh Coriander leaves

Soak the chickpeas overnight in 5 cups of water with a little yogurt whey or lemon juice. Bring to a boil in a large pot, then cook on low, covered, for 1 to 2 hours, until very tender.

Meanwhile, roast and grind the cumin and coriander seeds. When chickpeas are done, fry the asofoetida and minced chilis in a little ghee. Add the turmeric, and fry for another minute. When the chickpeas are cooked, drain them, reserving the cooking liquid. Put the chickpeas into a blender along with a cup of the cooking liquid, and pureé until smooth. Add in the remaining ground spices, lemon zest and coriander and pureé again, adding more cooking liquid to get the desired consistency.

Return everything to the pot and heat on low for another half hour, stirring often. Add the yoghurt, lemon juice, salt and pepper, stir well, and offer with a few coriander leaves, chili strips and zest on top for garnish.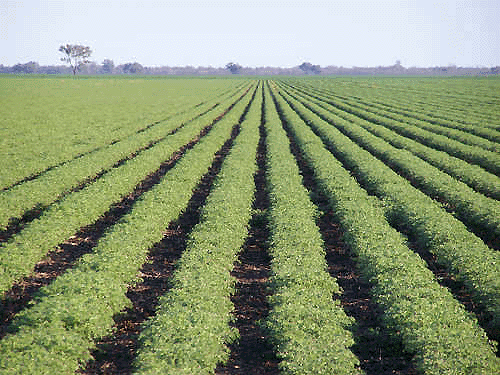 Field of Chickpeas

The Sun News Editorials Features Sun Blogs Classifieds Events Recipes PodCasts
Copyright 2005, 2016, HareKrsna.com. All rights reserved.