Prasadam - Chickpeas, Part Two
BY: SUN STAFF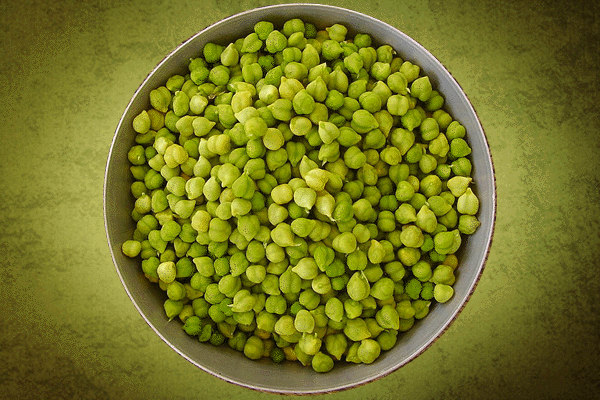 Nov 27, 2016 — CANADA (SUN) — A journey through India: border to border, bhoga to prasadam.
Although not a familiar produce item to many in the West, green chickpeas -- hara channa -- can be found in many Asian grocery stores today. Usually sold loose, in their pods, green chickpeas are used just like fresh garden peas or beans. The green channa are the immature pods of the chickpea plant. They're not to be confused with the dried, dark green chickpeas, which are actually a mature bean from another variety of chickpea plant. The latter were pictured at the top of yesterday's segment.
Hara channa popped out of their fuzzy pods can be eaten fresh and raw, just like shelled peas. They're sweet and very flavorful, and an excellent addition to salads. You can also mash them, mixed with a little ghee or olive oil and fresh herbs, to spread on roti, or serve with pakoras, like a chutney.
If you can find them at your local Indian grocers, here's a nice recipe for a broiled kabob that delivers the full flavor of fresh chickpeas: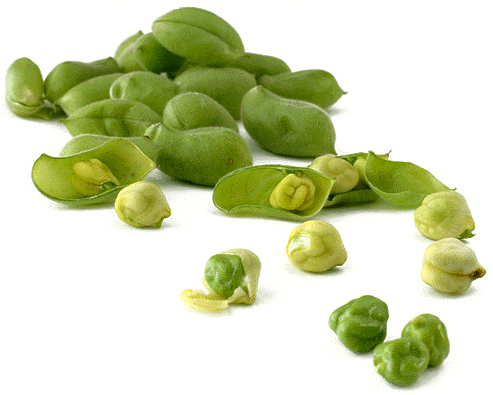 Green Chickpeas



Hara Channa ki Seekh
(Green Chickpea Kababs)

Ingredients:


6 Green Chilis
4 fresh Curry Leaves
1 inch fresh Ginger
1 Tblsp. Coconut, grated
a pinch of Salt
1 tsp Cumin
¼ tsp Asafoetida
1 Tblsp. Ghee
2 cups Green Chickpeas
2 Tblsp. Besan (Chickpea flour)
½ cup Yoghurt Cheese

The night before, hang enough yoghurt to produce ½ cup of hung-yoghurt cheese. Grind to a fine paste the green chilis, curry leaves, ginger, coconut and salt. In a little ghee, fry the cumin seeds till they darken a shade, then add the asafoetida and chili-ginger paste. Fry for a minute or two, then add the green chickpeas and cook until they're soft (takes only a few minutes, like fresh green peas).

Add the yoghurt cheese to the peas with salt and continue cooking on low heat until all the moisture evaporates. Now mash the peas to a coarse consistency, sprinkle with besan, and mix well. Let the mixture cool, than shape the mashed chickpeas into 'logs' and slide them onto oiled skewers, keeping firm pressure on the kebabs to hold their shape. Broil in the oven for about five minutes, until golden brown on all sides. Offer with raita or a little yoghurt.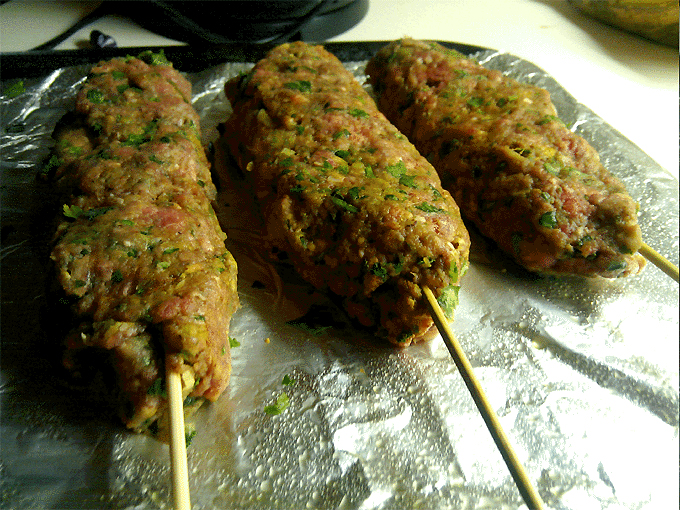 Kebabs
Another of the super-excellent products made from chickpeas is besan -- chickpea flour. Loaded with carbohydrates, besan is one of the few flours that has no gluten, but still provides good protein. It mixes well with most any dairy liquid –milk, yoghurt or buttermilk – for an excellent pakora batter. Mixed with a little water, it can be used as an egg replacement in many recipes.
In the Govinda-lilamrta, Rohini Devi is describing to Mother Yasoda the delightful preparations Srimati Radharani and the gopis have made for Krsna:
"Have a look at these wonderful dumpling!" says Rohini. "Some are made only from chickpea flour and fried in ghee, and the rest are filled with moistened whey and amla. Here are cakes made by boiling chickpea flour, mashing it, and then frying it in ghee with ground coconut and spices, some are soft and others are hard." (Verse 88-109)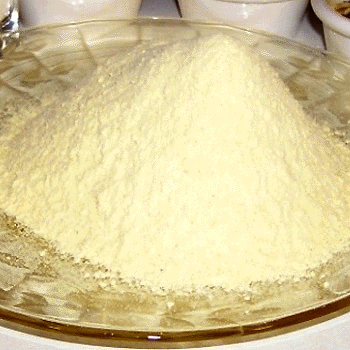 Besan
Although we don't find many instances where chickpeas are referred to in sastra, there is a mention in both the translation and Srila Prabhupada's purport to Srimad Bhagavatam 4.7.4. The sloka is describing how the demigod Pusa was forced to eat without teeth, which he had foolishly lost by using them against Lord Shiva:
Srimad Bhagavatam 4.7.4

"The demigod Pusa will be able to chew only through the teeth of his disciples, and if alone, he will have to satisfy himself by eating dough made from chickpea flour [pista-bhuk -- eating flour]. But the demigods who have agreed to give me my share of the sacrifice will recover from all their injuries."
As with all freshly milled flours, the flavor of home-ground besan cannot be compared to the commercially produced products we buy off the shelf. Using kala-channa, the small, reddish-black chickpeas, besan is made by grinding the mature, dried chickpeas to a fine flour. Or you can roast the chickpeas first, then mill them for a more richly flavored besan. Either way, the fresh flour is super-excellent.
For special occasions, you can also spice the chickpeas before roasting and grinding them, which of course transports the spice flavors to the flour. Roasted chickpeas are an excellent snack. It's nice to prepare a double batch, offering half as a tiffin and grinding the rest to flour. The spicing combinations are endless. Roasted chickpeas used to be ground up as a coffee substitute during World War I, and some people today still make a brew from them instead of taking coffee, much like chicory is used.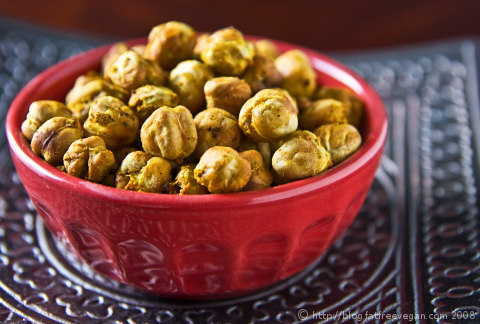 Roasted Chickpeas



Chili Roasted Chickpeas

Ingredients:


1 cup Chickpeas (soaked)
2 tsp Chili Powder
1-1/2 tsp Salt
1 Tblsp. Lime Juice

Put the soaked (or canned) chickpeas in a pot with enough water to cover, and bring to a boil. Turn down the heat, add the chili powder and simmer for 10 minutes. Drain. Place in a bowl and toss with the lime juice.

Using a slotted spoon, lift the chickpeas out of the bowl and lay in a single layer on a greased baking sheet. Bake at 400° F for 15 minutes, then brush them with the lime juice remaining in the bowl. Repeat this three times, and the last time, sprinkle with the remaining chili powder and salt. When the chickpeas are golden brown and crispy, about an hour altogether, remove and cool, then offer.

Some of the nice variations in spice mixtures are curry powder, cumin and chili powder, or cumin, paprika, coriander and curry powder. Always add a little salt and roast on an oiled tray, or roll the chickpeas in a little ghee or olive oil before coating with the spices.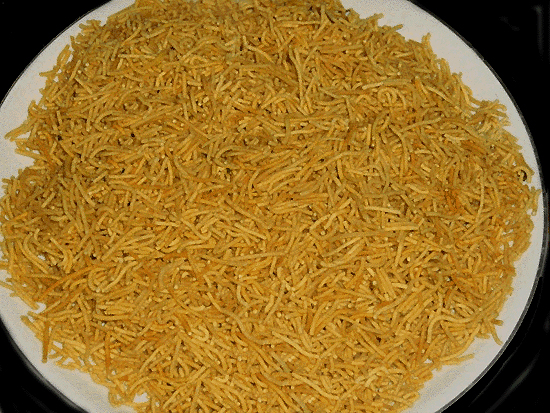 Besan Sev
Chickpea batter that is tempered with spices is also used to make Sev, a simple but tasty snack food made by forcing the batter through a sev maker or colander, and into hot ghee. The end product is a consistency similar to thin potato sticks. The Sev can be salted and eaten by the handfuls, mixed into other snack dishes, or used like puffed rice in laddoos.
In South India, Sev is often an ingredient in Bhel Puri, a snack mix made of potatoes, chilis, tomatoes, and tamarind or lemon juice. Using homemade besan that's been milled from fresh roasted spicy chickpeas is the ultimate in Sev, and a fitting snack to offer Sri Krsna.

The Sun News Editorials Features Sun Blogs Classifieds Events Recipes PodCasts
Copyright 2005, 2016, HareKrsna.com. All rights reserved.