Prasadam - Chickpeas
BY: SUN STAFF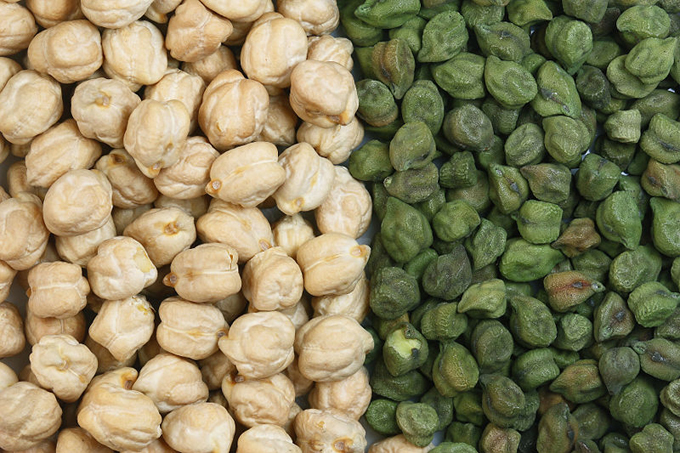 Nov 25, 2016 — CANADA (SUN) — A journey through India: border to border, bhoga to prasadam.
Today our Prasadam series takes up the banner of Bengal Gram, more commonly known as the Chickpea. These nutty, round beans are packed with flavor, nutrition, and possibility. They're adaptable in so many types of preps, from sabjis to sauces, breads, savouries and snacks. Besan, or chickpea flour, is an absolute staple in the devotee's pantry.
Srila Prabhupada recommended chickpeas as a breakfast item, soaked overnight and eaten raw along with fruit, ginger, hot milk or yoghurt, or farina with nuts and raisins. He referred to chickpeas in two different room conversations in Paris, August 3, 1976, in the first, approving of them as a breakfast foodstuff:
Prabhupada: What are the general program for eating?
Bhagavan: For eating? Every morning everyone has a nice glass of yogurt, chickpeas and apple, orange and banana.
Prabhupada: Chickpeas fried?
Bhagavan: Boiled, chick peas. And apple, orange and banana. And in the afternoon they have rice, dal, capati, and salad, and in the evening they have a glass of milk and a little bread.
Prabhupada: That's nice.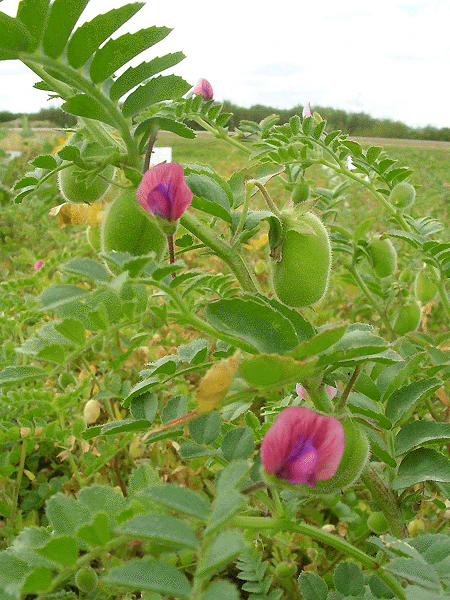 Srila Prabhupada's appreciative for chickpeas was also evident in a second room conversation with the Paris devotees:
Bhagavan: They're growing chick peas. They're not ripe yet.
Devotee (1): You can see inside, inside the pod. They have to go yellow on the plant and then we pick them and then put them in sacks for the winter.
Bhagavan: We had a whole field planted of chickpea. They're very expensive here, so it's nice.
Prabhupada: So you have got immediately some pods?
Devotee (1): And also you have been taking the fresh coriander, dhane.
Prabhupada: Oh, nice. So, this pod?
Devotee (1): Peas, beans.
Prabhupada: You have got some?
Devotee (1): Yes, plenty, Srila Prabhupada.
Prabhupada: Bring all them. (laughter)
Chickpeas go by many names in India. Commonly called Bengali gram, in Hindi they are chana, in Bengal and Punjab they're called chola. Oriyans call them boot, they're kadalai in Tamil, harbara in Maharashtran, and sanagalu in Telugu. In the west, we often hear them call garbanzo beans, a name originating in Mexico.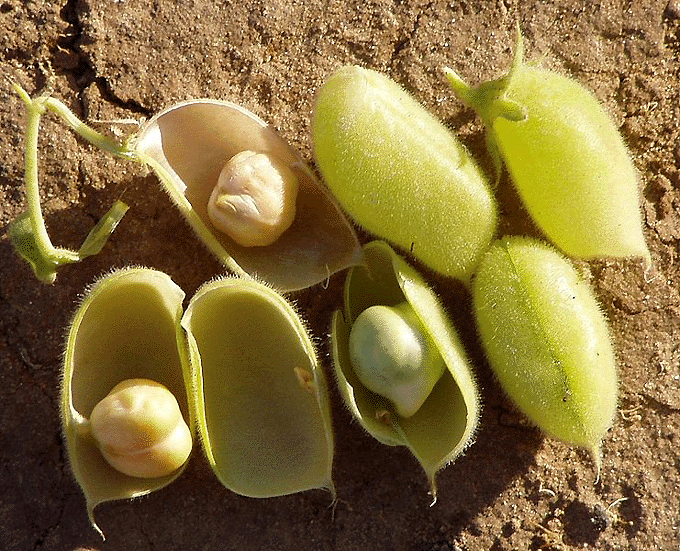 Chickpea (Cicer arietinum)
The chickpea plant (Cicer arietinum) produces two main varieties of beans: white and black. The black chickpeas, which are actually reddish in color, are kala channa; the white are kabuli channa. Both have an excellent nutty flavor. The black channa have a more wrinkled surface, because they're more fiberous, which also makes them a little harder to digest than the white. Besan, or chickpea flour, is only made from the black chickpeas, because he has more body.
There are a few other basic chickpea products to keep in mind: fresh green chickpeas are called hara channa; kala channa that's roasted is bhuna channa, and besan (chickpea flour) made from roasted kala channa is known as sattu.
Chickpeas are known to have been cultivated at least 7,500 years ago. Today, kala channa is primarily grown in India, while kabuli channa is grown many other places. The white chickpeas weren't grown in India until the 18th century. India now leads the world in chickpea production, followed by Pakistan and Turkey. Most of India's chickpeas are grown in the upper Ganges basins, Uttar Pradesh, Bihar, the Punjab, Madhya Pradesh, Maharashtra, and Rajasthan, and they're often a winter crop.
While chickpeas are not so commonly grown in South India, they're certainly enjoyed there as a foodstuff, often served alone or with popped rice as a snack. There are a host of preparations featuring chickpeas that are unique to South Indian cuisine.
Chickpeas can be eaten many ways: soaked and eaten raw, boiled or stewed, pan fried, or roasted. They can be prepared whole or split, cooked then pureed to a paste, dry roasted and ground to a powder, or milled to a fine flour.
Sprouted chickpeas are a very healthy foodstuff. They'll sprout, like most legumes, within a few days in a sprout jar or placed on a damp cloth on the windowsill. Once sprouted, they can be used in salads, mixed into raita, eaten raw, or mashed and baked into breads.
Green chickpeas, which we'll cover in more detail later, can be eaten fresh from the pod, like peas or beans. The leaves of the chickpea plant are also cooked as a green leafy vegetable, known as channa saag.
When cooking with dried chickpeas, it's best to soak them for 12 to 24 hours before hand, which considerably shortens cooking time, to half an hour or so. If you begin with the dried chickpea, it will take a good hour or two to cook them, and they must be closely watched, as they'll fall apart quickly when over-cooked. You can also pressure cook the dried chickpeas in water, then add to your sabji, etc.
Our first recipe is a Rajasthani specialty, Gatte ki sabji, which features spicy chickpea flour dumplings that are steamed, then cooked in a yoghurt-based curry.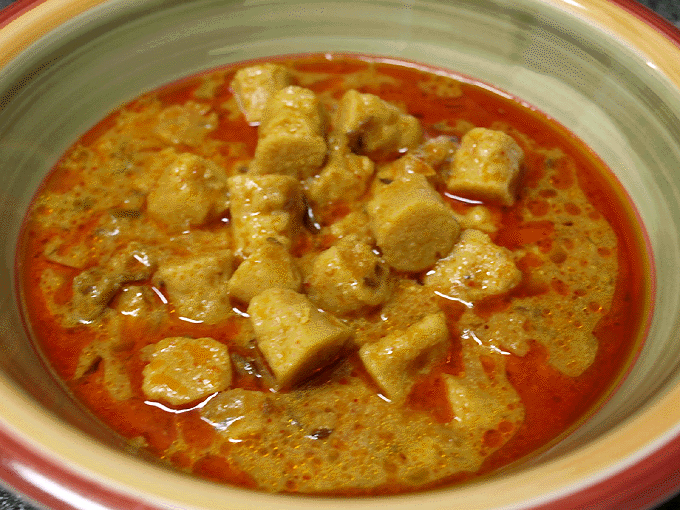 Gatte ki sabji



Gatte ki sabji

Ingredients:


For the Gattas:
3/4 cup Bengal Gram Flour (besan)
1 tsp Chilli powder
1 tsp Fennel seeds
1/8 tsp Carom seeds (ajwain)
1 Tblsp. Curd (yoghurt)
1 Tblsp. Ghee
Salt to taste

For the Curry:
2 cups of Curd (yoghurt), beaten
1 Tblsp. Bengal Gram Flour (besan)
a handful fresh Curry Leaves
1 tsp Cumin seeds
1/2 tsp Fennel seeds
1/2 tsp Mustard seeds
1/4 tsp Asafoetida
1 Bay Leaf
1 Clove
1 inch Cinnamon stick
1 Green Cardamom
1/4 tsp Tumeric powder
2 tsp Chilli powder
2 tsp Corainder powder
2 Tblsp. Ghee
Salt to taste

For Garnish:
2 Tblsp. fresh Coriander, chopped

To make the gattas, combine all the ingredients and knead into a firm dough, using 1 to 2 tablespoons of water. Divide the mixture into 8 equal portions and roll each into a cylindar. Boil water in a pot, adding a little ghee, and cook the gattas in boiling water for 7 to 8 minutes, until they float on top. Drain and let them cool for a minute, then slice the gattas into ½ inch long pieces, and set aside.

For the curry, combine the beaten curds, besan, 1/2 cup of water and mix well so that no lumps remain. Blend in the curry leaves. In a little ghee, fry the cumin, mustard, fennel, asafoetida, bay leaf, clove, and cardamom. Last, add the turmeric, chilli powder and coriander and fry for a few seconds more. Add the curd mixture, 1 cup of water and salt. Bring to a boil and stirring constantly, so the curry does not 'split', or separate. Simmer for about 10 minutes, then add the gattas and bring to a boil. Garnish with coriander and offer.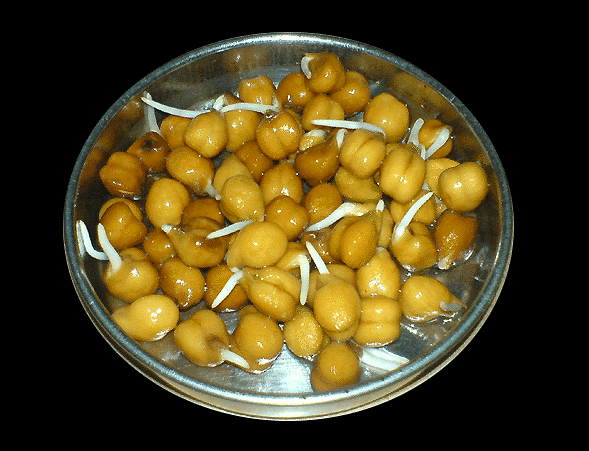 Sprouted Chickpeas



Sprouted Chickpea Curry

Ingredients:


1 cup Sprouted Chickpeas
1 ripe Tomato
1 Red Chilly
1 Green Chilly
a handful fresh Mint leaves
½ inch piece fresh Ginger
1 tsp Asafoetida
1 tsp Cumin seeds
1 tsp Coriander seeds
1 tsp Mustard seeds
1 tsp Urad dal
a spring fresh Curry Leaves
a handful fresh Coriander leaves
1 tsp Lemon Juice
1-1/2 tsp Ghee
Salt to taste

Cook the sprouted chickpeas in water with salt, until they're soft. Make a fine paste by grinding together the tomato, ginger, red chilly, mint leaves, cumin seeds, and coriander seeds. In a little ghee, fry the mustard seeds till they splutter, then add the urad dal, green chillies, curry leaves and asofoetida, fry until the spices are well tempered. Add the ground paste and continue frying until the mixture becomes dry. Add the cooked chickpeas and fry for 5 minutes, stirring gently to coat well. Remove from the heat, add the lemon juice, and stir, garnishing with coriander leaves.

The Sun News Editorials Features Sun Blogs Classifieds Events Recipes PodCasts
Copyright 2005, 2016, HareKrsna.com. All rights reserved.