The Glories of West Bengal – Ambika Kalna,
Part Four
BY: SUN STAFF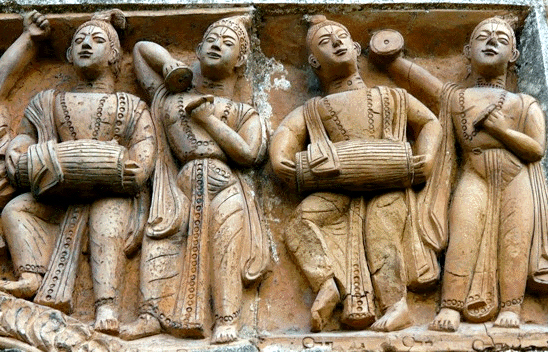 Vaisnava Kirtanyas
Terracotta sculpture, Pratapeswar Temple, Ambika Kalna
Nov19, 2016 — CANADA (SUN) — A serial presentation of West Bengal kshetras, and the tirthas associated with Lord Caitanya Mahaprabhu and His parishad associates.
Today we continue our exploration of holy sites in West Bengal that are associated with Lord Caitanya Mahaprabhu and His transcendental associates, returning to the village of Ambika Kalna in Burdwan District, 22 kilometers south of Navadvip. Ambika is home to Lord Caitanya's handwritten Gita manuscript and some of His personal belongings, and has a rich history related to Gaudiya Vaisnavism.
Following is part one of an interesting narration of Ambika Kalna's history and Gauridasa Pandit's residence there. It was written by Srimat Jivasaran das Babaji of Birbhum, West Bengal, translated to English by Sabyasachi Kundu for publication in Nityananda Janmasthan Ekchakra's Vaisnava periodical. It provides a comprehensive list of Vaisnava manuscripts in which Gauridasa Pandit and the Ambika Kalna pastimes are mentioned.
Gauridas Pandit and Sripat Ambika Kalna
in District Burdwan, West Bengal
"The river Ganges occupies the pride of the place. Situated on its banks is Ambika –Kalna. In all probability it was previously known as Ambika only. Mention of Ambika is found in Ain–e–Akbari authored by Abul Fazl, the renowned courtier of Mughal Emperor, Akbar.
Under the Satgaon Sarkar from 1582 A.D. there were 53 parganas (Mughal districts) and Ambika's name figured first on the list. Ambika and Kalna were close to each other, with a large portion of the subdivision of Kalna being within the periphery of Ambika Pargana. At one time Ambika became more prominent. Later Ambika became subdued, and Kalna was well known, so much so that even the rail station was named Kalna Court. With the spin of the wheel of time it was renamed later as Ambika-Kalna.
One of the Dwadasa Gopals and a close associate of Sri Chaitanya and Nityananda Prabhu was Gauridasa Pandit. . After taking permission from his elder brother Suryadas, he shifted his residence from his native place Shaligram to Kalna. At that time the area was more popularly known as Ambika. This fact is authenticated by the famous historical treatise on Gaudiya Vaishnavism, Sri Bhakti-ratnakara. Bhakti-ratnakara was penned during the middle ages [by Srila Narahari Dasa].
Muragacha is a rail station on the Eastern Railway on the Sealdah–Berhampore Court line. From Muragacha, one proceeds to Dhan-nada, a small hamlet. On the northeast of Dharmada lies Shaligram.
Gauridasa's presence at Ambika is also mentioned in Sri Chaitanya Parishad Janmanirnay and Chaitanya Sangita. Apart from these three books, Gauridasa Pandit's name and his exploits are mentioned in Sri Chaitanya Bhagwat, Sri Chaitanya-caritamrta, Chaitanya-mangal authored by Jayananda, Adwaita Prakas by Ishan Nagar, Vaishnava Abhidhan, Dwadaspat Nirnay, Ananta-samhita, Subalmangal, Gaura Ganodesa Dipika, Bhaktamal, Vaishnava Achar Darpaan, and Vaishnava Vandana penned by Daibaki Nandan. Gauridasa's Pandit also finds mention in Brindaban Das Thakur's Vaishanva Vandana
Incidentally, Nityananda Prabhu had a profound influence on Brindaban Das Thakur and he was also the last disciple of Nityananda Prabhu.
Gauridasa Pandit's birth as mentioned in scriptures was in 1485 A.D. He was more or less the same age as Sri Chaitanya Mahaprabhu. His father was Kansari Misra and mother Kamala Devi. There were six brothers, namely Damodar, Jagannath, Suryadas, Gauridasa, Krishnadas, and Nrishinga-Chaitanya. Their original surname was Ghosal (Sarkhel).
To lead a secluded life, Gauridasa left Shaligram and settled on the banks of the River Ganges at Ambika. He took along with him the Shalagram shila (black stone being the symbolic representation of Lord Vishnu), Damodar, which he worshipped daily. It appears from his traits that since his childhood, he was oblivious of this material world and had a holistic approach towards life.
On the opposite bank of Ambika Kalna was Santipur – the home of Adwaita Acharya. It can be assumed that Gauridasa Pandit must have heard about Adwaita Acharya and Chaitanya Mahaprabhu.
Shivananda Sen was a well known aide of Sri Chaitanya Mahaprabhu. His son was born dumb but as a toddler, he sucked the great toe of Sri Chaitanya Mahaprabhu and regained his power of speech. Later on he became known as Kavi Karnapura, the author of the famous Gaura Ganodesa Dipika. In this book he proclaimed that Gauridasa Pandit was the incarnation of Subal. This is further supported in the books Vaishnavachardarpan, Ananta Samhita, Bhaktamal, Vaishnavabandana, Adwaitaprakash, and Chaitanyasangita.
In Vrindaban, the close associates (sakhas) of Lord Krishna were divided into four categories, namely sakha, suhrid, priyasakha and priya-narmasakha. Amongst the priya-narmasakha, the role of Subal was the most illustrious. This was authenticated by Sri Rupa Goswami in his book, Ujjwal-nilmani, where he states that only Subal had abundant access to Lord Krishna during His most intimate moments. This further strengthens the belief that Subal was indeed favoured by the Lord.
Subal later on incarnated himself in the form of Gauridasa Pandit. This has been amply illustrated in the life of Gauridasa Pandit. He had heard of Nimai Pandit (Sri Chaitanya) while at Shaligram, and on arriving at Kalna it was quite well known to him. But not for once did Gauridasa Pandit go and meet Nimai. It was as if to say that, "You are my Lord, hence you must come first to meet me."
Ultimately it turned out that way. During his stay at the residence of Adwaita Prabhu at Shantipur, one day Mahaprabhu set off on a boat and crossed the river Ganges and landed at Kalna. There are differences of opinion whether Mahaprabhu came alone or was accompanied by someone else. While some say it was Nityananda Prabhu who accompanied Him, others say it was Basudev Ghosh. But according to the authentic text, Bhakti-ratnakar, it was Mahaprabhu who came alone. In all probability he had not met Nityananda Prabhu at that time.
For the first time, Mahaprabhu accepted Gauridasa Pandit's hospitality at Ambika Kalna. While returning to Nadia, Gauridasa accompanied Mahaprabhu. At Nabadwip, Gauridasa was completely overwhelmed by Mahaprabhu, who gifted a copy of the Gita written by Him on palm leaf to Gauridasa. After some time Gauridasa returned to Kalna. His entire entity was now totally engulfed by the influence of Mahaprabhu. The Gita became the symbol of Mahaprabhu at the time of separation and he felt Mahaprabhu's existence at the touch of it."
(To be continued…)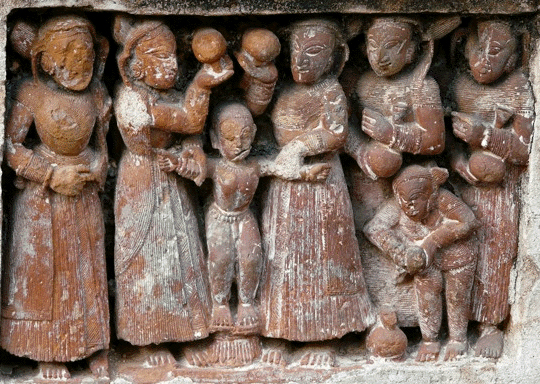 Krishna Going After the Butterballs
Terracotta sculpture, Krishna Chandraji Temple, Ambika Kalna

The Sun News Editorials Features Sun Blogs Classifieds Events Recipes PodCasts
Copyright 2005, 2016, HareKrsna.com. All rights reserved.