The Paintings of Sita Ram, Part 11
BY: SUN STAFF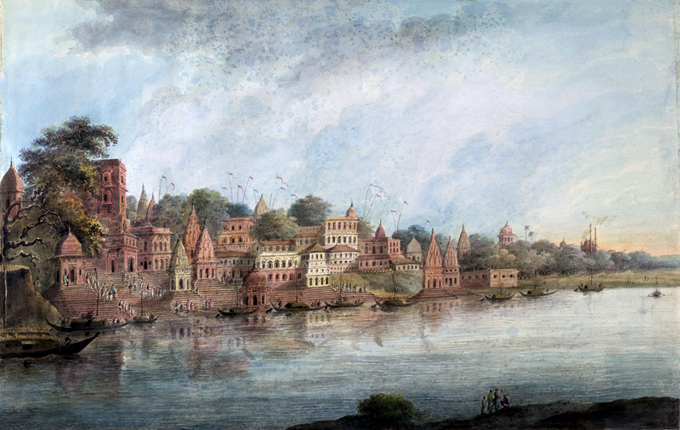 Part of the ghats at Benares with the minarets in the distance
Painting by Seeta Ram, c. 1814
British Library Collection

Nov 14, 2014 — CANADA (SUN) — A serial presentation of the extraordinary collection of Sita Ram's early 1800's watercolors depicting Indian temples and landscapes.
Today we present the last two illustrations of Varnasi's bathing ghats in this series. Both watercolours are found in the folio, 'Views by Seeta Ram from Benares to Nazibghur, Vol. III'. This series was produced on the Hastings expedition from Calcutta to Delhi, 1814-15.
British Library staff describe this watercolour of Varanasi's ghats along the Ganges as being "An idealised downriver view of the ghats with the minarets in the distance on the right.
Sita Ram's inscription on the piece says: 'View of Benares from the East with Rajeghaut to the left.' However, curators say that Rajghat would have been located on the right or northern end of the Ganges.
The scene below, depicting another stretch of ghats in Varnasi dham, is inscribed: 'Another view of Benares with Munkunca Ghaut to the left and a Mundell dedicated to Mahadeo to the Right.' The British Library suggests that Manikarnika Ghat may be shown in this watercolor,
Part of the ghats at Benares
Painting by Seeta Ram, c. 1814
British Library Collection


The Sun News Editorials Features Sun Blogs Classifieds Events Recipes PodCasts
Copyright 2005, 2014, HareKrsna.com. All rights reserved.