Worship of Lord Narasimha in Maharastra and Goa,
Part Three
BY: SUN STAFF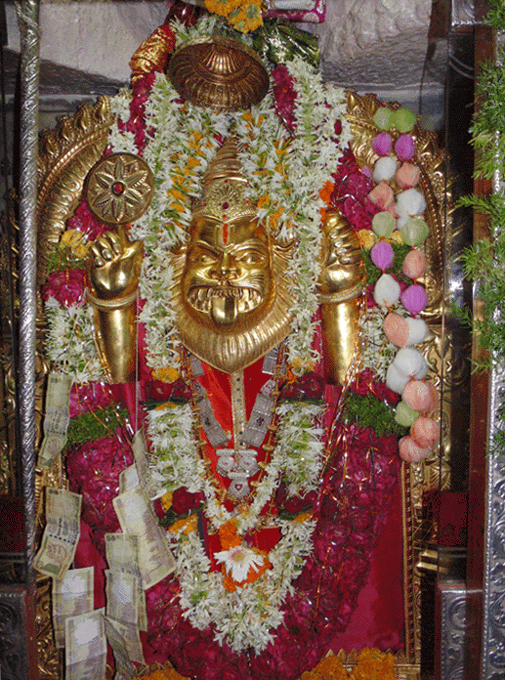 Lord Narasimha at Pokharni
Nov 11, 2013 — CANADA (SUN) — A serial presentation of West Indian temples dedicated to the worship of Lord Nrsimhadeva.
While the small state of Goa now has only a few temples dedicated to Lord Nrsimha's worship, there are quite a number in neighboring Maharashtra. Today we visit the temple of Sri Narasimha at Pokharni, in the Parbhani district of Maharashtra.
Pokharni is situated about 18 kilometers from Parbhani, a city in the Marathwada region of Maharashtra. Parbhani, known in ancient times as Prabhavatinagar, is situated near the center of Maharashtra state, due east of Mumbai. The Narasimhadeva temple draws throngs of pilgrims from Andhra Pradesh and other surrounding states, who can travel easily by car or rail to this holy site.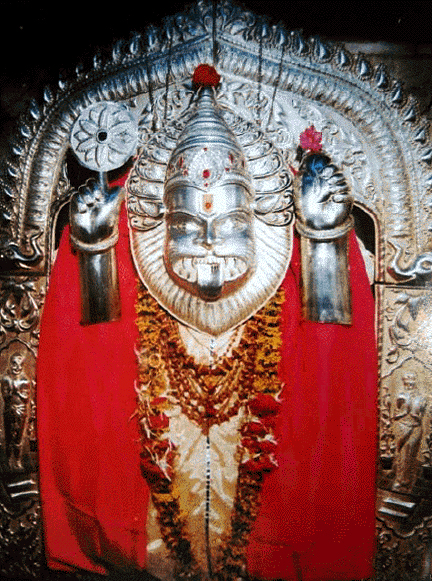 The presiding Deity, Sri Narasimhadeva, is here with Laxmi Devi, who is situated nearby. While the temple compound is quite large, the Deities' sanctum (gabhara) is very small -- a 3 foot by 4 foot room. The entrance is equally small, and devotees must squat to see the Lord through a 3 foot high entrance. Just as worship of Lord Nrsimhadeva in Kali Yuga requires great diligence, getting His darshan here at Pokharni is also somewhat difficult.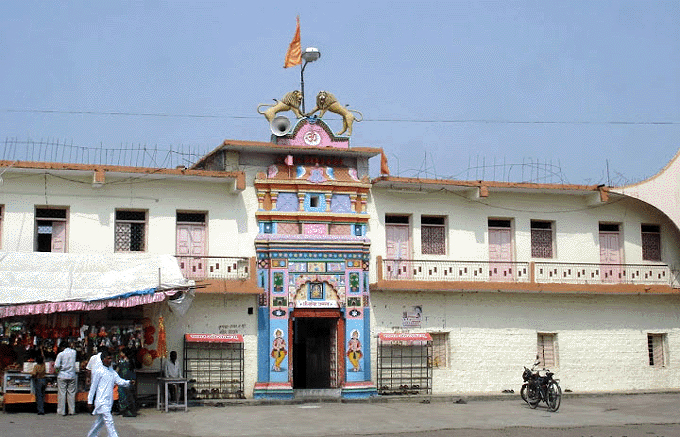 Pokharni Narasimha Temple
The Nrsimhadeva temple at Pokarni was built approximately a thousand years ago, around 1000 B.C. to 1300 B.C. The construction is in the Hemadpanthi architectural style. It was built by a king whose girl child was cured of blindness. Although the king wanted to move the Nrsimhadeva Deity residing at Bhaktagan village into the new temple, the villagers refused to allow it. Instead, the beautiful two-armed Deity, holding chakra and conch, was installed at Pokharni.
The sanctum sanctorum is built of huge stones and stales, and is situated on the ground floor. In recent years it has been fitted with marble, and other modern cooling and security fittings. Male devotees must remove shirt and belt before entering the main sanctum. Nearby there is a plinth and bathing platform for abhishek. Carved images depict the Lord's pastimes.
The two-armed presiding Deity is standing, in a fearsome mood. The Deity is carved in sandstone (walukashma pashan), ornamented with gold kavacham. This golden mask is also known as mukhawata, and is inlaid with diamonds and gems. Worship of the Lord begins at mangal arotik; He is bathed and dressed in silk. Lord Nrsimha is said to look like a baby in the morning, like a youth in the afternoon, and old in the evening. The program of worship here is known as shashwat maha pooja, or 'eternal adoration'.
Lord Nrsimhadeva has a beautifully decorated sleeping room at the front of the sanctum, where a teak diwan and silk bed are located.
Outside the temple's main door are shrines for Mahadeva, with Nandi, and Sri Ganesh. Another Mahadeva and Ganesha temple are situated on the back side of the sabha-mandapam, on the west side. There is a large temple tank in the compound, broad and deep, situated on the west side of the temple. There is a small shrine in the north side wall.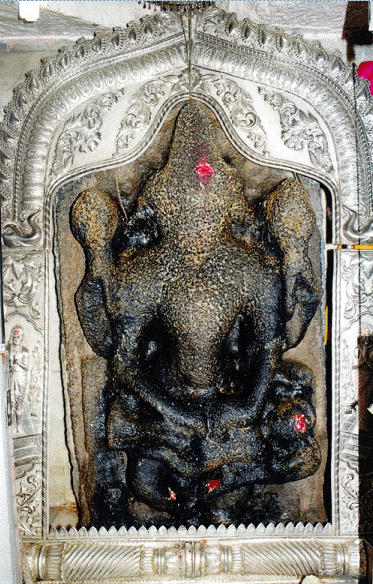 Lord Narasimha slaying Hiranyakasipu
A second Nrsimhadeva Deity was also installed at some point. This one, carved in black stone, is a four-armed form of Nrsimha with Hiranyakasipu prone across His lap. This Deity apparently migrated from Salapuri, because the Lord was dissatisfied with the devotees' neglect at the Salapuri temple.
Temple records state that after killing Golasura on the Indrayani Mountain, Lord Nrsimha came to Pushkarni with saptaganga jal (the waters of seven holyd rivers), and poured it here. Thus, there is no shortage of water even in dry season.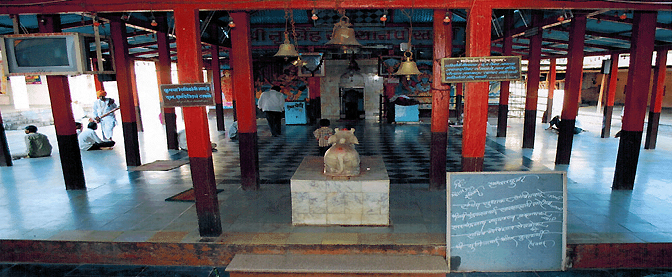 Pokharni Narasimha Temple

References and images: Srihayagrivan.org and Narasimhapokharni.com

The Sun News Editorials Features Sun Blogs Classifieds Events Recipes PodCasts
Copyright 2005, 2013, HareKrsna.com. All rights reserved.