The Glorious Month of Damodar
BY: SUN STAFF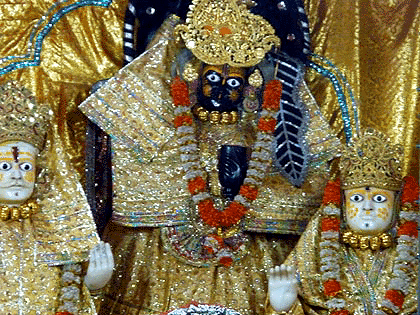 Nanda Maharaj, Krishna (center) and Mother Yasoda at Nanda Bhavan
Nov 07, 2012 — CANADA (SUN) —
Nanda Bhavan
A few kilometers south of Gokula is the sacred tirtha Mahavana, which is home to the Nanda Bhavan temple. On on the left bank of the Yamuna, sitting atop a small hill, Nanda Bhavan is the abode of Nanda Maharaja, Mother Yashoda, Balarama, and baby Krishna. The pillars in this temple are said to have come from Nanda Maharaja's original palace. One old structure that overhangs the Yamuna, 9 kms from Mahavan, is said to have been Nanda's building.
Nearby is Yamalarjuna Bhanga, also known as Ukal Bandan, where the ancient grinding mortar is kept, said to be the one Mother Yasoda tied little Damodar in the divine pastime devotees glorify during this period each year.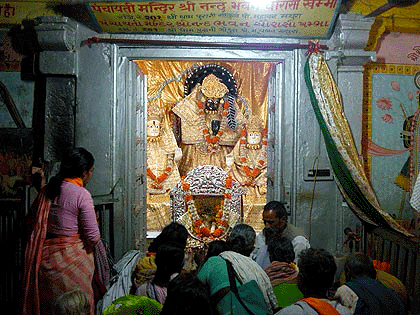 48 km (29 mi) northwest of Vrindavana, in the Mathura District of Uttar Pradesh, is Nandagram, and the town known as Nandgaon. Sitting atop the main hill, which is called Nandisvara Hill, is the Nandagram temple. Pavana Sarovara, where Nanda, Yasoda and Krsna bathed, can be seen north of the hill. Further north is Moti Kunda, where Sri Krishna made a field of pearls. The whole area is richly decorated in Krsna-lila pastimes.
Directly south of the hill is the main village area. The Narasimhadeva temple and Yasoda's yogurt pot are in this area. Further south, in the outskirts of the village, is Yasoda Kunda and Nanda Kunda. To the east of the Nandisvara hill, just across the road next to the hill, is Lalita Kunda. A little south of Lalita Kunda is Uddhava Kyari. East of Nandagram, about 1½ km into the fields, is Ter Kadamba, which is a fairly difficult place to get to. Charan Pahari, where the footprints of Krishna are enshrined, is west and a little south of Nandisvara hill.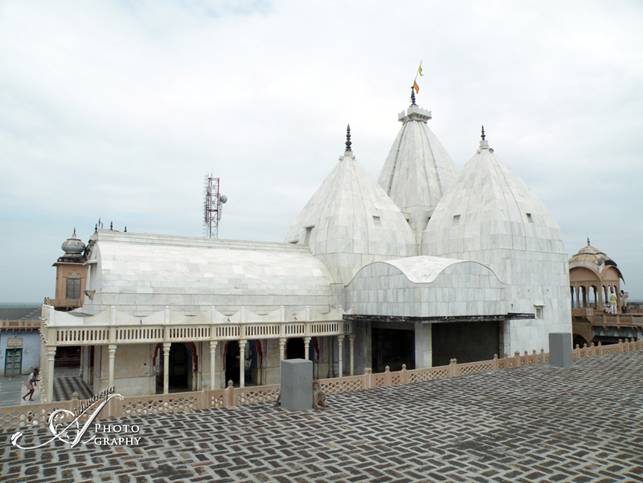 Nanda Bhavan
About a kilometre west of Nandagram is Vrinda Kunda, which is located in a secluded place. This place is said to have been Nanda's home. On the top of the Nandisvara Hill is the spacious temple of Nand Rai. Other temples here are dedicated to Narsingha, Gopinath, Nritya Gopal, Girdhari, Nand Nandan, and Yasodha Nandan.
A little beyond is the Pan Sarovar, a large lake with masonry ghats along its sides. Krishna used to bring his cows to this spot for water.
Two black marble Deities of Krishna and Balarama reside at Nanda Bhavan (Nandagram) temple. They are both in tribhanga pose, holding flutes. On Their left and right are two tall Deities of Yasoda and Nanda Maharaja. Next to the deity of Mother Yasoda is a deity of Srimati Radharani, a small deity of Balarama's mother Rohini, and his wife Revati. Next to Nanda Maharaja are two of Krishna's gopa friends, Sudama (or Sridama) and Madhumangala. On the ceiling of the inner dome of this temple are many paintings depicting Krishna's pastimes.
The Deities in this temple were originally installed by Vajranabha. It is said that the Deities were found by Sanatana Gosvami in a cave on the hill. This temple was built in the beginning of the 19th century by Rupa Singh.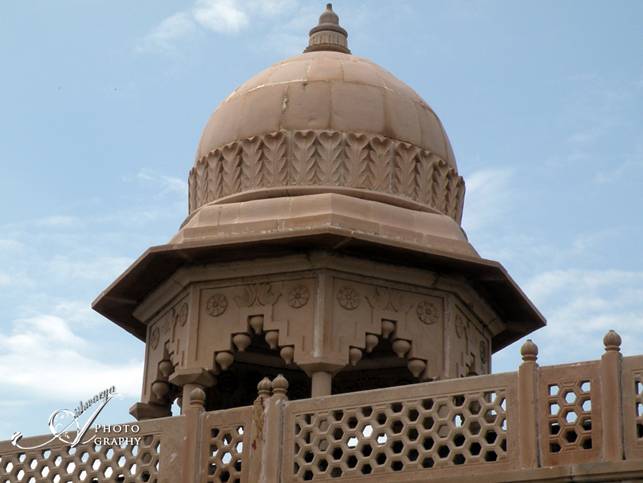 Nanda Bhavan

The Sun News Editorials Features Sun Blogs Classifieds Events Recipes PodCasts
Copyright 2005, 2012, HareKrsna.com. All rights reserved.