The Vamana Purana, Part 2
BY: SUN STAFF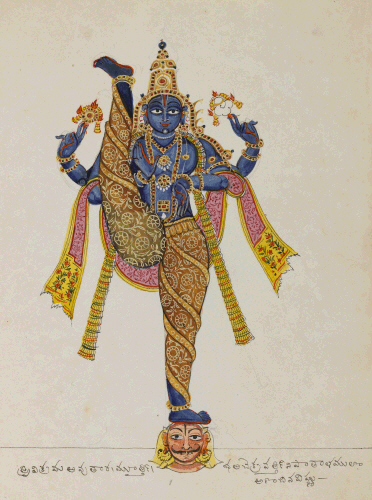 Vishnu Trivikrama (Vamana)
South India, c. 1830
Nov 06, 2011 — CANADA (SUN) — Reprisal of a 2008 Sun serial on the Vamana Purana by Srila Vedya-vyasa, excerpted and categorized into various subject areas.

TALES OF DEMONS
Dashaang Dharma
The sages say- "Dharma consists of ten properties such as non-violence, truth, charity, not stealing the property of others, forgiveness, self-restraint, cleanliness etc. Hence it is known as Dashaang Dharma. These properties are obligatory for people belonging to all castes and creeds. A Brahmin's life is categorised into four Ashrams- Brahmacharya, Grihastha, Vanprastha and Sanyaas.
A Brahmachari is supposed to acquire knowledge by living a celibate life. After completing his studies, the Brahmachari graduates to the life of a householder. He gets married and performs his duties towards his family. After this, he enters into Vanprasthashram where he is required to go to the forest after abandoning worldly pleasures. At last, he accepts Sanyaas, which is total renunciation. He is supposed to pass the rest of his life doing meditation and penance."
Sukeshi's Queries
Sukeshi was the son of the demon King Vidyutkeshi. He was a great devotee of Lord Shiva. Being pleased by his devotion, Lord Shiva had blessed him with invincibility and gifted him a city, which was situated in the sky. Sukeshi was a virtuous and just king.
Once, he had gone into the Magadh forest, where he found numerous sages engrossed in meditation. After introducing himself to the sages, he expressed his desire to know about the path that led to benediction. He also wanted to know how a man could achieve respectability and contentment in his life. The sages told him that a man could achieve benediction only by following the path of Dharma.
"A religious man achieves both respectability and contentment", said the sages. Sukeshi then asked them about the characteristics of Dharma. The sages revealed to him that the deities engage themselves in religious activities like Yagya, self-study, study of Vedas and worship of Lord Vishnu. So, all these activities are the Dharma of the deities. "The Dharma of the demons consists of negative qualities like jealousy etc. But they have profound knowledge in policy matters and have great devotion towards Shiva", said the sages.
"The Siddha's Dharma is to engage himself in activities like practice of Yoga, study of Vedas, self-realisation and devotion to both Lord Vishnu and Shiva", said the sages. In this way, they enlightened Sukeshi on the Dharma of different sections of divine entities.
At last, Sukeshi requested the sages to tell something about hell (Narak). The sages replied that altogether there were 21 hells. The name of the first hell is Raurav, which covers the area of 2,000 Yojans. The second hell, Maharaurav, is twice the area of Raurav. Similarly, the names of the remaining hells are Taamistra, Andhataamistra, Kaalchakra, Aprathisth, Ghatiyantra, Asipatravan, Taptakumbh, Kootshaalmali, Karpatra, Swabhojan, Sandansh, Lohapind, Kalmasikta, Kshaarnadi, Krimibhojan, Vaitarninadi, Shonitpayabhojan, Kshuraagradhaar, Nishitachakra and Sanshoshan."
Jambudweep and Bharatvarsh
Sukeshi expressed his desire to the sages to know about Jambudweep. The sages replied-
"Jambudweep is a very large island. It is sub-divided into nine parts. Ilavritvarsh is situated in its central part while Bhadraashvavarsh is situated towards its eastern side. Some prominent places situated around it are Hiranyakvarsh towards north-east, Kinnarvarsh towards south-east, Bharatvarsh towards south, Harivarsh towards south-west, Ketumaalvarsh towards west, Ramyakvarsh towards north-west and Kuruvarsh towards north. All these nine Varshas are full of natural beauty. The inhabitants of all the eight Varshas except India are never troubled by old age or death. The inhabitants are also religious and virtuous by nature. They attain great accomplishment without making any real effort.
Bharatvarsh has nine sub-islands. All these islands are surrounded by oceans on all sides and it is difficult to go from one island to another. These sub-islands are Indradweep, Kaserumaan, Taamravarna, Gabhastimaan, Naagdweep, Karaaha, Sinhal, Vaarun and Kumar. Kiraat live towards east of Bharatvarsh while Yavan live towards the west. People living towards the south of Bharatvarsh are called Andhra and those living towards the north are called Turuyak. Bharatvarsh is mainly inhabited by people belonging to all the major four castes, i.e. Brahmin, Kshatriya, Vaishya and Shudra. The seven prominent mountains situated within Bharatvarsh are Mahendra, Malay, Sahya, Shukti, Maanriksh, Vindhya and Paariyaatra though there are many more mountains.
The following rivers originate from Himalaya Mountains- Saraswati, Yamuna, Hiranvati, Sutlej, Chandrika, Neela, Vitastaa, Eravati, Kuhu, Devika, Ushira, Dhaataki, Rasaa, Gomti, Gandki, Kaushiki, Sarayu etc. Similarly, many rivers originate from the other mountains."
The Rise and Fall of Sukeshi's Kingdom
Pulastya says-
"After being enlightened by the sages on various subjects, Sukeshi returned to his capital. He taught the demons all that he had learnt. As a result, all the demons became very virtuous. The newly attained virtuosity and religiousness made the demons invincible and powerful. Sukeshi's capital was situated in the sky. The whole city illumined brightly due to virtuosity attained by the demons. Its illumination even subdued the radiance of Surya (Sun). Now it became very difficult to determine when the Sun rose.
The deity Surya became worried at this development. He started pondering on how the demons became so powerful and contemplated over the means to destroy the demons. While Surya was meditating, the fact regarding the demons' power dawned on him. Surya became furious and angrily glanced at Sukeshi. The city started falling towards earth. Sukeshi became worried and started praying to Lord Shiva. Seeing his devotee Sukeshi in trouble, Lord Shiva looked angrily at Surya as a result of which, he too started falling towards the earth.
When the sages and hermits saw Surya falling down, they advised him to take refuge in Lord Vishnu. Surya curiously asked as to how could he take Vishnu's refuge as he had been punished by Lord Shiva. The sages then advised him to direct his descent to Varanasi. Surya accepted their advice and landed at Varanasi between two rivers- Varuna and Asi. He was feeling restless because of severe heat and so he decided to take a bath in the Asi River. After taking his bath, he started revolving around both the rivers.
In the meantime, all the sages, demons, and apsaras went to Brahma loka and requested Lord Brahma to re-establish Surya in his original abode. Lord Brahma, accompanied by all the deities, went to Lord Shiva and requested him to forgive Surya. Shiva was pleased at their humbleness and forgave Surya and re-established him on his chariot. He also gave a new name to Surya- Lolaark. At last, Surya was re-established in the sky."


The Sun News Editorials Features Sun Blogs Classifieds Events Recipes PodCasts
Copyright 2005, 2011, HareKrsna.com. All rights reserved.