Sri Vrindaranyer Sri Yoga-pithe Sa-parikar
Sri Govinder
BY: SUN STAFF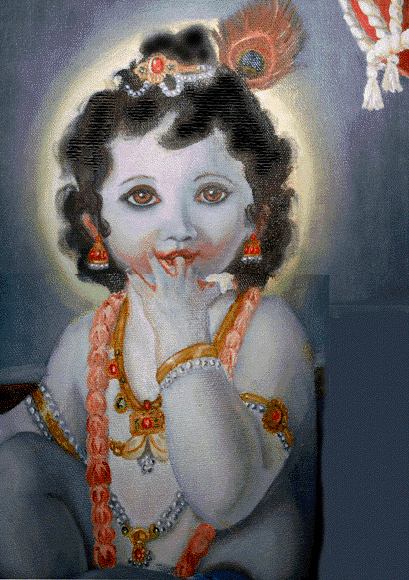 Sri Damodar
Nov 11, 2010 — CANADA (SUN) — From Sri Krsna-vijaya by Sri Gunaraja Khan, translated by Sriman Kusakratha dasa.
Sri Vrindaranyer Sri Yoga-pithe Sa-parikar Sri Govinder

Lord Krishna and His Associates in the Spiritual World of Vrindavana
(Sri-raga)
Text 1
suna suna ohe nara suna sabadhane
ara dine ara krida kaila narayane
O people, please hear. Please hear. With great attention please hear of another pastime Lord Narayana enjoyed on another day.
Text 2
dwadasa batsara haite kride gadadhar
caudda batsera bela dekhite sundar
From the ages of twelve years to fourteen years in His pastimes, Krishna became very handsome.
Text 3
kisora bayasa krishna jaubanera chata
syamasundara krishna jena jaladhara-pata
In His kaisora and yauvana age Krishna was dark and handsome like a splendid monsoon cloud.
Text 4
kalpa-taru mule cinta kari ekeswar
joga-pithe basi kare asana sundar
I meditate on the handsome Supreme Personality of Godhead, who sits under a kalpa-vriksha tree in the spiritual world.
Text 5
tahara upare basi ache nanda-bala
purnimara candra jena udaya shola kala
Above Him is a beautiful full moon.
Text 6
gopi-ganera srishti shodasa nayika
shodasa nayika srishte ekala radhika
He is accompanied by sixteen beautiful gopis, among whom Radha is the first.
Text 7
bama-parswe radhika dakshine candravali
asa-pase juthe juthe ramani-mandali
On His left is Radha. On His right is Candravali. On every side are group after group of beautiful gopis.
Text 8
cintamani mandirera cari-khana dwar
pascima mukhete prabhu radha-kantera bar
Behind Radha's beloved Krishna is a great cintamani jewel palace with four gates.
Text 9
cari-dware cari-dwari se cari goyal
krishnera samana besa dekhite rasal
The four gates had four gopa gatekeepers, each one charming and handsome like Lord Krishna Himself.
Text 10
sridama goyala dwari pascime duyare
purbete sudama dwari dama uttare
At the western gate the gatekeeper is Sridama. At the eastern gate the gatekeeper is Sudama. At the northern gate the gatekeeper is Dama.
Text 11
dakshine dwarete dwari kinkinika nam
anandete brindabane biharaye kan
At the southern gate the gatekeeper is Kinkinika. Within the gates is Vrindavana, where Krishna enjoys many blissful pastimes.
Text 12
cintamani mandire balak lakhe lakhe
subala-adi balaka saba mandira rakhe
Millions and millions of gopa boys assist Subala and the other gatekeepers in protecting the cintamani jewel palace.
Text 13
nana alankara sobhe gale bana-mala
Škrishnera samana besa jane nana kala
Decorated with various ornaments, learned in various arts, and forest garlands around their necks, these gopas look like Lord Krishna Himself.
Text 14
keha kala keha gaura sabai kisor
angera kirana tanra ati se ujor
Some are dark. Others are fair. All are in the prime of youth. All have limbs that are splendid and glorious.
Text 15
mathaya mayura-puccha gonja manohar
sakala goyala sei krishnera sodar
Wearing gunja necklaces and peacock-feather crowns, all the gopas are charming and handsome like Lord Krishna Himself.
Text 16
kankhe singa hate benu kare kare bet
kati-tate dhati sobhe saba pata swet
At each waist is a buffalo-horn bugle. In one hand is a flute and the other a stick. A graceful white cloth decorates each waist.
Text 17
krishnera anande ananda saba goyal
su-swarete gita gaya dhariya se tal
When Krishna is happy, all the gopas are happy. They clap their hands and sing with sweet voices.
Text 18
krishnera sebiya saba krishna-gata-citta
mandire bediya saba gaya nana-gita
They serve Krishna. Their hearts are surrendered to Krishna. Surrounding Krishna in that palace, they sing many songs.
Text 19
sei mandira majjhe krida kare nanda-bala
candane sajjita anga gale bana-mala
His limbs anointed with sandal paste and a forest garland around His neck, Nanda's son Krishna enjoys many pastimes in that palace.
Text 20
sirete mayura-pucch/e hate mohana-bamsi
suranga adhare tara mridu-manda hasi
On His head is a peacock feather. In His hand is a charming flute. On His playful lips is a sweet smile.
Text 21
brajangana-beshtita nagar siromani
pancama alape gopi manohara dhwani
Surrounded by the girls of Vraja, Krishna is the crest jewel of playful lovers. The gopis sing to Him sweet songs in the fifth note.


The Sun News Editorials Features Sun Blogs Classifieds Events Recipes PodCasts
Copyright 2005, 2010, HareKrsna.com. All rights reserved.