Worship of Lord Brahma, Part 102

BY: SUN STAFF




Lord Brahma at Darasuram




Nov 18, CANADA (SUN) — A serial exploration of places of Lord Brahma's worship.


Lord Brahma at Darasuram

The village of Darasuram is located a few kilometers from Kumbakonam, in the Thanjavur district of Tamil Nadu. Darasuram (Dharasuram) is known for the grand Airavateswara Temple, constructed by King Rajaraja Chola II in the 12th century A.D. The historical name for this place was Rajarajapuram, no doubt named after the ruler who raised it. The temple is dedicated to Easwaran, and Lord Brahma is found here as a subsidiary deity, beautifully sculpted in a niche on the outer sanctum wall.






Airavateswara Temple, Darasuram
Darasuram Airavateshwara Temple is not only a superb architectural monument, it is also filled we exquisite deity sculptures and ornamentation. The temple vimana is 85 feet high, towering over the main mandapam that was built in the form of a massive chariot.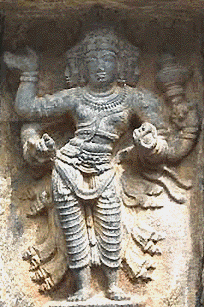 Lord Brahma
(detail of image at top)
The presiding deity, Lord Shiva, is known here as Airavateshwaran, because Easwaran (Shiva) was offered worship here by Lord Indra's elephant vahana, Airavatam. Airavateshwaran lingam's consort, Periya Nayaki Amman, or Deva Nayaki, is situated in a separate shrine adjacent to the sanctum.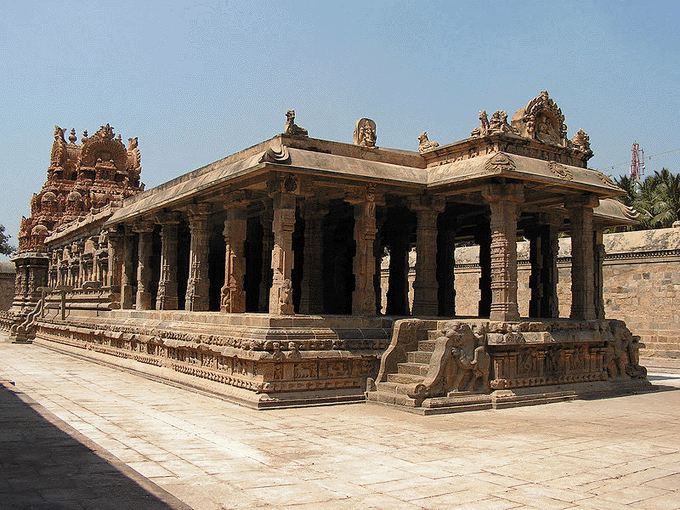 Periya Nayaki Amman temple
Outside the sanctum sanctorum are the presiding deity niches, where Lord Brahma resides along with Naga Raja, the king of snakes, and Dhakshinamurti, who faces south. Elsewhere there are beautiful stone sculptures of Saraswati Devi, who is seen without her veena, Ravana carrying Kailasa, as well as Buddha, Bhikshatana, and Surya.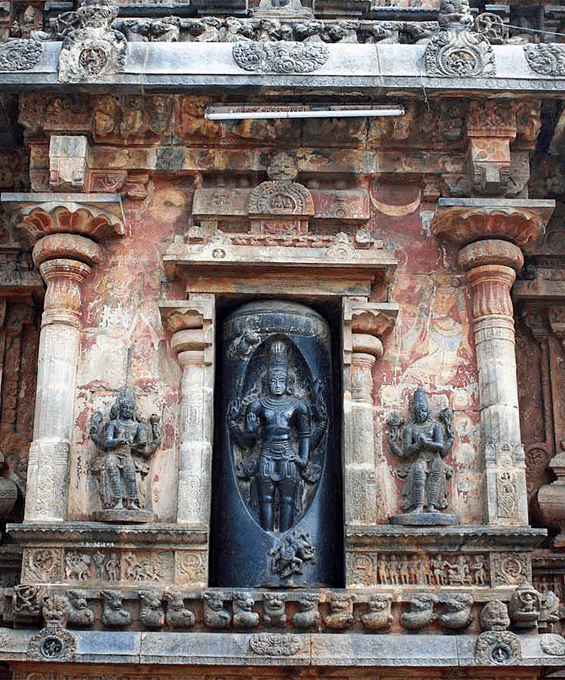 Dhakshinamurti
There is also a special shrine here for Lord Sarabeshwara, the incarnation of Shiva that is half bird, half lion. Sarabeshwara manifested during the pastime of Lord Nrsimhadev's slaying of Hiranyakasipu, when Shiva Sarabha and other divine personalities came to calm the Lord's anger.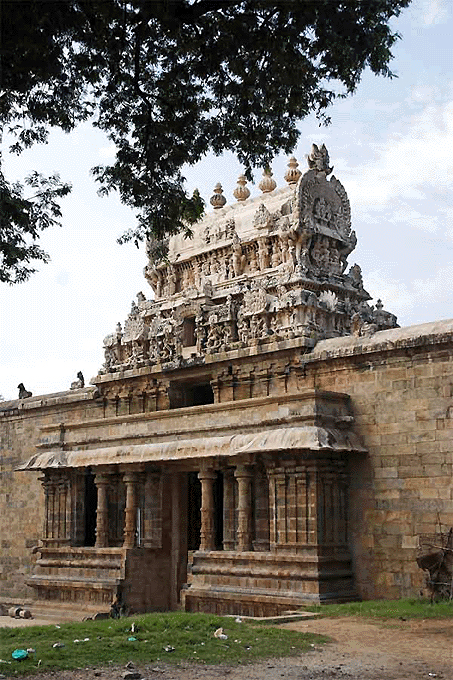 Eastern gopuram
The main mandapa is known as Raja Gambira, designed as an elephant-drawn chariot. On the ceiling there is a beautiful carving of Shiva and Parvati inside an open lotus. On the inside wall of the outer prakaram, about a foot above floor level, there is a band of intricate carvings that depict the dancing poses of Bharatnatyam, as described in the Sodasa Upasaras.
There are also some images of social scenes, including a group of village women helping to deliver a baby. There are a number of paintings on the walls as well, dated to the Nayak period.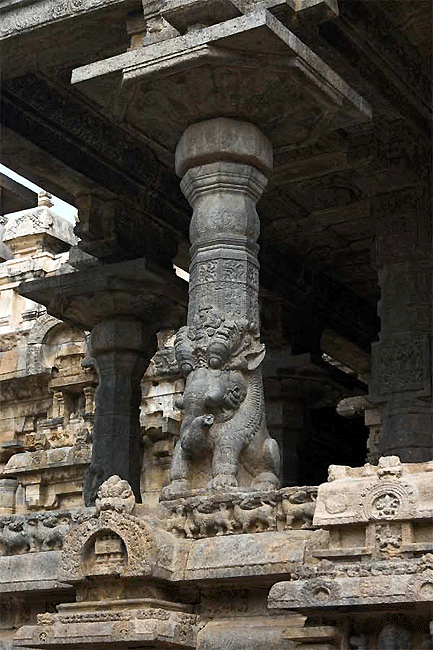 Yali Pillar
At the main entrance of the temple are two Dwarapalakas -- Sankhanidhi and Padmanidhi. At the front of the temple there is a small mandapa which can be entered by going up three steps carved in the form of a stone ladder. Each of the steps gives a different musical sound when tapped. All the seven swaras can be heard at different points.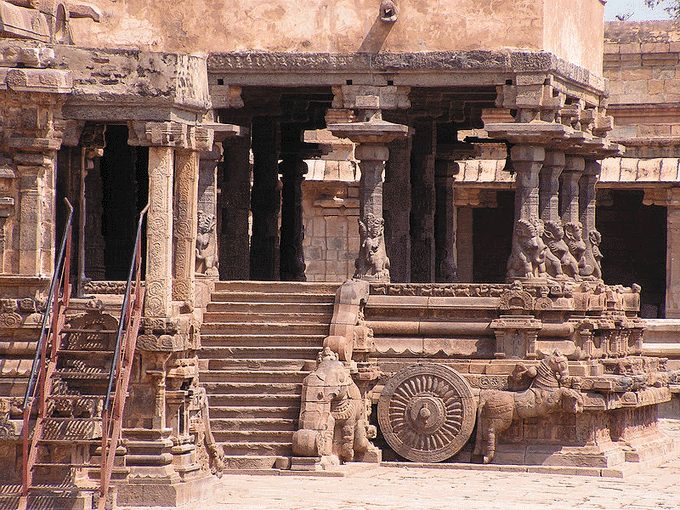 Chariot mandapam
The primary legend associated with Darasuram Airavateshwara Temple is that of the pastime of Lord Indra's white elephant, Airavata, worshipping Lord Shiva here. Yama also offered worship here, and it is said that Airavateswarar cured Yama of an illness brought about by a Rishi's curse. Yama was suffering from a burning sensation all over his body. He rid himself of the malady by taking bath in the sacred tank here, now called Yama Theertham. The temple tank gets its supply of fresh water from the river Kaveri Cauvery).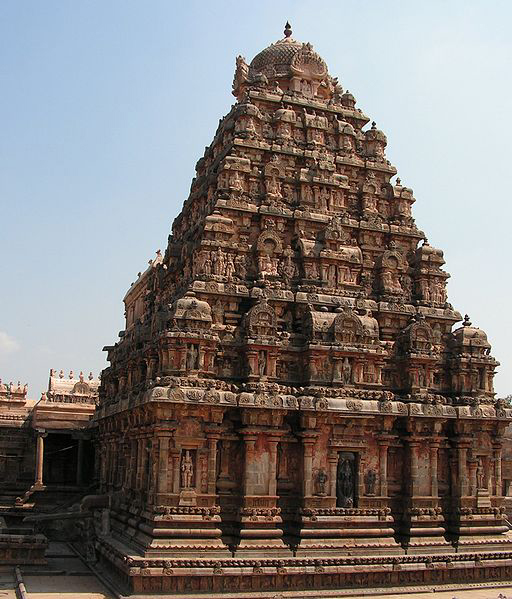 Airavateshwara Temple gopuram
One of the greatest Chola temples, Darasuram was built along with a number of other famous Chola monuments in the Thanjavur area, constructed between the 10th and 12th centuries A.D. One of these, the temple at Gangaikonda Cholapuram, was built in a similar style to the Darasuram temple.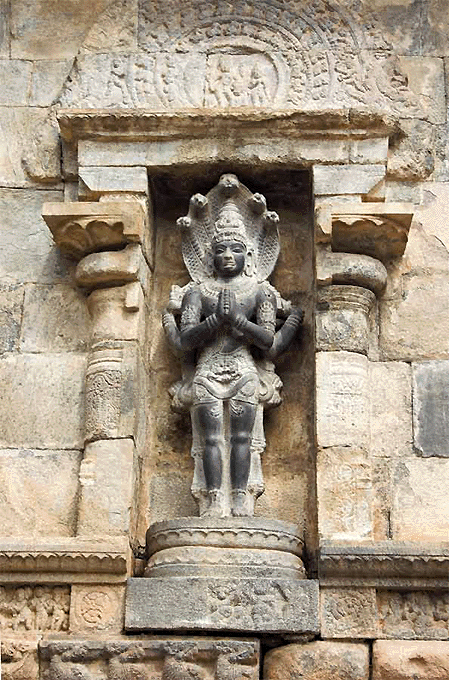 Naga Raja
In addition to the main temple and Amman shrine, there are several other important structures in the Darasuram complex. The Veerabhathirar Temple is located directly behind Periya Nayaki Amman's shrine. Now in ruins, this temple was built even before the Airavateshvara temple. The Raja gopuram of Veerabhathirar Temple was built of bricks and mortar, which fell to ruin faster than the stone edifice of Airawateshvara.
The reader will also enjoy viewing this wonderful 360 degree panoramic virtual tour of the Darasuram Airavateshwara Temple.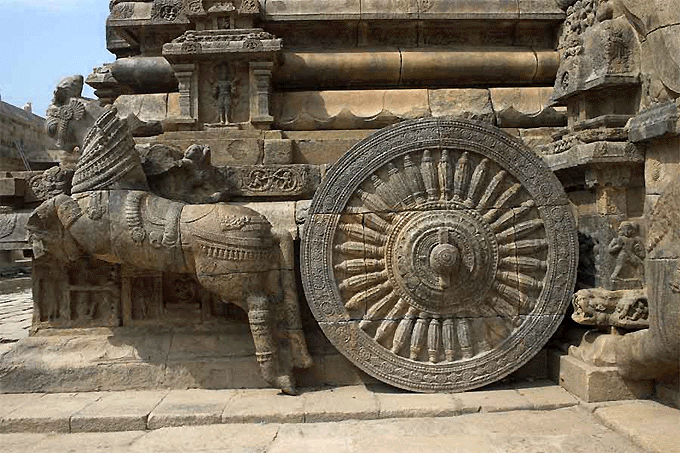 Chariot horse

Some photos courtesy of Sundara Palaniapan


The Sun News Editorials Features Sun Blogs Classifieds Events Recipes PodCasts
Copyright 2005, HareKrsna.com. All rights reserved.