Worship of Lord Brahma, Part 94

BY: SUN STAFF




Lord Brahma panel from Aihole
Prince of Wales Museum




Nov 10, CANADA (SUN) — A serial exploration of places of Lord Brahma's worship.


Lord Brahma at Aihole and Badami

In the north central region of Karnataka are two famous rock-cut temple complexes, Aihole and Badami. With a distance of only 33 km. between them, most pilgrims visit these holy sites one after another. The complex at Aihole, which has been called the "cradle of Indian architecture", is comprised of more than 120 temples scattered around the village. The oldest monument there, the Lad Khan temple, dates back to the 5th century A.D.

Among the most prominent temples at Aihole is the Uma Maheswari temple where Lord Brahma resides, along with the Durga temple, Konthi temple, Hutchimalli temple, Huchappayyagudi temple, Ravalphadi temple, and the eldest, Lad Khan temple.






Aihole Temple complex
The Uma Maheswari Temple is part of the Konthi Temple group, also known as Kwanthi Gudi, a sub-set of the Aihole complex. Like many rock-cut temples in south India, the temple deities are primarily represented either in carved wall panels, or linga form. At Uma Maheswari, Lord Brahma is seen in a carved panel, seated on a lotus. An image of the panel was not found, although a similar panel from Aihole (shown above) is currently in the collection of the Prince of Wales Museum in Bombay.
Konthi Temple complex
In this beautiful panel, Lord Brahma is seated on a lotus pedestal, with one leg crossed. He holds mala and lota in two hands, with another in mudra. The fourth hand is holding what appears to be a scroll of the Vedas. Hamsa swan is at his knee, with a delightful expression, and there are several attendants offering worship to Brahmadeva.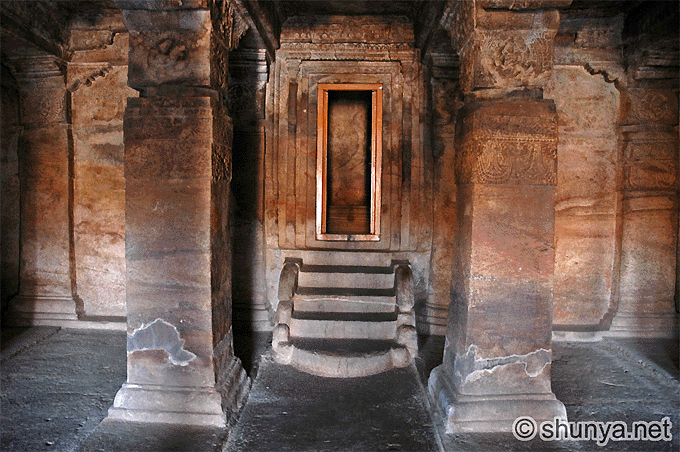 Aihole sanctum shrine
Located on the banks of the Malaprabha River, Aihole is surrounded by fields and small villages. Aihole was the first capital of the Chalukyan Empire. The name 'Aihole' (pronounced Ah-hee-ohl-eee) is associated with Parasurama, who is a prominent Visnu avatara in Karnataka and Kerala.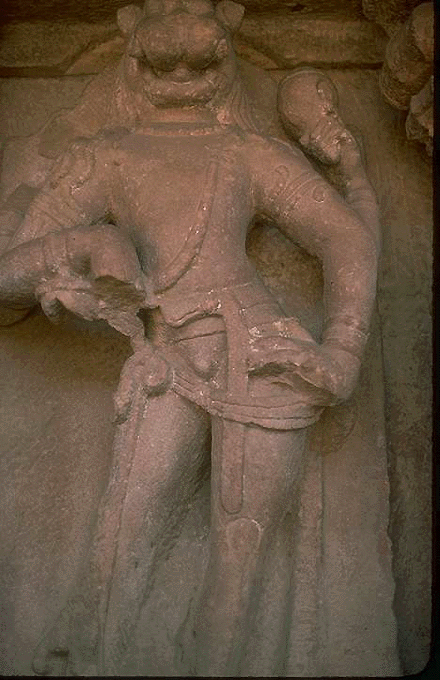 Lord Nrsimhadev
Durga temple at Aihole
The Chalukya Dynasty was founded in 543 A.D. The construction of monuments by these rulers was undertaken in Aihole, at Badami, Pattadakal, and the surrounding region. Much later, in the 17th century, Aurangzeb annexed the Deccan and this region came under Mughal rule. A great many transcendental assets were undoubtedly destroyed here by their hand, as they were elsewhere in India.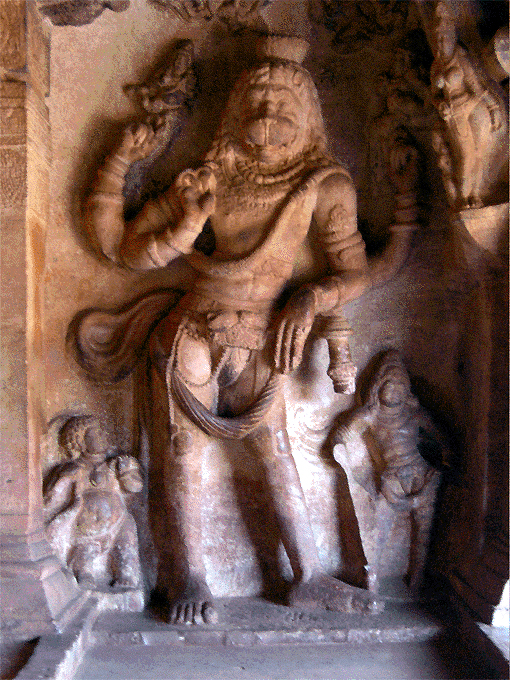 Lord Nrsimhadeva, Badami

The Badami Temple Caves
There are several ancient cave temples in Badami comprising Vaisnava, Saivite and Jain shrines, which are housed in four central caves. The most prominent of these is Cave 3, dedicated to Lord Visnu. It contains the most ornate sculptural work in the compound. Cave 1 contains Saivite deities, while Cave 4 is home to Jain images.
In Cave 2, the presiding deity is Lord Vishnu, who appears in various incarnations, including Vamanadev and Varaha. The subsidiary deities in this shrine are carved into the ceiling, which also has a depiction of the Lord in eternal sleep. Lord Brahma is there, along with Shiva, and the eight Dikpals, or presiding deities of the eight cardinal directions.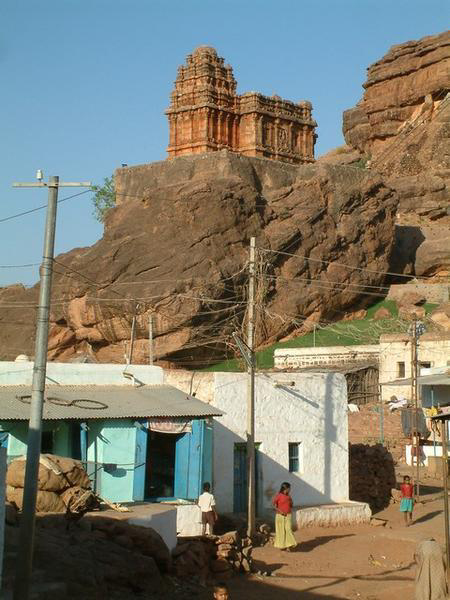 Badami Temple (on hill)
The cave temples of Badami were excavated by the Chalukyas in 600 to 700 A.D. Carved out of sandstone, the sculptures are finely detailed. Each cave shrine has a sanctum, a hall, an open verandah, and pillars. The caves are decorated with many beautiful murals, as well.
There are super-excellent murtis of Lord Nrsimhadev both at Badami, and in the Durga temple at Aihole.
Following is a nice video of the Badami monuments:

The Sun News Editorials Features Sun Blogs Classifieds Events Recipes PodCasts
Copyright 2005, HareKrsna.com. All rights reserved.