Worship of Lord Brahma, Part 90

BY: SUN STAFF




Lord Brahma and Saraswati Devi
Brahma Maanasa Sarva Siddhi Kshetram




Nov 06, CANADA (SUN) — A serial exploration of places of Lord Brahma's worship.


Lord Brahma at Gurramguda

Having now completed our survey of a surprising number of temples in Tamil Nadu where Lord Brahma is worshipped, we will begin the last mile of this series, covering a number of temples in various part of India, followed by several unique categories of Brahma worship, including an overview of Brahmadeva in other Southeast Asian countries.

Today, we visit a small temple in Andhra Pradesh that is very much 'off the beaten track'. The Brahma Maanasa Sarva Siddhi Kshetram is located in Hyderbad, at Gurramguda Village, 15 km. from Koti. The temple is housed in humble facilities, being a concrete building with little facility. Nonetheless, the presiding deities – Devi Saraswati and Lord Brahma – are very beautiful. Saraswati is also known here as Shri Rajarajeswari Devi.

Not surprisingly, the servitors of Shri Brahma Maanasa Kshetram report that theirs is the only temple in India where Brahma and Saraswati are worshipped together, in one temple.






Fire Yagna in Sri Brahma i Kshetram
Also residing here are Sri Garbhodakasayi Visnu with Laksmi Devi, Sridevi and Bhudevi. Lord Kasi Viswanath (Shiva) is here with Goddess Annapoorna, the Viswanath-lingam being situated on the southwest side of the temple. Another shrine in the temple is dedicated to Uma Maheswara Swamy.
Because Visnu, Shiva and Brahma are here in separate forms some consider this to be a Trimurti temple, although that is not really the case, since the deities are not present in their Trimurti form.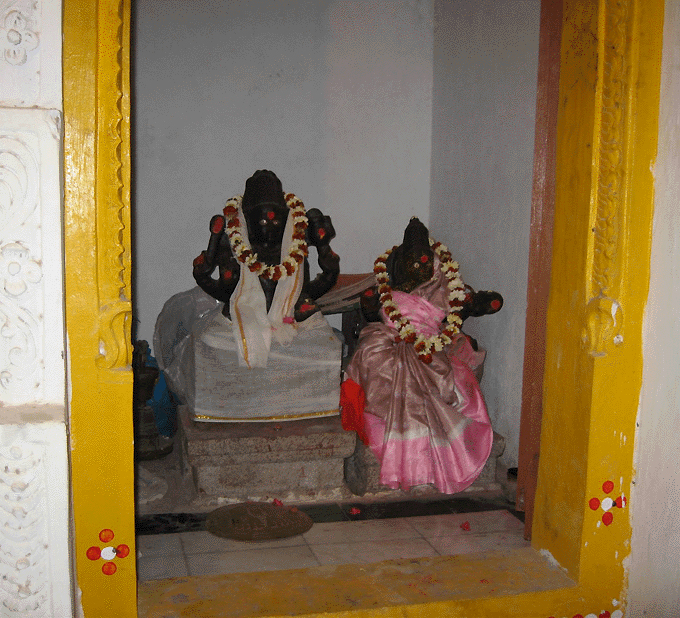 Lord Brahma and Saraswati Devi
The subsidiary deities at Shri Brahma Maanasa Kshetram include Durga Ma, Chintamani Ganapathi, Kartikeya, Shri Prasannanjaneya (Hanuman,), Shri Ardhanaareswara, Gayatri Devi, Vayulinga, the Navagrahas, and Naga Devata.
Chintamani Ganapathi is situated in front of the Viswanath-lingam shrine. In recent years this murti was re-installed, using the Ganapathi Yantra as per Aagama Sastra. In a separate shrine in the southeast corner of the temple is a deity of Shri Nagendra Swamy, representing the nagas. Naga Panchami is observed in his honor.
The Navagrahas are installed in the northeast corner of the temple. The devotees here observe the Appearance days of all the Navagrahas, who are offered abhishek and the respective grains associated with them.
Outside of the temple walls is the kshetram's Vayu-linga shrine.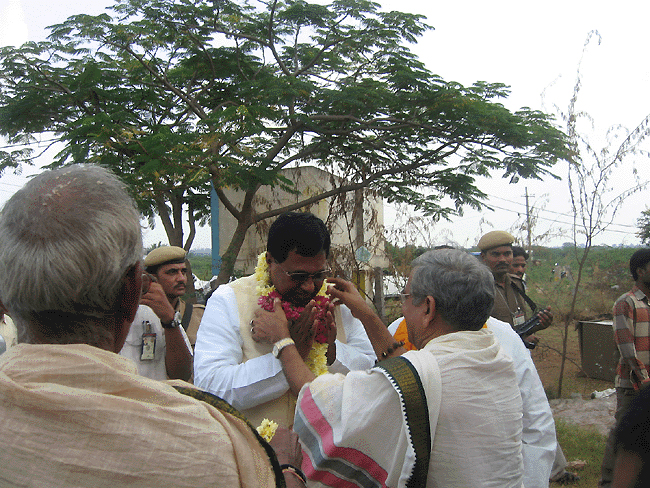 Temple event
The Shree Brahma Maanasa Kshetram is currently being renovated, and more devotees are now coming to get darshan of the deities than have in years past. The temple sevyats are treating this as what they call "a socio-economic center", meaning they put a strong emphasis on social and cultural support for the local community. The congregation engages in various community activities, which range from feeding the cows to providing education and medical services. There are a number of festivals and observance days kept here, including Sivarathri and Hanumat Jayanthi.


The Sun News Editorials Features Sun Blogs Classifieds Events Recipes PodCasts
Copyright 2005, HareKrsna.com. All rights reserved.