Prasadam - Saffron, Part Three
BY: SUN STAFF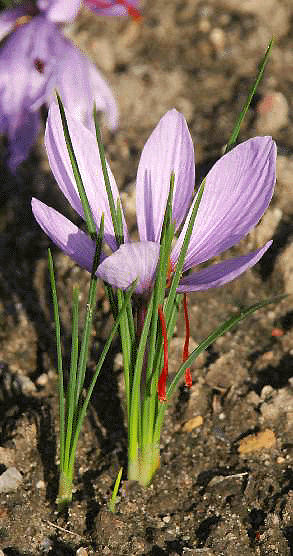 Oct 16, 2016 — CANADA (SUN) — A journey through India: border to border, bhoga to prasadam.
We mentioned in earlier segments the top quality saffron that has been produced since ancient times in Kashmir. But there is another particularly important spot for saffron cultivation in the region, and that's the Kishtwar district of Jammu and Kashmir. To the north of this valley is Kashmir valley, to the east is Himachal Pradesh, with Bhanderwah in the south. Both the weather conditions and quality of the soil here make it a perfect spot for growing saffron.
The cultivation of saffron in Kishtwar dates back to the time of the Mahabharata. A reference is found in the 27th chapter of Sabha Para in the Mahabharata to the saffron grown in this place, which is referred to as a mandal. The Kishtwari saffron is thought by many to be superior to the Kashmiri stuff in both fragrance and colour, partly due to the drying techniques employed by the Kishtwaris. There are old Sanskrit texts which praise Kishtwar saffron over the Kashmiri type. The Mughal kings, who were known as epicureans, preferred Kishtwar's saffron over Kashmir's. In the Mughal manuscript Tuzak-i-Jahangiri, the author writes:
"In Kishtwar there are produce such as wheat, barley, lentils millets and pulses. Differing from Kashmir it produces little rice. Its saffron is finer than that of Kashmir– all the saffron is assigned as pay to a body of Rajputs and to 700 musketeers or top chi or gunners who are old retainers."
The color produced by saffron has long been associated with the spiritual classes of men, and today it is still the mark of those in the renounced order of sannyasa or brahmacharya. It was during Lord Buddha's lila that saffron began to officially be used for dying the robes of monks. Today's it's also used like tilak by some cults.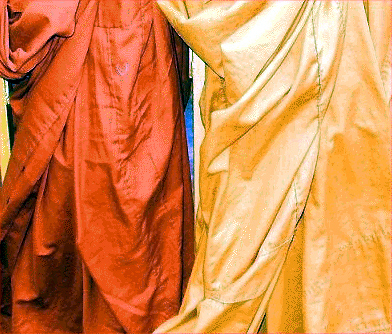 Saffron Cloth
Among the many traditional Vedic preparations featuring saffron are dishes in the rice, dal, sabji, salad and sweet categories. Saffron can be successfully used in most any rice dish, adding the beautiful golden color and distinct aroma to lemon rice, green herbed rice, coconut, curd, and even fruited rice. Most famously, saffron is a key ingredient in biryani or pushpanna (royal) rice dishes, in which the saffron is one of several distinct spice layers. Persian biryanis often feature a combination of saffron and peppermint, which is a delicious combination.
Just as saffron is perfectly suited to rice dishes, it is a great addition to all sorts of grain preparations. There are numerous halvas that call for saffron. One of the nicest is Pineapple Halva, a popular dish in South India. Pineapple Halva combines two golden yellow ingredients that shine like the sun in the finished dish.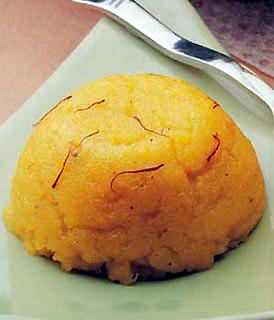 Pineapple Kesari



Pineapple Kesari

Ingredients:


1/2 cup Rawa (Semolina)
1/2 cup Pineapple purée
¾ cup Water
1/2 cup Milk
¼ cup Cream
5 Tblsp Sugar
several strands Saffron (Kesar)
2 little Ghee
1/4 tsp Cardamom (Elaichi) powder

In a little ghee, toast the rawa until the grains have darkened a shade or two. Steep the saffron in a few teaspoons of milk while you're cooking the grains. In a bowl, mix together the pineapple and sugar, then add the saffron milk, the remaining milk, cream and water. Add this to the rawa and bring to a quick boil, stirring constantly. Continue boiling for a minute or two, then turn the heat down to low, add the cardamom, and remove from heat. Offer warm or at room temperature, drizzled with a little cream, and garnish with nuts if you like.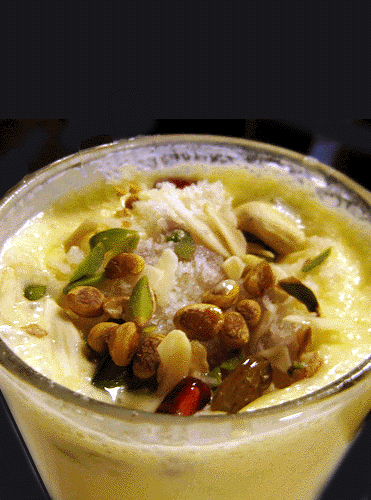 Makhaniya Lassi
Makhaniya Lassi is a popular drink in Rajasthan, and it's served at Lord Brahma's temple in Pushkar. If you'd like to double the saffron pleasure, serve a nice chilled Makhaniya Lassi along with some hot buttered popcorn, with saffron in the melted butter.
Makhaniya Lassi
Ingredients:

2 cups Curd (Yoghurt)
1 cup Water
3 Tblsp Heavy Cream
4 Tblsp Sugar
1 tsp fresh Butter
a pinch of Saffron
a dash of Cardamom extract
a dash of Rosewater
Nuts for garnish
a little Crushed Ice
Soak the saffron in a little warm milk for several minutes before preparing the drink. Simply mix all the ingredients (except nuts) together, and whip into a smooth, frothy blend. You can garnish the drink with cashews, pistachios, pine nuts, pomegranate seeds or coconut for a nice finish.
To enhance the saffron flavor, you can leave out either the cardamom or rosewater, or both, and have a delightful saffrony beverage. If using the cardamom, it's best to use a liquid extract instead of powder, so there's no graininess in the drink.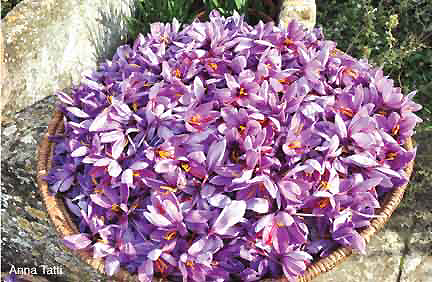 In whatever saffron field one visits during the harvest period in North India, from Kashmir to Kishtwar, there is a unique culture amongst the saffron harvesters. After picking literally hundreds of thousands of Crocus flowers, all must be transported, the various center fibers plucked, sorted and dried to get the finished product.
In the fields there is a joyful mood amongst the harvesters, who understand that they are producing one of the rarest and most desirable spices on the planet today. During harvest, the fields become the center point of village life. Beggars and mendicants roam the fields with small bags, giving blessings to those who will donate a few flowers to them. Vendors of fruit and beverages move through the fields, trading their wares to the pickers in exchange for the precious flowers. There is said to be no dickering over prices – however many flowers are offered in exchange for the food or drink are happily accepted by the seller. Saffron becomes a living currency in the fields.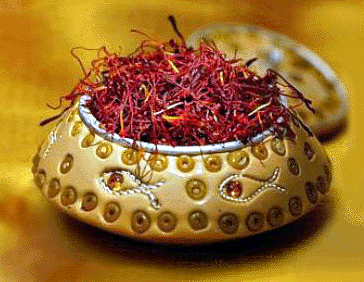 Throughout the harvesting and drying process, nothing goes to waste. The saffron is very carefully handled, like one might handle gold dust or tiny jewels. The Crocus petals are eaten as vegetables, and the stems are fed to the animals. God is thanked repeatedly by villagers of all faiths for creating such an amazing spice as saffron.
We close this segment of the Prasadam series with two saffron recipes that are excellent accompaniments to so many dishes. One is a light, gingery-citrus dressing that balances the sharp edge of saffron with the sweetness of honey. It's excellent on anything fresh, from fruits to vegetables or breads. The second is a thicker sauce, opulent to pour overtop all sorts of foods, or use as a dipping sauce.
Saffron Dressing
Ingredients:

1 small Cucumber, deseeded and minced fine
1 Tblsp fresh Ginger, minced
Juice of 1 Orange
Juice of ½ lemon
a good pinch of Saffron
1 Tblsp Honey
Salt and Pepper to taste
Mix all the ingredients together and whip to a smooth consistency. Offer chilled on salads, or at room temperature, drilled over steam vegetables on drilled onto dal or rice.
Saffron Sauce
Ingredients:

½ stick of Butter
a pinch of Saffron, powdered
1 cup of Heavy Cream
½ cup Crème Fraîche or Sour Cream
1 Tblsp Sesame seeds
Salt and Pepper to taste
Dry roast the sesame seeds until they've darkened a few shades, and set aside. Toast the saffron threads, breaking them into a powder with the back of a spoon, and set aside. Melt the butter and add the saffron, simmering for a few minutes. Add the heavy cream and continue simmering for five minutes more. Add the crème fraîche or sour cream, salt pepper and sesame seeds, and cook for another minute, whisking to a smooth sauce. Pour on top of steamed vegetables or serve as a dipping sauce with savouries, bread or kabobs.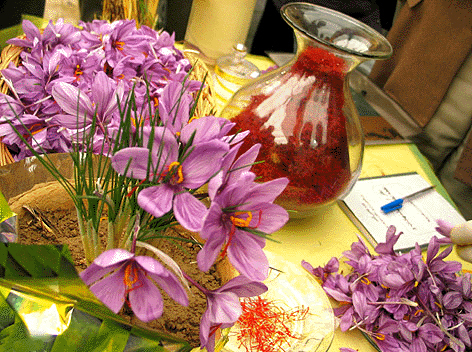 The Sun News Editorials Features Sun Blogs Classifieds Events Recipes PodCasts
Copyright 2005, 2016, HareKrsna.com. All rights reserved.