Ritu Samharam: A Garland of Seasons, Part 2
BY: SUN STAFF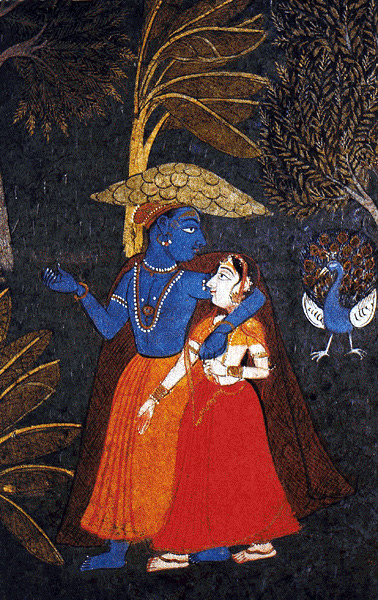 Sheltering in the Monsoon
Pahari School
Oct 07, 2013 — CANADA (SUN) — A medley of seasonal glorifications by Sri Kavi Kalidas, translated by D.H. Rao.
In this second chapter of Ritu Samharam, the kingly Monsoon season is taken up, its welcome nature portrayed by the poetic heroine of Sri Kavi Kalidas's epic poem.
Ritu Samharam

By Sri Kavi Kalidas

Chapter [Sarga] 2 Rainy Season
2-1
"Oh, dear, now the kingly monsoon is onset with its clouds containing raindrops, as its ruttish elephants in its convoy, and with skyey flashes of lighting as its pennants and buntings, and with the thunders of thunderbolts as its percussive drumbeats, thus this rainy season has come to pass, radiantly shining forth like a king, for the delight of voluptuous people...
Vividly: A king's convoy starts with sweaty elephants in rut, likewise the king of seasons, namely the rainy season, started with its march of elephantine clouds, sweating raindrops... a king's retinue carry ornate flags and pennons, likewise the skyey flashes of lighting, or rainbows are the pennants and buntings of this kingly rain... a king's ride will not be mute, but strident with trumpet's trumpeting and drumbeats' thundering, likewise this kinglike monsoon is set out with the thunders of the thunderbolts as its percussive drumbeats, and for the delight of people the whole environ is sheeny with cloudscapes, and as with the pageant arrival of a king, this monsoon has now come to pass, with all its pageantry...
2-2
"By far, the vault of heaven is overly impregnated with massive clouds, that are similar to the gleam of blackish petals of black-costuses... somewhere they are similar to the glitter of the heaps of well-kneaded blackish mascara... and elsewhere they glisten like the darkened bosoms of pregnant women, ready to rain the elixir of life on the lips of her offspring, when that offspring is actualised...
2-3
"The stock of Caataka birds that is disquieted with thirst, and though praying prayerfully for raindrops, those water-filled danglers in the sky, namely the clouds, that have many showers to shower, and though their rumblings are heart-stealing and ear-filling indicating rainfall, but those clouds are drifting away, slowly... heedless of the prayers of poor Caataka birds...
2-4
"The clouds in their warrior-march are wielding crashes of thunderbolts as their drum kits, and the flashes of lightning as the fluttering flashes of the bowstring of rainbow, and even they are unloosening very sharp arrows from that rainbow, called the sharply torrents, only to rend the lovelorn hearts of itinerants, that too ruthlessly... in their war on behalf of their paramours...
2-5
"The earth with grass sprouts seems spread with lapis gems that are shred to smithereens, for the grass has yet not attained that much greenery, and muchly sprouted and overspread are the greenish leaves of Kandali plants that suddenly sprout in rainy seasons, and amidst which greensward red insects are muchly mosaicked, thus the earth is beaming forth like a best lady decorated in many coloured jewels, other than whitish diamonds and other crystalline ones...
2-6
"This cloudy and showery environ is evermore heart-pleasing to peacocks, hence they are screaming with hilarity and fidgety, and the whole stock of peacocks is brilliant when its fanlike expansive plumage is outstretched, and on impulsively petting and pecking peahens, now they have commenced their peacock-dance...
2-7
"Highly intensified is the rapidity of the waters of these maidens called rivers, which smiles with the promptitude of maidens with misdemeanour, where these waters are new and thus miry, while those dames are newly maturated and thus they are in the mire of maturity, while these waters are hurtling hastily towards their paramour, called the ocean, with a seasonally created excitement, those damsels are flirtatiously jaunting, reckless about their own kith and kin, since the rapid watercourse of rivers is felling its riverine trees, ubiquitously...
2-8
"With the advent of rains upshot are the tender sprouts of grass, and the greensward when grazed by deer and other grazers, it is divers in its hue, somewhere with blackish patches, elsewhere with stacks of grass, and somewhere else with verdant pastures, and with their upcast tender leaflets the trees are ornately decorating the Vindhya mountains, thus the environ is heart-stealing, picturesquely...
2-9
"Oh, dear, sheeny are the faces of the deer with their swiftly zipping eyes, which are akin to black-lotuses and to your eyes as well, and they the deer and you, zip your eyes more and more, when there is a thunder or a rumble, then you run into my embrace, as they run to overcrowd the white sand-beds amidst lushly thickets of forests, and this georgic beauty of forests and the graceful beauty of yours, all this is promptly rendering the heart highly ecstatic...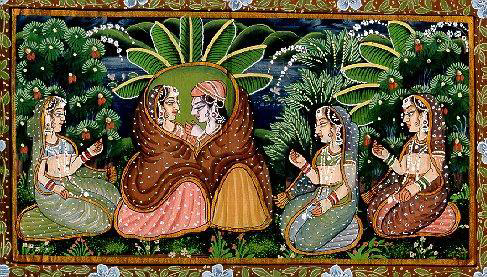 2-10-11
"Though the cloud-cover rendered the nights as pitch-dark, and though thundering is thunderous, and though the pathways on ground are indiscernible for it is pitch-black, even in such nights the women seeking their paramours are making haste on those paths, that are indiscernibly shown by the flashes of torch-lights, called the flashes of lightning, for they are impassioned to meet their lovers, to all intents and purposes...
2-12
"While their lotus-like eyes are shedding teardrops that are moistening their delicate and tender leaf-like lower lips, that are crimson in colour like Bimba fruit, a lip-like small gourd fruit that becomes crimson red when ripened, and they are rejecting their garlands, ornaments or cosmetics…' thus the seasons divide the united...
2-13
"Though the rainwater is new and crystalline but when collected by river it turned to whitish yellow colour of the soil, for begrimed is the river water with dirt, grass, and insects, and when it is skittering off in a serpiginous course facing a declivitous path towards ocean, the stock of frogs that have come out of that river seeking rain, they have observed that river with some trepidation, for those frogs are skeptical whether a python is snaking or a pythonic river is slinking...
2-14
"Rains denuded the flowers of their petals, therefor on abandoning the petal-less lotuses the honeybees, solicitous of nectar and desirous to swarm the newborn peacock-coloured costuses, buzzing mellifluously they are muddle-headedly swarming on the circular fanlike plumages of peacocks, that are twitch-dancing in the rain...
2-15
"When dark clouds full with new waters are thundering repeatedly, the ruttish wild elephants are repeatedly responding them with their own trumpeting, on the premiss that the thunders are the trumping of the 'other-she-elephants' in rut, and while the cheeks of those elephants are shining like the shiny black-lotuses, and rife with ruttish tallowy fluids, hordes of honeybees are harrying them, for that tallowy stench...
2-16
"The silver clouds that vie with the whiteness of white lotuses are kissing the black boulders of mountains on mountaintops, while the mountainsides are bestrewn with mountain-rapids, and widespread with debut dancing of peacocks, and all this is inducing a carnivalesque visual revelry...
2-17-19
"The zephyr is smoothly ruffling the treetops of Kadamba, Sarja, Arjuna and Ketaki trees in woodlands, and the fragrance of those flowers is wafting windswept, further allied with the coolant clouds that are with cool droplets of rainwater, the breeze in this rainy season is muchly fragranced and coolant as well, then why can't this breeze breath affair of the heat in any heart...
2-20
"Now the women are wearing the concatenated tassels of newborn flowers of Kadamba, Kesara, and Ketaki trees, and at the place of hairslide they are wearing the bunches of flowers of Kakubha trees as their ear-hangings, on concatenating them as they like...
2-21
"These days the women are not applying sandal-paste that is mixed with yellow camphor etc., for it will be too coolant, and hence their limbs are quietly bedaubed with the powder of aloe vera and sandal-paste as bodily scents, and with flowers bedecked as ear-hangings at hairslides, their plaited hairdo is rendered fragrant with these flowers and shampoos, such as they are, they are in the service of their in-laws in their chambers, but on hearing the rumbles of clouds, they are hastening themselves to their own bedchambers…
2-22
"The far-flung clouds are blackish like the black-lotus petals, enchased with rainbows, and they are now stooping, as with Manmadha, the Love-god, who stoops to take an aim with his love-bow, and then lightly whiffed by the whiffle of wind these clouds are milling about slowly and slowly, and the young wives of wayfarers, who are disconcerted mainly by the reason of separation from their men, and additionally by these whifflling, milling, stooping archers, called clouds, wielding rainbows as their love-bows, as they seem coming slowly and slowly only to steal the hearts of the lonely…
2-23
"When new waters are besprinkled abated is the ardour of the forest, up to its endmost parts, that was once caused by the simmering summer, and with the newborn flowers of Kadamba trees that forest appears as though gladdened, and when the wind is whiffling the boughs, whiffled boughs are dancing as though to the tune of rumbling clouds, and in that dance the whitish needle-like blades of Mogra flowers are appearing to be that forest's whitish toothy grins, and all-over the forest it bears those grins and giggles...
2-24-25
"In this rainy season when congeries of clouds have showered enough, plethoric is the flowery blossom, hence the womenfolk embed their hairdos with the tassels of Maalati flowers together with Vakula flowers, and with other new blossomy flowers, and the tassels of new buds of Kadamba flowers are pinned and pensile like their ear-hangings, and this has all the hallmarks of lovers, that decorate the hairdos of their ladyloves, themselves with their own hands...
2-26
"By their association with droplets of new waters, the trees have collected plenteous water from new rains, thus they are aplenty with flowers, and thus their treetops are sagging under the weight of those flowers, thereby they are unfluctuating, but when nudged by the breeze fluctuated are these sagging flowery treetops, and then this breeze is absolutely stealing the hearts of itinerants, which is blent with the pleasing fragrance of those flowers, as well as with the pollen grains of Mogra flowers, for this very fragrance is remindful of their dear ones, back home...
2-27
"When weighed down with waters the clouds thought thus, 'he, this Mt. Vindhya is our highest mainstay, as we are verily drooping with the weight of water...' and then the clouds have descended on Mt. Vindhya and rained on him, thereby the exceedingly severe torridity of Mt. Vindhya, caused by the tongues of fire of the summer, is mollified by those torrents of rainwater, and thus the Mt. Vindhya is as though gladdened, at the good gesture of the clouds of this season...
2-28
"Heart-pleasing will be this rainy season with its many a hallmark, and this will be heart-stealing for women, and this is the altar ego of trees, twigs and tendrils, and the lan vital of the living beings, and non-paroxysmal in fetching vaata, pitta, kapha aadi vikaara 'air, bile, phlegm etc., disorders, hence may this rainy season endow all your expedients and expectations, frequently...

The Sun News Editorials Features Sun Blogs Classifieds Events Recipes PodCasts
Copyright 2005, 2013, HareKrsna.com. All rights reserved.