Ancient Mathas of Prachi Valley, Part Three
BY: SUN STAFF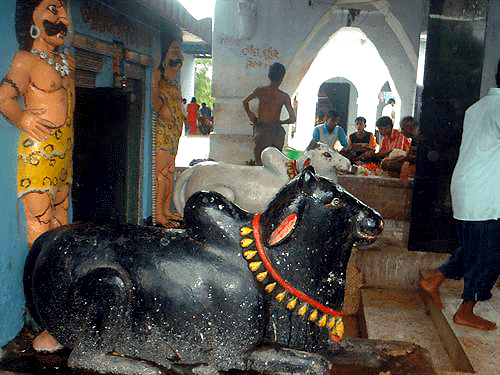 Manikarnika Teerth
Oct 27, 2012 — CANADA (SUN) — A serial presentation of mathas located in the ancient Prachi Valley of Orissa, and the Deities worshipped there.
Antarvedi Matha at Trivenighat in Kantapada Sasana
The Antarvedi matha at Trivenighat [1] is located in Niali tehsil of Cuttack district, Orissa. The matha is situated at the confluence of the River Prachi, Manikarnika (a tributary of the Kushabhadra River) and the invisible course of the River Saraswati, which meet in the village Kantapada Sasana. The site is marked by the Manikarnika Teerth.
Along the southern banks of the Prachi River near Kantapada village are several monuments dating from the 7th to 15th Centuries. Local pilgrimage sites include the Vishnu Pidh temple (8th to 12th c.), along with the Sobhaneshwara temple, Amareshwara shrine and Grameshwara temple.
Among the many interesting archeological sites around Niali is the Antarvedi matha. It is approached on the right side of the Niali (Nuagaon Chowk), Bhubaneswar (Uttara Chowk) road via Amnakuda. It is about 7 km from Nuagaon Chowk on SH 60 and hardly 100 m. east of the Belesvara and Trivenisvara temple of Bhapur in Khurda district.
The matha belongs to Gauranga sect. Legends associated with its establishment go back to the end of Dvapara and beginning of Kali Yuga.
Inside the matha, a modern saptaratha pidha shrine faces east, fronted by a jagamohana, a mandapa, and the Aruna stambha in front. The temple of Baba Lokanatha, a detached snanavedi, dhuni mandapa and the laterite built bathing steps known as Trivenighat are also found here.
The presiding Deities are enshrined in the sanctum over a pedestal of 1.20 m. in height. A black chlorite Deity of Lord Krishna along with the three triad siblings, Jagannatha (Patitapavana), Balabhadra and Subhadra, made of Neem wood, along with brass Radha and Krishna Deities are being worshipped. Janmastami, Deva-snana, Radhastami, Trivenibuda, etc. are celebrated here.
The Trivenibuda festival is held on the new moon day in the month of Magha (February/March) and thousands of people congregate here to take sacred bath and enjoy the fair, which goes on for more than a week.
Along with social rites such as marriages, engagements, thread ceremonies, etc., asthibisarjana and pinda dana are also performed here. Thematha has its own landed property and garden and is maintained by the Mahanta. The matha has continued to flourish to this day in Prachi Valley.
REFERENCES:
[1] Ray, P.K. (ed.), 1975, Archaeological Survey Report 1974-75, Prachi Valley, Odisha State Archaeology, Bhubaneswar, p. 4.
Adapted from "Archaeological Vestiges of Monasteries in the Prachi Valley, Odisha" by Jayashankar Naik


The Sun News Editorials Features Sun Blogs Classifieds Events Recipes PodCasts
Copyright 2005, 2012, HareKrsna.com. All rights reserved.