A Treasure Trove in Cooch Behar
BY: SUN STAFF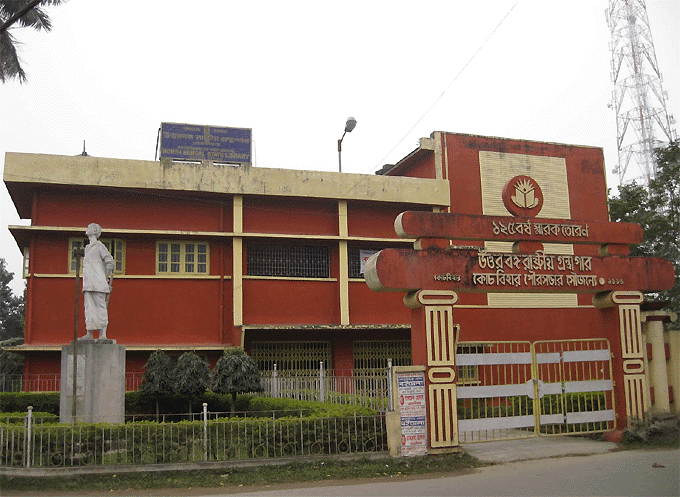 North Bengal State Library, Cooch Behar
Photo courtesy D. Bhaumik
Oct 17, 2012 — CANADA (SUN) — North Bengal State Library in Cooch Behar houses a collection of rare books and manuscripts.
The North Bengal State Library in Cooch Behar, West Bengal is home to a relatively unknown treasure trove of ancient books and manuscripts, many produced by the Gaudiya Vaisnavas. Among the sizeable collection are classic punthis written on handmade papers and palm leaf, along with rare books, journals, reports, and Indian and foreign documents.
The library has been in existence for 125 years, and is considered the crown jewel of Cooch Behar Kingdom's cultural heritage. During the minority reign of Maharaja Nripendra Narayan, a British Colonel named Houghten came to Cooch Behar to act as Commissioner, in 1864–73. He established the State Library of Cooch Behar in 1870 by purchasing a stock of books at a London auction.
Over the years the library collection grew richer in excellent punthis, manuscripts and rare documents, many of which were the legacy of the Raj-Darawabar, or royal-court. In 1900 A.D., the collection was comprised of 8,183 books and manuscripts, of which many were English, with a relatively few in Bengali, Sanskrit, Urdu, Persian, etc. Today the collection stands at some 85,000 books, with English being the minority language. At least 16,000 of these are considered rare, including a few hundred handwritten manuscripts that are 300 to 500 years old.
In association with the State Central Library, the North Bengal State Library is in the process of digitizing a catalogue of the collection, which will be made available on the Internet. First in line for completion was the Sanskrit catalogue of approximately 100 items, followed by the Assamese collection. In 1940, the then ruler of Cooch Behar State, Maharaja Jagaddipendra Narayan, invited the eminent scholar, Shashi Bhusan Dasgupta to make a descriptive catalogue of the age-old Bengali manuscripts and scriptures, which also included about 100 items.
Following is the current catalogue of Bengali manuscripts, which includes the following notable manuscripts, among many others:
Chaitanya-charita
Chaitanya-gita by Kalidas
Harinama-kavaca by Krishna das
Sri-Chaitanya-bhagavata (Adya and Antya-khandas) by Vrindavan Das
Sadhana-bhakti-chandrika by Narottam Das
Sri-Bhagavate Vaisnava-caritra
Vaisnava-vandana by Vrindavan Das
CATALOGUE OF BENGALI BOOKS & MANUSCRIPTS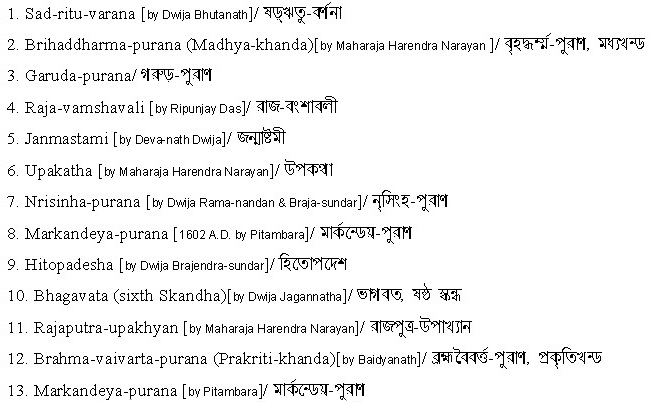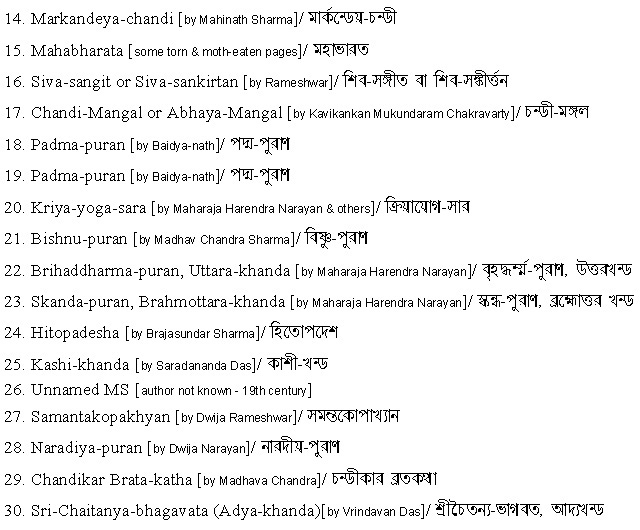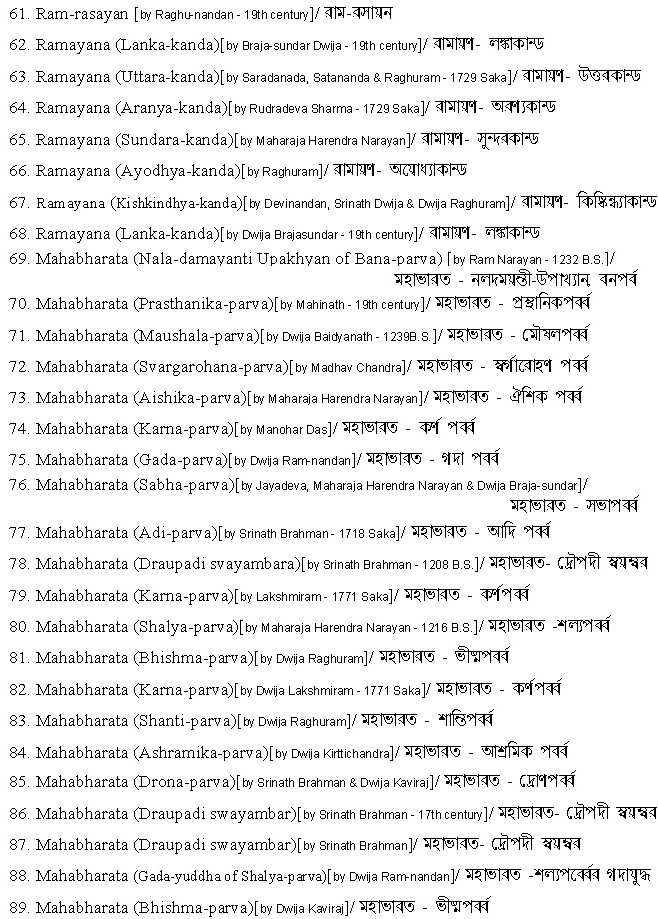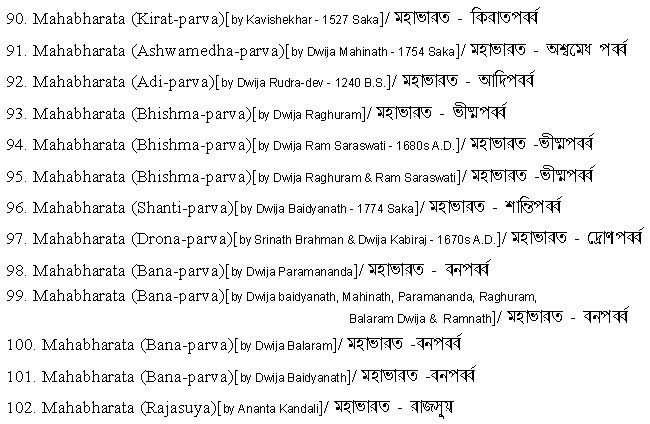 Sources: Cooch Behar Government, CoochBeharCalling.Blogspot.ca, Wikipedia


The Sun News Editorials Features Sun Blogs Classifieds Events Recipes PodCasts
Copyright 2005, 2012, HareKrsna.com. All rights reserved.