Phad Gita Govinda, Part 8
BY: SUN STAFF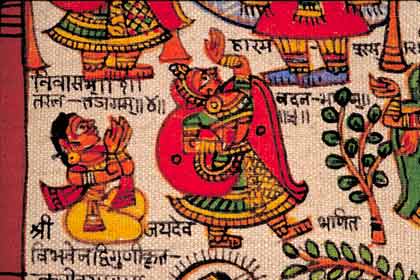 Jayadeva glorifying a sakhi
Oct 03, 2011 — CANADA (SUN) — Reprise of a 2005 month-long series on Gita-Govinda.
The Gita-Govinda is replete with text and pictorial descriptions of Radha and Krsna expressing a range of transcendental emotions: sadness, anger, bewilderment, dejection, anxiety, elation, pensiveness, etc. We see these expressions in illustrations depicting the two alone, each with one or more of the sakhis, and the two together.
Throughout Gita-Govinda, the sakhis play a central role as associates, paramours, confidants, and messengers. Both Radha and Krsna can be found sharing their agitated feelings with the gopis, inquiring of them as to the whereabouts of the other, passing messages and pleadings, and strategizing on how to accomplish their loving pastimes.
In today's series, we look at a group of images involving the sakhis, without whom the loving pastimes of the divine couple would not be complete.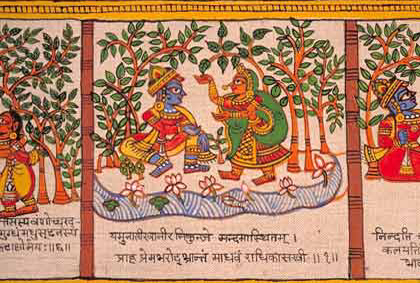 Krsna waiting helplessly on the bank of the Yamuna, where the sakhi arrives to speak to Him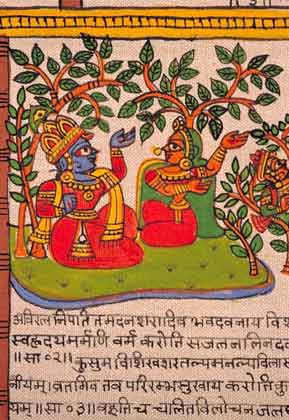 Sakhi tells Krsna of Radha's emotions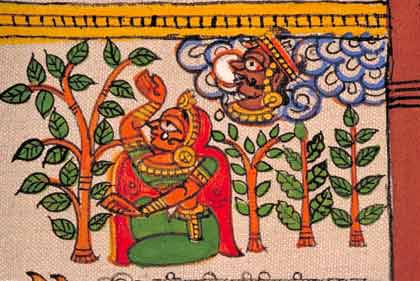 Sakhi describes the condition of Radha as being like the necter of the moon
escaping from the teeth of Radha
Sakhi persuades Krsna to meet Radha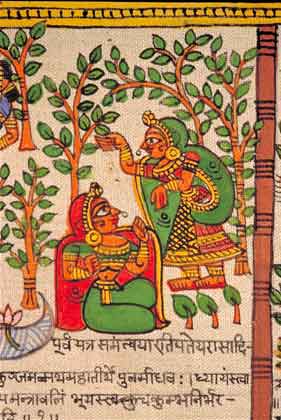 Sakhi persuades Radha to meet Krsna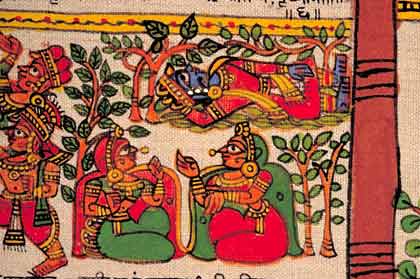 Sakhi instructs Radha to move as a swan and follow Krishna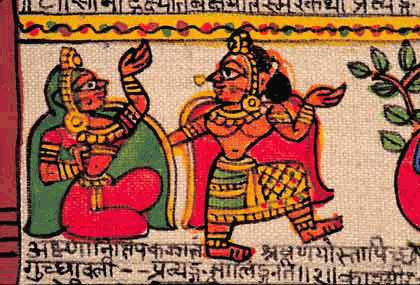 Sakhi takes Radha to her beloved Krsna

The Sun News Editorials Features Sun Blogs Classifieds Events Recipes PodCasts
Copyright 2005, 2011, HareKrsna.com. All rights reserved.