Phad Gita Govinda, Part 7
BY: SUN STAFF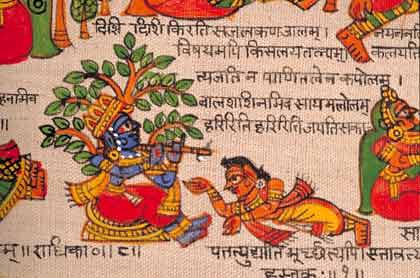 Jayadev Offering Obeisances to Krsna
Oct 02, 2011 — CANADA (SUN) — Reprise of a 2005 month-long series on Gita-Govinda.
Throughout the Gita-Govinda, Jayadev repeatedly offers all obeisances to Sri Krsna, whose transcendental pastimes are beautifully portrayed in the Mukherjee scroll.
Yesterday we saw the depictions of Krsna's heroic activities at Govardhan Hill, childhood pastimes with the Putana demon, and fights with Kamsa's emissaries. Prior to that, we enjoyed various images of Krsna pining after Radha: sitting lost amidst the creepers and bowers, mournfully playing his flute, and meditating upon her beautiful form.
While Radha has stormed off in anger, Krsna is portrayed not only in a similarly agitated state, but also in the opposite mood: aloof and undisturbed. Today, we look at these more neutral aspects of Krsna's waiting pastimes.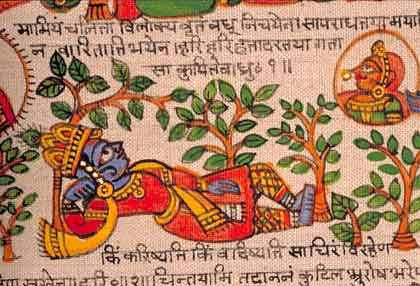 Krishna relaxes and remembers Radha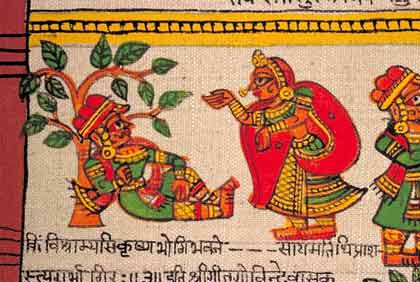 Radha talks to a gopa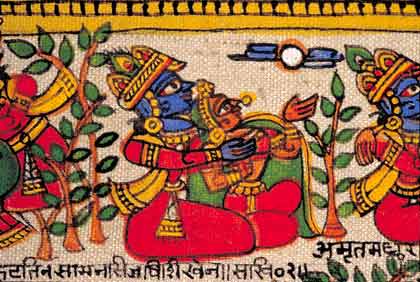 Krishna with Radha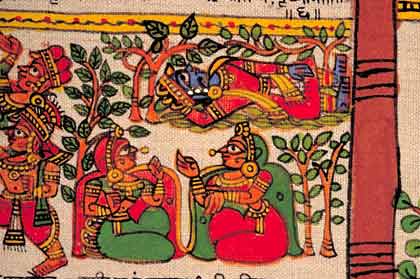 Krishna relaxing in a bower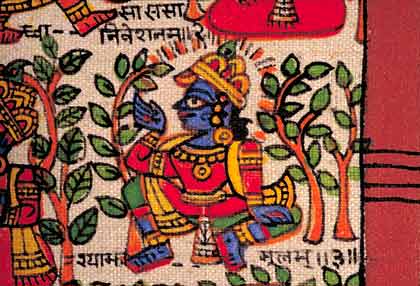 Krishna sits back to wait in the wood

The Sun News Editorials Features Sun Blogs Classifieds Events Recipes PodCasts
Copyright 2005, 2011, HareKrsna.com. All rights reserved.