Sri Bhajan Rahasya
BY: SUN STAFF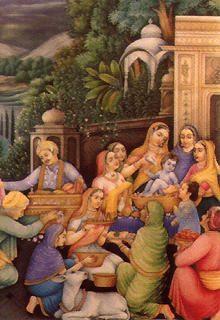 Bathing Krsna
Oct 20, 2010 — CANADA (SUN) — In advance of Kartika, we offer this Rahasyer Pragbandha (Prior obligatory regulation for being eligible to realize ontological mystery of Bhajan) by HDG Srila Bhaktisiddhanta Saraswati Goswami Thakura. Part One of Eight.
1st Period of Devotional Practice (1st Yama Sadhana)
Bhajan at close of night— Sraddha (Firm Faith)
Therefore, glow of the Holy Name can destroy all sins and deliver conditioned souls from worldly bondage. As for instance Sri Bhakti-Rasamrita-Sindhu, Dakshin Part, 1/52:-
tam nirvyajam bhaja guna-nidhe pavanam pavananam
sraddha-rajyan-matir atitaram uttamah-sloka-maulim
prodyann antah-karana-kuhare hanta yan-nama-bhanor
abhaso 'pi kshapayati maha-pataka-dhvanta-rasim
That person is addressed as Guna-nidhe (one who is richly endowed with good qualities), who has got the aptitude to utter without delay, the Holiest Divine Name 'Krishna', greatest Redeemer of all redeemers, with firm faith, without hypocrisy and with simple-heartedness. Why? Because the glow of the Holy Name Krishna, like the glimpse of the light of Sun at dawn, entering into the cave of his heart, will destroy all great sins and nescience.
Srila Bhaktivinode Thakur's instruction (His own writing in Bengali):-
parama pavana krishna tanhanra charana, niskapata sraddha saha karaha bhajan,
janra nama suryabhas antare pravesi, dhvamsa kare mahapap andhakararasi,
ei sikshashtake kahe krishnalila-kram, ihate bhajan krame lilara udgam,
prathame prathama sloka bhaja kichu din, dvitiya slokete tabe hauta pravin
Krishna is the Supreme Redeemer. His Lotus Feet should be worshipped with firm faith and without deceitfulness. Glow of the Holy Name, like dawn of sunrise, entering into the heart, will destroy all great sins and remove all kinds of nescience— deep darkness. Gradual sequential development of the pastimes of Krishna is narrated in Sikshashtaka. By this sequence of bhajan, pastimes will be manifested. At first, the first verse of Sikshashtaka is to be practised for some days. Thereafter you become eligible for practice of second verse.
chari sloke kramasah bhajana pakkva kara, pancam slokete nija siddha deha vara,
ei sloke siddhadehe radhapadasraya, arambha kariya krame unnati udaya,
chaya sloka bhajite anartha dure gela, tabe jana siddhadehe adhikara haila,
adhikara na labhiya siddhadeha bhave, viparjya buddhi janme saktira abhave
Then by careful practice of the four verses of Sikshashtaka, gradually you acquire maturity in bhajan. After that, be eligible for achieving your realized eternal spiritual form by practising the fifth verse. Being well-established in the fifth verse, get the service of the Lotus Feet of Radharani by attaining realized form. Advancement of bhajan will begin from this and will be developed. After being competent in realizing the transcendental sweet ecstatic feelings through practice of sixth verse, your attachment for ulterior reverse desires will be removed totally. Then actually you will be entitled to get eternal realized spiritual form. When eight principal modes of transcendental ecstatic feelings will be revealed, the criterion of your attainment of safety region is achieved. Without the manifestation of these ecstatic feelings, if any aspirant poses to get that realized state, it will be cause of disaster to him due to lack of intrinsic spiritual force from within.
savdhane krama dhara yadi siddhi cao, sadhura carita dekhi suddha buddhi pao,
siddhadeha peye krame bhajana karile, ashtakala sevasukha anayase mile,
sikshashtaka cinta kara smarana kirtan, krame ashtakala-seva habe uddipana,
sakala anartha jabe pabe premadhana, caturvarge phalgupraya habe adarsana
If the aspirant wants to get realized state, he should very carefully accept the gradual procedure, strictly following the direction of pure devotee— sadhu, which is the only way of getting eternal pure devotional wisdom. After being eligible for getting eternal realized spiritual form, by sincere bhajan the aspirant can attain easily transcendental blissful service of eight periods of pastimes of Radhakrishna. Service of eight periods of pastimes of Radhakrishna will be gradually manifested by incessantly thinking, remembering and singing of the eight verses of Sikshashtaka. By this devotional practice, all ulterior desires will be removed, the highest wealth of Transcendental Divine Love will be achieved and undercurrent flow of desires for Caturvarga—the four objects of human pursuits— mundane virtue, wealth, sensuous enjoyment and desire for salvation will disappear.
1st verse of Sri Sikshashtaka

ceto-darpana-marjanam bhava-maha-davagni-nirvapanam
sreyah-kairava-candrika-vitaranam vidya-vadhu-jivanam
anandambudhi-vardhanam prati-padam purnamritasvadanam
sarvatma-snapanam param vijayate sri-krishna-sankirtanam
Chanting of the Holy Name Sri Krishna, completely, loudly in the company of devotees and without tenfold offences, which can bestow seven attainments— viz. cleansing of the mind-mirror, extinguishing of the forest fire of birth-death and threefold afflictions, bestowing eternal soothing benefit like moonlight, life of spiritual learning i.e. awakening of the real self, increasing of the ocean of bliss, bestowing at every step sweet taste of complete transcendental ambrosia, holy immersion of body-mind-real self— be supremely glorified.
Thinking of Krishnalila (pastimes of Krishna)
At the close of night absorbing meditation of the break of sleep of Radhakrishna in their secret grove (Awakening song). Provision for relishing Krishna-lila— Transcendental sweet pastimes of Radhakrishna can only be relished by Citta (mind) gradually. [Citta indicates store of thoughts. Actually, there is no synonym of 'Citta' in English.]
ratryante trastavrinderita bahu-vira-vaibodhitau kirasari
padyair-hridhyair api sukha-sayanad-utthitau tau sakhibhih
drishtau hrishtau tadatvoditarati-lalitau kakkhatigih sasankau
radha-krishnau satrishnav api nija-nija dhamnyapta talpau smarami
Govindalilamrita
Vrinda Devi apprehending day-break sends Shuk-Sarika (male and female parrots) and other birds to start chirping to awaken Radhakrishna. Here chirping indicates sweet singing of the glories of Radhakrishna. There is competition between Shuk and Sarika to sing the glories of Krishna and Radha more than each other. When Shuk sings more qualities of Krishna, devotees on behalf of Krishna are satisfied, but when female parrot Sarika sings glories of Radharani more than Krishna, the personal associates of Radharani become happy. In this way, competition of singing continues. By hearing this sweet competition of songs and also sweet songs of the gopis, Radharani is awakened and opens her eyes but Krishna is not awakened. Krishna remains with closed eyes. So long, gopis had the responsibility to awaken Radhakrishna, but when Radharani is awakened, their responsibility to awaken Krishna is over. Radharani is worried and afraid seeing the light of the Sun increasing, but she cannot push Krishna to wake-up for fear of offence. There is one female monkey of the name 'Kakkhati' to serve Radhakrishna, by her own capacity and she wants permission of the gopis to make a harsh loud sound to awake Krishna. But gopis are not giving permission considering by hearing her harsh voice, Krishna will be disturbed. But Krishna is gracious to all, He wants to give scope of service to all devotees without considering their qualities. Krishna does not open His eyes and gopis are compelled to allow female monkey to make a harsh sound. On hearing the harsh sound, Krishna opens His eyes. Krishna and Radha looking at each other with wistful eyes— both are afraid thinking it is high time to return to their respective houses. They quickly run to their respective houses and entering into their houses go to bed to sleep. By the influence of Yogamaya, Nanda Maharaja, Yashoda Devi, mother-in-law of Radharani 'Jatila' and her husband 'Ayan Ghosh' cannot detect them.


The Sun News Editorials Features Sun Blogs Classifieds Events Recipes PodCasts
Copyright 2005, 2010, HareKrsna.com. All rights reserved.