Shankha-kshetra: The Third Fold
BY: SUN STAFF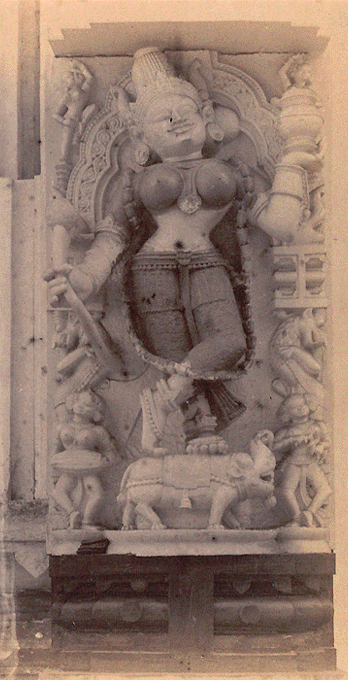 Sweta Ganga, Kurma Vedha
Oct 10, 2010 — CANADA (SUN) — Part Two
As one can easily see by the large area it covers, Jagannath Puri Dham is a very complex temple compound. In addition to the 115 temples, shrines, tanks and other holy sites, there are numerous parikramas, walkways, flights of stairs, gates, etc. to be navigated. While we have begun describing Shankha-kshetra Puri in terms of its seven concentric folds, the labyrinthine layout means that almost every holy spot can be described uniquely, based on several angles of approach.
In describing the third fold of Shankha-kshetra in yesterday's segment, we mentioned the primary entrance point to that fold – the Singhadwara, or Lion's Gate. This is one of four main gates in the temple complex, at each of the cardinal directions. Singhadwara (the Lion's Gate) is in the east, Aswadwara (the Horse Gate) is in the south, Vyaghradwara (the Tiger Gate) is in the west, and Hastidwara (the Elephant Gate) is in the north.
According to the cardinal direction they occupy, the gates are also known, respectively, as Purbadwara, Dakhinadwara, Paschimadwara and Uttardwara.
At the end of the Baisipahach -- the flight of 22 steps previously mentioned -- is the northern gate of an inner enclosure known as Kurma Vedha. There is a pair of colossal elephants, which once stood as the guardians at the main Elephant Gate. The elephants were disfigured by invading Muslims, but were later repaired and placed at the gate to Kurma Vedha.
From the Kurma Vedha gateway one ascends a flight of 13 steps, getting darshan of the Deities Laksmi-Nrsimha, Brahma, Lokanath, Uttarani, and Sitala. Also located in Kurma Vedha is the Suna-Kuan, a holy tank from which 108 pitchers of water are taken for Lord Jagannath's ceremonial bath during Snana Yatra.
On the western side of the outer enclosure, near the gate of Kurma Vedha, is a great banyan tree on a raised platform. During the Nabakalebara, the Deities of Lord Jagannath, Baladev and Subhadra are constructed here.
On the eastern side of Kurma Vedha is a covered path leading to the Bhoga-mandapa from the kitchen. The temple suaras, or kitchen servants, transport bhoga to the temple along this path. At the southeast end of the path, to the left of Kurma Vedha, is the shrine of Agniswara Mahadeva, who guards and supervises the kitchen.
Across a gangway, on the eastern and southern sides of the inner enclosure are the abodes of Satyanarayan, Batagopala, Sarbamangala, Balamukunda, Bata-bihari Jagannath, Sweta Ganga, and the great Kalpabata banyan tree.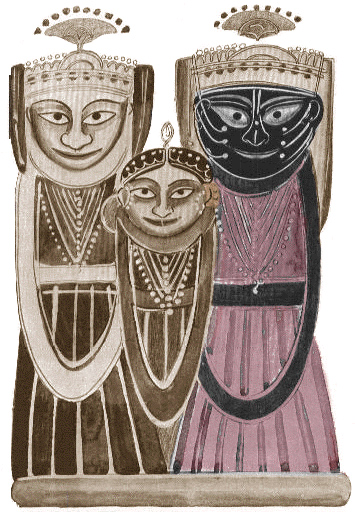 Lord Jagannath, Baldeva and Subhadra

The Sun News Editorials Features Sun Blogs Classifieds Events Recipes PodCasts
Copyright 2005, 2010, HareKrsna.com. All rights reserved.