Prasadam - Tamarind, Part Three
BY: SUN STAFF
Tamarind Flowers
Sep 24, 2016 — CANADA (SUN) — A journey through India: border to border, bhoga to prasadam.
Because its curling leaves at nighttime are associated with ghosts in the trees, and because of its high acidity, many villagers in India refuse to sleep beneath a tamarind tree. While folk legends must be taken with some skepticism, the fact is that many transcendental events are associated with trees, and the demigods have been known to embody themselves in tree forms during in certain pastimes. Whatever the basis in fact, a lot of folk legends associated with trees have resulted in their preservation, in sacred groves that are conserved and treated with great respect by local villagers.
There are many interesting rituals associated with the tamarind tree, which is worshipped on an observance day called Amli Agiaras. Mango and tamarind trees are sometimes grown side-by-side, and the two trunks tied together before their fruit is eaten. In Rajasthan, the weather is forecast based on tamarind fruits. Long pods are taken as indications of good weather and abundant rain to come, with grain and pulse crops expected to be excellent.
There are equally as many regional approaches to eating and cooking with tamarind around the world as there are other customs associated with them. In the Bahamas, the fully grown but still unripe fruits are roasted on hot coals. The sizzling pulp is then scooped out, dipped in wood ash and eaten, in preparation called swells. The hot pulp is dipped in ash to neutralize the acidity, also making it manageable to eat. The ash is also helpful in removing toxins in the body, much like charcoal.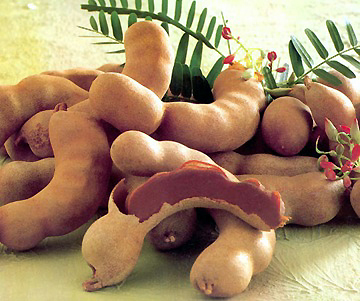 The immature green pods of tamarind can be dipped in salt and eaten as a snack, or thrown whole into sabjis and dals as a seasoning agent, much like whole chilis are used. The pulp from both immature and ripe tamarind pods can be used in beverages, mixed with jaggery or honey as a sweetener, or taken straight as a tart drink. Used in confections like candy and ice cream, the pulp is generally removed and processed without using water, so the full flavor carries through.
While we usually just remove the seeds and throw them away, tamarind seeds also have both nutritional value and practical use in cooking. Nearly half of the decorticated (shelled) seed kernels are comprised of a gel-forming substance similar to pectin. The stuff has a superior preservation quality for fruits being canned for storage, like chutney, jellies, or fruits in syrup.
Only the kernels of tamarind seeds are good for eating, as the seed shell contains bitter tannins. The nut skin, or testa, can be removed by boiling or roasting, much like chestnuts. A traditional method is to roast the seeds on hot sand, 125 to 150 degrees F, for 20 minutes, then pounding to separate the testa. The inner seed kernal came be eaten plain or combined with foods, mascerated for pectin, or dried and ground to a nice flour. During periods of food scarcity, tamarind seeds are often been harvested and consumed to supplement the diet.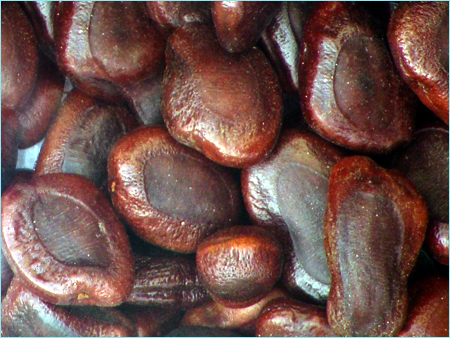 Tamarind Seeds
As we described yesterday, the tender young leaves from tamarind trees are also edible, and are cooked along with lentils, like other types of spinach. Likewise, tamarind flowers are edible, what to speak of being beautiful! The flowers and the immature pods are often pickled and offered as a chutney.
While the seeds and flowers have a surprising range of use, certainly it is the fruit pulp from the pods that is primarily used in cooking. In addition to the great sweet and sour balance of the acids and sugars, tamarind pulp is also a good source of protein, carbohydrates an minerals, making it a valuable foodstuff. When combined with other nutritious fruits and vegetables, it becomes an excellent edible.
One very healthful preparation of tamarind is combining it with spinach, as described in Govinda-lilamrta, verse 88-109, where Rohini Devi is telling Mother Yasoda about the various sabjis Radharani has prepared for Krsna:
"Just see the different kinds of saka (spinach) that Radha prepared. Here is nabita shaka, methi shaka, satpuppi shaka, mishi shaka, potola shaka, bastuka shaka, bitunna shaka and marisa shaka—their taste all defeat the pride of nectar. Ripe tamarind rasa and unripe mangoes were added to kalmi-shaka and dark nalita-shaka to make a delicious sour shaka preparation."
The last two preparations, kalmi-shaka and nalita-shaka, appear to be very richly flavored dishes. The ripe tamarind rasa, a concoction of the prepared pulp, would tend to be on the sweet side, while the unripe (raw) mangoes would add to the tamarind's natural acidity. Unless the leaves are very young, spinach has its own somewhat sharp flavor, so the combination of ingredients in these dishes would naturally have a very distinctive and commanding flavor.
Following is a traditional South Indian preparation combining spinach and tamarind, but the flavor is mellowed by eggplant and coconut.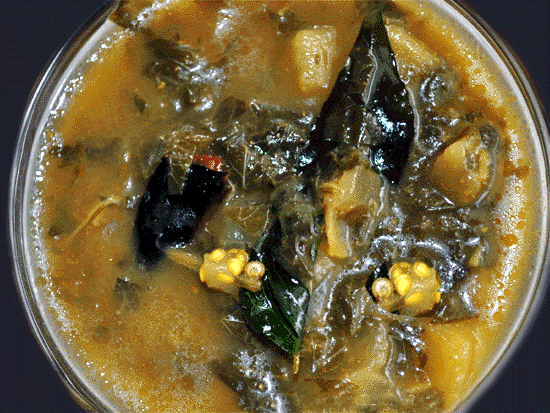 Cheera Pulincurry



Cheera Pulincurry
(Spinach in Tamarind Gravy)

Ingredients:


Spinach: 4 cups
Egg plant: 1 ½ cup
Tamarind paste: 2 Tblsp
Water: 2 cups
Salt: 1 tsp
Asofoetida: ¼ tsp
Turmeric: ¼ tsp
Sambar powder: 1 Tblsp
Ghee for frying

For tempering:
Mustard seeds: 1/2 tsp
Red chilies: 2, halved and de-seeded
Asafetodia: ¼ teaspoon
a handful fresh Curry Leaves

For garnish:
a handful of Toor dal
1/8 cup coconut flakes

Wash and chop up the spinach, then peel and cube the eggplant. In a little ghee fry the eggplant until it is cooked half-way, and just beginning to crisp on the outside. Add the spinach and cook until it wilts, then add the tamarind, blended with 2 cups of water, along with the salt, asofoetida and turmeric, and bring to a boil for about 4 minutes. Add the sambar powder and boil for a few more minutes, then remove from the heat. Fry the mustard in a little ghee until it splutters, then add the red chilis, asofoetida and curry leaves. Mix the seasonings into the gravy and stir well. In a little ghee, toast the toor dal until it darkens a few shades, add the coconut and toast it, and put on top of the curry as a garnish to offer.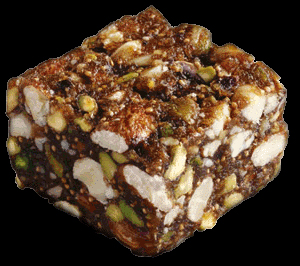 Tamarind Anjeer Barfi



Tamarind Anjeer Barfi

Ingredients:


12 Figs, dried
1/3 cup mixed Nuts, chopped
a little ghee
¼ tsp cardamom powder
½ tsp. jaggery
1 tsp tamarind paste
a few saffron strands

Use an opulent mixture of nuts, like almonds, cashews, pistachios, walnuts and hazelnuts, breaking them down into medium and small pieces. Blanch the figs in boiling water for a few minutes, then drain and puree in a blender. Transfer to a pan, and cook on low heat, stirring often, until much of the moisture is evaporation and the mixture pulls away from the sides of the pan. Then mix all the nuts and spices into the fig puree, cook for another several minutes to soften the nuts a little. Turn the mixture out onto a buttered plate, and spread the soft dough evenly on the plate. Garnish with whatever you like, cut into squares, and offer.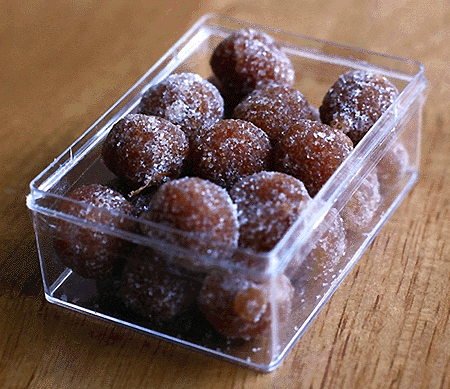 Tamarind Sweetmeats
Tamarind Sweetmeats

There are many different kinds of tamarind sweets you can make for Krsna, combining most any combination of fruits, nuts, toasted grains and aromatic spices with a little tamarind paste or juice. Adapt your favorite sweets recipes by replacing some of the liquids with a little tamarind concentrate. You'll often find that the paste concentrate works best, as it reduces water content and increases flavor. Simply balance the acidic tartness of the tamarind with sweeteners to get the desired flavor.

Tamarind Sweetmeats

Tamarind as a stand-alone sweetmeat is very nice. To make candied tamarind, choose ripe tamarinds and peel the whole pod, remove the seeds, and get a nice clean pulp. Press into the desired shapes, and lay the pieces in a basin, covering them with a sugar syrup that's prepared by mixing one part sugar to one part water, cooked down to a one-strand consistency. Let the tamarinds soak for a whole day, then drain off the syrup.

Make a fresh syrup bath, this time with two parts sugar to one part water. Soak the sweetmeats in this syrup for three days, changing the syrup a few times to increase the tamarind's sweetness. When done, arrange the sweetmeats on racks to dry, preferably in bright sun where they'll dehydrate a bit. Or, put them in the oven on the lowest temperature for several hours. When ready, wrap the sweetmeats in paper or cellophane for offering.

Tamarind Balls

Another nice confection is made by mixing a cup of tamarind pulp, deseeded, with two cups of sugar, two cups of boiled and mashed sweet potato, and 2 cups of water with an ample pinch of salt. Cook the mixture down over medium heat until it thickens (this will take some time). Let the mixture cool, shape it into balls, and roll in sugar or sweetened fine coconut. Again, wrap the sweetmeats in paper or cellophane to offer.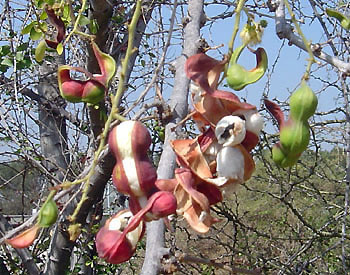 Because of its acidity, tamarind is a natural souring agent. Although it's not typically used to make paneer, it would certainly serve to curdle the milk. Tamarind is traditionally used as a souring agent to make yoghurt, and it's often paired with curd in sabjis and rice dishes for its nice sour taste. This is mentioned by Srila Prabhupada in his purport to Bhagavad-gita 3.37:
"When a living entity comes in contact with the material creation, his eternal love for Krsna is transformed into lust, in association with the mode of passion. Or, in other words, the sense of love of God becomes transformed into lust, as milk in contact with sour tamarind is transformed into yogurt."
We close with a very nice preparation of sour curd and rice. The proportion can be such that the sour curd is mixed liberally throughout the rice, or you can just sprinkle the curd overtop the rice. A more opulent method is to form the sour curd into balls and ghee fry them, then add to the rice.
Sour Curd in Rice
Ingredients:

Milk and Lemon juice for Chenna, 1-1/2 pound:
Ginger, fresh, 2 inches
Ajwain Seeds, 1-1/2 tsp
Turmeric, 3/4 tsp
Cumin, 2 tsp
Tamarind paste, 2 Tblsp
Ghee for frying
Basmati Rice, 2 cups
Black Pepper, coarse ground, 2 tsp
Saffron, a pinch
Peas, 3/4 cup
Make the desired amount of chenna in the usual way, pressing for 10 minutes at medium weight. In a little hot ghee fry the ginger and ajwain seeds, then the turmeric and cumin. Add the tamarind paste for the last two minutes. Mix the tempered spices very gently into the curd, keeping the consistency of the curd as loose and fluffy as possible.
Make the rice in the usual way, adding black pepper and saffron to the water while cooking. 10 minutes before done, add the peas. Put a liberal scoop of chenna on top of the rice, and offer.

The Sun News Editorials Features Sun Blogs Classifieds Events Recipes PodCasts
Copyright 2005, 2016, HareKrsna.com. All rights reserved.