Prasadam - Tamarind
BY: SUN STAFF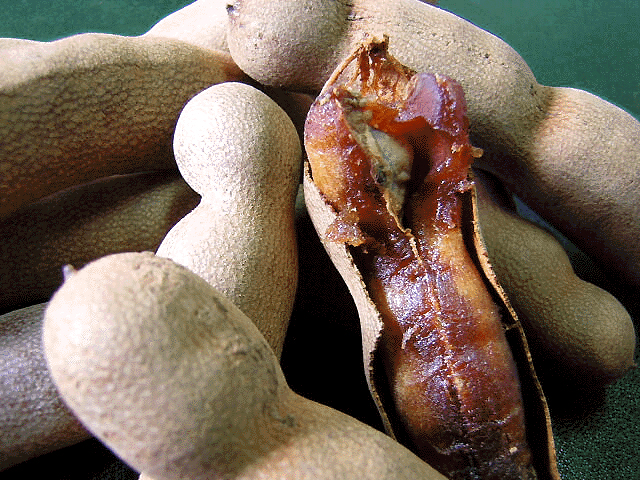 Sep 20, 2016 — CANADA (SUN) — A journey through India: border to border, bhoga to prasadam.
One of the oldest flavoring agents in the history of Indian cooking is Tamarind. Indigenous to Madagascar and India, the fruit now grows worldwide on trees producing abundant clusters of pods. The fruits contain a sweet and sour pulp used in many different preparations. Known in Sanskrit as tintiri, tintiddii, and amlika, tamarind is mentioned many places in sastra, both in reference to prasad dishes and as a notable tree under which various transcendental personalities have rested.
There is an ancient references to tamarind in trade literature entitled, The Periplus of the Erythrean Sea, written in the 1st Century by a Greek merchant:
"We have been told through Indian as well as foreign literary sources that in ancient times, commodities like sugar, palm oil, coconut oil, cotton cloth, clarified butter, cast iron, tin sheets, copper vessels, dyes and pigments like cinnabar (ochre), indigo and lac, perfumes like sandalwood oil, musk tamarind, costus, macir, camphor, and even crude glass crockery were being exported from India."
While tamarind is mentioned here as a perfume, it was also traded as a foodstuff, too. In fact, both camphor and sandalwood were traded for their fragrance, but were also used as an aromatic spice in cooking.
As with most of the bhoga ingredients we've covered in this Prasadam series, there are different names for Tamarind in many Indian dialects, and when searching for recipes, so many interesting things can be found by using the regional names. In Bengali, tamarind is called tentul, in Hindi it is imli, and in Gujarati, amli. Oriyans call it kamya, and the Marathi is chinch.
In South India, where tamarind is used extensively as an ingredient, it is known as amla or huli in Kannada, puli in Malayalam and Tamil, and chinta or chettu in Teluga. Throughout South Asia and in the Americas, it is often referred to as tamarindo.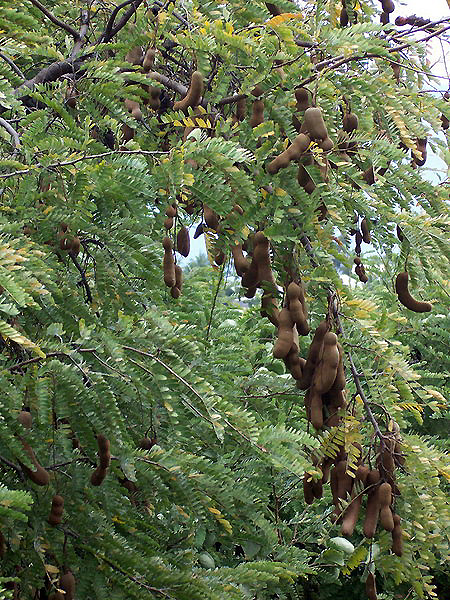 Tamarind's fame as a spice comes from its constituent properties, which provide an excellent combination of sweet and sour elements. The sweet comes from its natural sugars (50%), while the sour comes from tartaric acid (20%). Some varieties of Tamarind, known as 'sweet tamarinds', naturally decompose the tartaric acids while the fruit is ripening, and the pulp from these pods can be eaten raw as fruit.
In India, tamarind juice is used very much like lemon juice is used in the West. Outside of India its most popular use is in a condiment many don't even associate with tamarind – Worchestershire sauce. While traditional Worchestershire contains unbonafide ingredients like anchovy and garlic, it's easy to make a pure vegetarian version from scratch, by lightly caramelizing a mixture of tamarind, paprika, cloves, ginger, lemon, molasses and a soy substitute like Braggs.
The sweet flavor of tamarind makes it a very palatable ingredient combined with hot chilis, although the tamarind itself is considered spicy due to its acidity. In Nectar of Instruction 1, we read:
"Others are attracted by eating vegetables, creepers, spinach or milk products, but all for the satisfaction of the tongue's demands. Such eating for sense gratification--including the use of extra quantities of spices like chili and tamarind--is to be given up by Krsna conscious persons."
As with all things, tamarind should be taken in moderation, and used in careful balance to bring about just the right amount of flavor. In fact, Srila Prabhupada refers to this essence of tamarind, using it as a metaphor for how the nerves work with the mind, in a philosophy discussion with Syamasundara on the evolutionists:
Syamasundara: "In other words, when the nerve endings in the body react with the qualities of an object. If an object is red, my nerve ending perceives that it is red. This is the object.

Prabhupada: Just like if there is a tamarind, immediately there is saliva in my tongue."
The presence of tamarind in foods, in the right quantity, will have an immediate effect on the taste buds, waking them up to make all the ingredients that much more palatable.
Since ages past, tamarind has been a feature ingredient in South India cooking. You'll find it in many, if not most of the sambars and rasams, and often in chutneys and curries. In the dal recipes section of HareKrsna.com, you'll find ten excellent recipes for rasam, and six recipes for sambars, all featuring tamarind as a key flavoring ingredient.
The range of prasadam recipes that feature tamarind is very wide, indeed – it can be adapted into almost any type of prep, from beverages to sweets, rice, dal, sabjis, breads and savouries, or raitas and chutneys.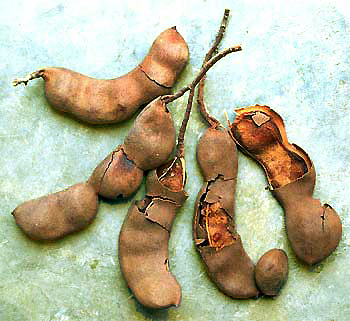 Of course, Srimati Radharani was the topmost expert in employing tamarind as an ingredient in preparations she made for Krsna. In Sri Govinda-lilamrta we find several references to tamarind. Here, mother Yasoda is calling out to the gopis, asking them to prepare various items:
Verse 58:
"Hey Indumukhi! Gather amra for chutney, mangoes, pomegranates, teti (a small round fruit), kula (berries), pilu fruits and ginger, placing them in golden bowls. You can also bring tamarind, amala, mango, kula and other types of delicious acara (pickled items) which have been preserved in sugar, salt and oil."
Tamarind is famously used in pickles and chutneys, not only because of its natural sweet and sour flavor, but also because of the rich, dark color it produces. In addition, the acidity in tamarind makes an excellent natural preservative.
Later in Govinda-lilamrta, Rohini Devi is telling Yasoda Ma about the indescribably wonderful preparations Radha has made. The first reference is again to chutney:
88-109:
"And look! Here are many varieties of shashkuli (rice cake) made from bananas, coconut and cream. You may see! Here are the tasty sweet known as piyushgranti, karpura keli and amrita keli all prepared by Radha; no one can make such sweets as these! Look! By churning moistened mung dahl and masa-dahl, four kinds of bataka (dumplings) were made; two types are salty, and two are sweet. Over here are twelve kinds of amla (chutney) made from tamarind, hog-plums, amarula and mangos. By using these four ingredients, three varieties of each were made—adding mung dahl dumplings, adding a little sugar, and adding a lot of sugar.
While it is tempting to describe here the many tasty varieties of tamarind amla, our readers will find a collection of seven nice chutney recipes here.
For today, we'll focus on two fresh summertime preps pairing tamarind with fruits and veges, followed by a collection of five tamarind pastes that can be used as a flavor base in dals, rice, sabjis, etc.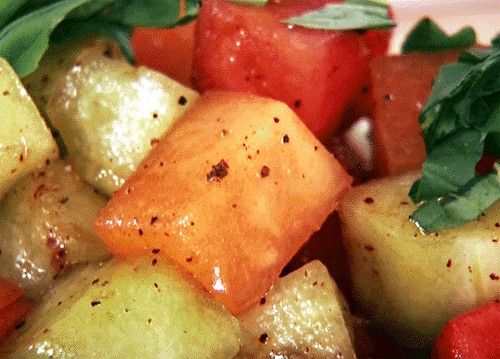 Melon Salad



Melon Salad

Ingredients:


2 cups Melon, chopped
2 Oranges, peeled and segmented
4 Tblsp roasted Peanuts
1 tsp. Tamarind juice and fine pulp
2 Tblsp fresh Ginger, minced
Salt to taste
½ tsp ground Black Pepper

Mix all ingredients together, toss and chill. Offer as a side dish with main meal.




Fruit Aviyal

Ingredients:


1 tsp Mustard seeds
a handful fresh Curry leaves
3 Tblsp Ghee
2 Green Chilis, minced
1 Tblsp minced Ginger
1-1/2 cup Yoghurt
Salt to taste
1 tsp Chili powder
½ tsp Turmeric
1 Tblsp Sugar
1 Tblsp Coriander powder
2 Tblsp Tamarind Juice
½ cup Green Papaya, peeled and cubed
1 unripe Banana, peeled and cubed
1 Potato, boiled, peeled and cubed
½ cup Pineapple cubes
½ cup Runner Beans
1 Tblsp Garam Masala
5 Tblsp grated Coconut

In a little ghee fry the mustard seeds until they splutter, add the curry leaves, fresh chilis, ginger and yoghurt, and cook for a minute. Add salt, chili powder, turmeric, sugar, coriander, tamarind juice and mix well. Add all the fruit and vegetables and cook on very low heat for about 40 minutes. Garnish with coconut and garam masala, and offer with rice and chapatti.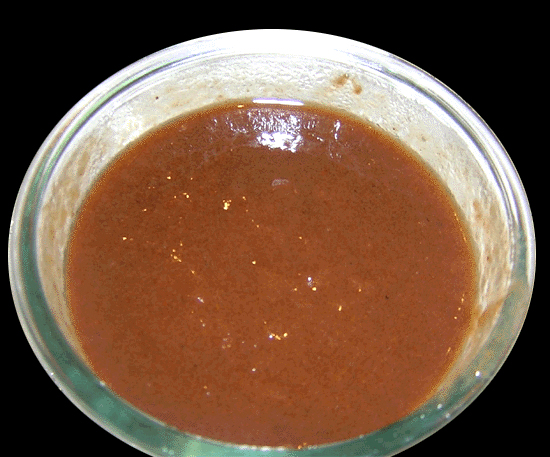 Five Tamarind Pastes


Coconut Thuvaiyal

Ingredients:


Urad Dal - 2 Tblsp
Channa Dhal - 2 Tblsp
Dry Red Chilis - 2
Asafetida - a pinch
Tamarind pulp - 1 tsp
Salt - 1/4 tsp
Grated Coconut - 1 cup
Green Chili – 1
Ghee for tempering

Fry the dals, dry chilly and asafetida in some ghee and grind it along with the tamarind and salt. Add the coconut and cut green chilly and grind further to make into a paste.




Curry Leaves Thuvaiyal

Ingredients:


Urad Dal - 2 tsp
Black Pepper - 1/4 tsp
Dry Red Chilis - 3
Salt - 1/4 tsp
Tamarind - 1 tsp
Asafetida - a pinch
Curry Leaves - 2 bunches
Ghee for tempering

Fry the dal, pepper, chilis and asafetida in some ghee and set aside. In the same pan, fry the curry leaves until crispy. Grind all the fried ingredients along with the salt and tamarind to a fine paste.




Eggplant (Brinjal) Thuvaiyal

Ingredients:


Urad Dhal - 2 Tblsp
Channa Dhal - 2 Tblsp
Eggplant (Brinjal) - 1 medium
Dry Red Chilis - 2
Tamarind - 1 tsp
Salt - 1/4 tsp
Asafetida - a pinch
Green Chili - 1
Ghee for tempering

Hold the brinjal over a low flame for about 3 - 4 minutes and then let it cool. Remove the outer skin and mash well. Fry the dals, dry chilis and asafetida in some ghee and grind along with the salt, tamarind and green chilly. Add the brinjal and make into a fine paste.




Ginger Thuvaiyal

Ingredients:


Ginger – 1 inch, minced
Urad Dal - 2 tsp
Black Pepper - 1/4 tsp
Asafetida - a pinch
Salt - 1/4 tsp
Tamarind - 1 tsp
Ghee for tempering

Fry the dal, pepper and asafetida and then the ginger and grind into a fine paste along with the salt and tamarind.




Pudhina (Mint) Thuvaiyal

Ingredients:


Urad Dal - 2 tsp
Black Pepper - 1/4 tsp
Dry Red Chilis - 3
Salt - 1/4 tsp
Tamarind - 1 tsp
Asafetida - a pinch
Mint - 2 bunches
Ghee - 1 1/2 tsp
Ghee for tempering

Clean the mint and remove the leaves alone. Fry the dhal, pepper, chilly and asafetida in some oil and keep aside. In the same pan, heat up the remaining oil and fry the mint leaves for some time. Grind all the fried ingredients and the mint along with the salt and tamarind.

The Sun News Editorials Features Sun Blogs Classifieds Events Recipes PodCasts
Copyright 2005, 2016, HareKrsna.com. All rights reserved.