Prasadam - Coconut, Part Three
BY: SUN STAFF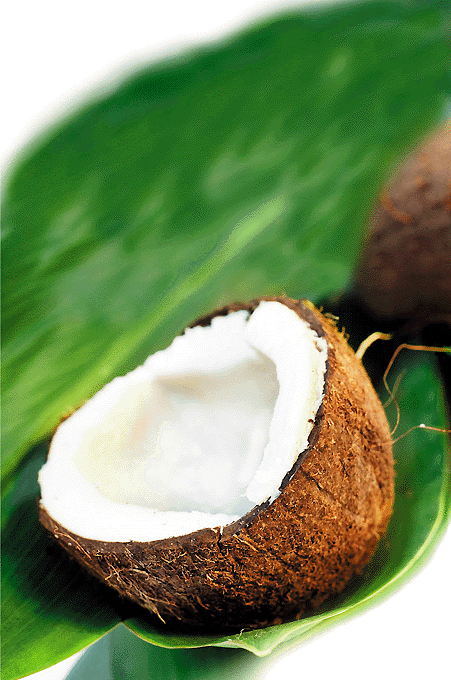 Sep 12, 2016 — CANADA (SUN) — A journey through India: border to border, bhoga to prasadam.
In India, coconuts are used for everything from feeding people to cows, as a medicinal item, and even as a building material. On the side of its healthful qualities, coconut is highly favored in Ayurvedic practice, for several uses. It's a rice source of vitamins (C, B, and E), calcium, iron and other minerals, and its oil has a high alkaline quality. Coconut is also a rich source of fat and high quality protein, and it's been used as an antifungal, antibiotic, antiviral and antibacterial remedy for thousands of years.
The water inside coconuts is considered extremely pure, as the water takes a long time to filter its way through the shell and layers of fleshy fruit to get to the cavity in the center. During World War II in the Pacific, when blood was in very short supply, the medics would commonly siphon pure water from young coconuts and use it for plasma transfusions. Being very close to human blood, it was suitable for persons with all blood types.
There is a traditional Ayurvedic preparation using coconut, called Narikela khanda, which is recommended for good sleep and strength, and to cure amla pitta, asthma, stomach pain, etc. Narikela khanda is said to work 'like fire burns dried wood'. The preparation is made by grinding coconut to a pulp and cooking it with pure sugar and coconut water, then adding various powdered herbs. This may be one of the tastiest of all medicines.
Little Nimai seems to have also known about the excellent healing qualities of coconut, as described in the pastime from Sri Caitanya-caritamrta Adi 14.45-47
"Once the child, Caitanya Mahaprabhu, chastised His mother with His soft hand, and His mother pretended to faint. Seeing this, the Lord began to cry. The neighboring ladies told Him, "Dear child, please bring a coconut from somewhere, and then Your mother will be cured." He then went outside the house and immediately brought two coconuts. All the ladies were astonished to see such wonderful activities."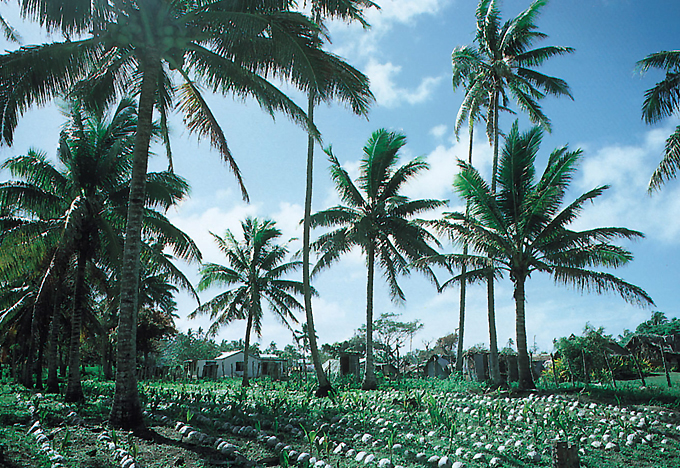 Coconut Production
Despite its great medicinal uses, coconut is best known for being a wonderful foodstuff. You can use it with great success in so many sabjis, and depending on the product used, you can infuse coconut flavor into your prep while maintaining either a wet or dry sabji base. The wet base, of course, comes from using coconut milk and/or cream in place of water, or mixed with water or vegetable stock. A dry coconut sabji base is created by using either fresh or desiccated coconut, lightly toasting it, then grinding it into a powder (podi) or a paste. You can get a nice taste variation by dark-toasting the coconut before grinding, which helps the sugars to caramelize and gives a rich, nuttier flavor.
Excellent coconut pastes can be made by pairing ground coconut with minced ginger, chilis, or tamarind, and these pastes are commonly used in Indian cooking. But there are lots of other pastes you can try, like grinding fresh fennel bulb or lemongrass with the coconut, fresh herbs, or even curd. Coconut, curd, ginger and fresh spinach ground to a paste makes a lovely base for dals, sabjis or raitas.
Coconut pastes can be used when pan frying vegetables, too. For example, potatoes, squash or pumpkin go nicely with a paste made by grinding dry coconut, toasted khus khus, peanuts and sesame seeds along with asofoetida and turmeric. Pre-cook the vegetables a bit, then toss them into a pan with this coconut paste to finish the dish, adding other spices like chili powder and coriander.
The following Konkani recipe is a traditional preparation of peppers and potatoes in a sweet and spicy coconut paste, which creates a smooth, flavorful base for the sabji.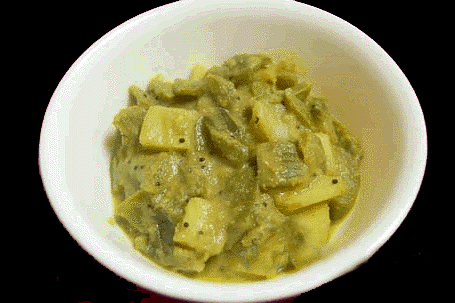 Capsicum Kairas



Capsicum Kairas




Ingredients:


1 cup Potatoes
2 cups Capsicum (green bell peppers)
1 tsp Chana Dal
2 green Chilies
1 tsp Sesame seeds
1 tsp Mustard seeds
¼ tsp Asafoetida
1/2 cup Coconut (fresh flaked or dessicated)
4-5 Curry Leaves
1/2 tsp Jaggery (optional)
1/4 tsp Tamarind paste
1/4 tsp Turmeric
Salt to taste
Ghee for tempering

Fry the mustard seeds in a little ghee until they splutter, then add the curry leaves for a minute, until crisped. Toss in the chopped capsicum, potatoes and turmeric and cook for a few minutes, until the potatoes are a little cooked. Add a little water, put the lid on, and continue cooking.

Meanwhile, in a little ghee fry the chana dal until it darkens a few shades, then add the green chilies, sesame seeds, and asofetida and cook until the chilies are crisped. Add the coconut and fry for a minute. Grind the mixture to a paste, adding scant water as needed. Add the paste to the vegetables with salt, jaggery and tamarind, and cook until done.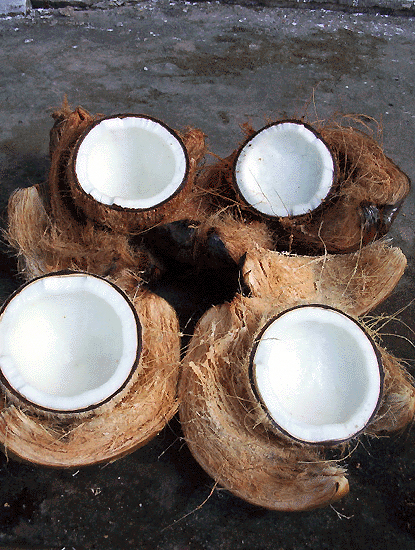 One of the most popular everyday chutneys eaten in India is Coconut Chutney. It can be quickly made, and the ingredients are always available nearby. The fresh, mild flavor goes with almost any other dish, and it's a perfect way to cool the palate when eating hot chilis and spices. The following recipe is a nice change from the common coconut-coriander-chili version found everywhere.
Coconut-Cumin Chutney
Ingredients:

2/3 cup fresh Coconut, grated
1 or 2 Green Chilis
1 inch of fresh Ginger, minced
1 tsp Tamarind paste
1 tsp Cumin seeds
1/8 tsp Asafoetida
Salt to taste

For tempering:
½ tsp Mustard seeds
½ tsp Urad dal
a few Curry Leaves
Ghee
Grate the coconut and grind along with the chilis, ginger, tamarind, cumin, asofoetida, and salt, using scant water to make a coarse paste. (Don't mash the paste too fine, but let it keep a nice texture.) Temper the mustards in a little ghee until they splutter, then add the dal and curry leaves, darkening a few shades. Mix the spices into the ground coconut mixture, and offer alongside bread, savouries, etc.
Not only does coconut lend itself to the perfect sabji base, it also serves as a tasty stand-alone curry. One you've perfected your own finely spiced version of this coconut milk gravy, you can quickly throw together a beautiful curry using whatever vegetables happen to be in the pantry or garden.
Tirunelveli Sothi (Sodhi)
Ingredients:

2 cups fresh Coconut Milk or Cream
1 ripe Tomato, thin sliced
2-3 Green Chilies, seeded and minced
1-1/2 tsp of Fenugreek
¼ tsp Asofoetida
a pinch of Saffron threads
1 Tblsp Lime/Lemon juice
a bunch of Leafy Greens (spinach, bok choy, etc.)
Salt to taste
Mix together all the ingredients except the citrus juice and let the gravy simmer over slow fire until nearly at a boil. Mix in the leafy greens and lemon or lime juice, cover and cook for another few minutes. It's ready to offer! If you want a richer flavor base, add fresh coconut water or a little vegetable stock along with the coconut milk.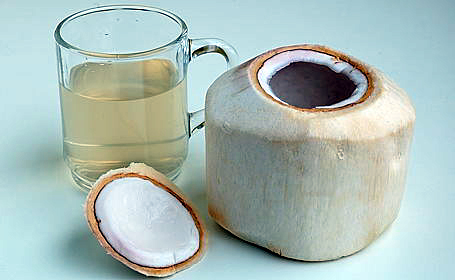 Finally, we have this opulent South Indian coconut rice with green mango, fit for Sri Krsna's feast days.
Coconut-Mango Pulihara
Ingredients:

1½ cups Rice (Basmati or Sona Masuri)
1 cup fresh Coconut pieces
1-1½ cups Green (raw) Mango, peeled and chopped
3 Green Chilies
2 tsp Mustard powder
1 tsp Turmeric powder
1 tsp Jaggery
¼ cup roasted Peanuts or Cashews
2 tsp fresh Lime/Lemon Juice
Salt to taste

For Tempering:
1 tsp Mustard Seeds
1 tbsp Urad Dal
1 tbsp Channa Dal
2 dry Red Chilies, halved
a few Curry Leaves
¼ tsp Asafoetida
Ghee for frying
Cook the rice and when done, separate the grains with a fork, and let it cool. If fresh coconut isn't on hand, you can use a packed ¾ cup of grated dry coconut. Put the coconut, mango and green chilis in a blender and pulse to a rough paste, using no water. You want to have some sizeable pieces of coconut, mango and chili in the finished rice, so don't make the paste too fine.
In a little ghee fry the spices, beginning with mustard till it splutters, then add the dals, chilis, curry leaves and asofoetida. Mix the spices into the coconut-mango paste and add the mustard, turmeric and sugar. Cook for another two or three minutes, then remove from the heat. Don't overcook, as you don't want to overpower the sour taste of the raw mango.
Add citrus juice, salt and nuts and combine this mixture with the rice, tossing well so the rice is fully mixed with the other ingredients. Let it sit, covered, for 10 or 15 minutes so the flavors blend, then offer to Krsna will love and devotion.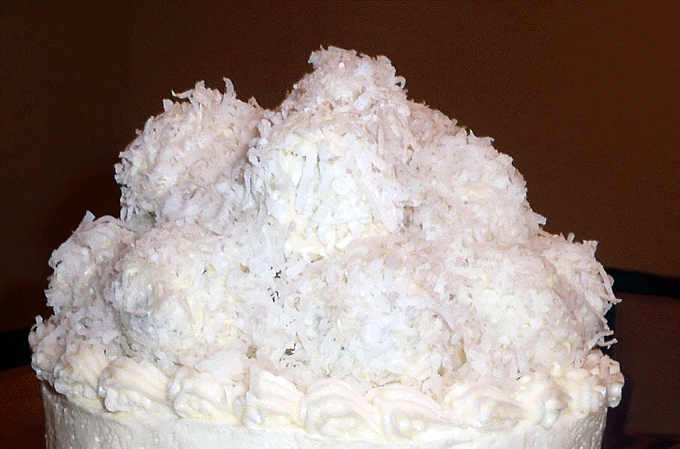 Coconut Heaven

The Sun News Editorials Features Sun Blogs Classifieds Events Recipes PodCasts
Copyright 2005, 2016, HareKrsna.com. All rights reserved.