Middle Kingdoms of India, Part 81
BY: SUN STAFF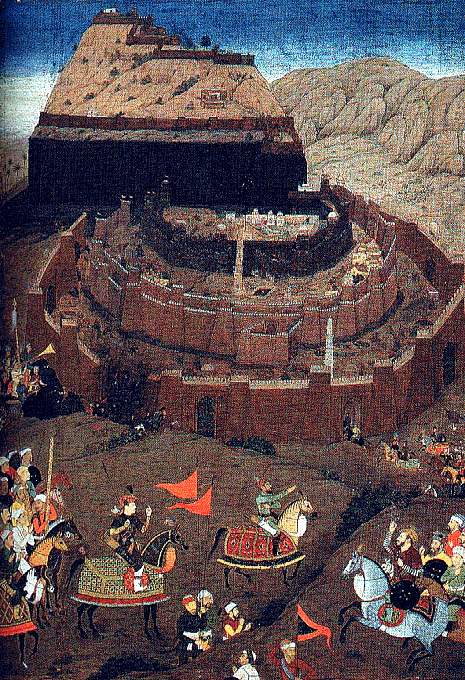 The Mughal Army Captures Devagiri
Padshahnama of Shah Jahan, c. 1636
Sep 01, 2015 — CANADA (SUN) — A serial presentation of India's great history, religious movements and temple architecture.
The Yadavas
'The Yadava dynasty, in power from 850–1334 A.D., is also known as the Seuna or Sevuna empire. At its peak, the dynasty ruled a kingdom stretching from the Tungabhadra to the Narmada rivers, including present-day Maharashtra, north Karnataka and parts of Madhya Pradesh. The capital city of this Yadava dynasty was at Devagiri, known today as Daulatabad, Maharashtra.
This Yadava dynasty of the Middle Kingdom period is to be differentiated from the earlier Yadavas of Dwaraka, Nepal and northern India, although the Seuna dynasty claimed descent from these early Yadavas. Consequently, their kings are often referred to as the "Yadavas of Devgiri". The more accurate name of the dynasty, however, is Seuna or Sevuna.
Yaduvanshi origin
The Seuna dynasty claimed descent from the Chandravanshi (Yaduvanshis) of north India, [109a-b] According to verse 21 of Vratakhand, a Sanskrit work by Hemadri, the Seunas were originally from Mathura and later moved to Dwaraka. Hemdari calls them Krishnakulotpanna, 'descendants of Krishna'. [109c] The Marathi saint Dnyaneshwar describes them as Yadukulvansh-tilak. Some Seuna inscriptions call them Dvaravatipuravaradhishvaras ('masters of Dvaravati or Dwaraka').
The remains of Khandesh, the historical stronghold of the Yaduvanshi Ahirs, are popularly believed to be of Gawli Raj, which archaeologically belongs to the Yadavas of Devgiri. For this reason, some historians believe that the Yadavas of Devagiri could have been Abhiras. [109d]
The inscriptions of this dynasty, as well as those of contemporary kingdoms, the Hoysala, Kakatiya dynasty and Western Chalukyas call them Seunas. [109e] The name is probably derived from the name of their second ruler, "Seunachandra".
The Yadavas initially ruled as feudatories of the Western Chalukyas. Around the middle of the 12th Century, they declared independence and established rule that reached its peak under King Singhana II.
The foundations of Marathi culture were laid by the Yadavas, and various peculiarities of Maharashtra's social life developed during their rule.
FOOTNOTES:
[109a] Yadavas Through the Ages, Chapter 8, J.N.S. Yadav (1992)
[109b] Tradition and Politics in South Asia, Robin James Moore. 1979, Vikas Publishing House.
[109c] Madhyayugin Bharat (Marathi translation of Medieval India) written and published by Chintaman Vinayak Vaidya, p.468.
[109d] The Tribes and Castes of Bombay, Volume 1, Reginald Edward Enthoven, page 25.
[109e] The "Sevuna" (or Seuna) name was brought back into use by John Faithfull Fleet in his book, The Dynasties of the Kanarese Districts of the Bombay Presidency from the earliest historical times to the Musalman conquest of A.D. 1318

The Sun News Editorials Features Sun Blogs Classifieds Events Recipes PodCasts
Copyright 2005, 2015, HareKrsna.com. All rights reserved.