Rishis
BY: SUN STAFF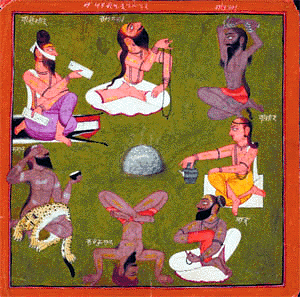 The Saptarishis: (top left and clockwise: Vishwamitra, Jamadagni, Gautama,
Vasishtha, Attri, Bharadwaj and Kashyapa
Pahari, c. 1700
Sep 16, 2014 — CANADA (SUN) — A study of the famous Rishis and Munis of Vedic literature.
Conclusion
Our brief series on the Saptarishis offers only a glimpse of the many Rishis glorified in Vedic literature, what to speak of the breadth and depth of Vedic knowledge they have imparted. The Saptarishis and other Maharishis deliver the Absolute Truth in the form of mantram, and demonstrate for humanity knowledge in all areas of life, from performing yagna to varnasrama, yoga, science, cosmology, physics, ayurveda, mathematics, astrology and palmistry, samvat, vimana and space travel, and medicine.
These divine personalities appear across the ages, in the different Manvantaras. Vedic literature mentions ancient and medieval Rishis, but also 'modern' Rishis from the ancient Vedic period. We know of no definitive count of the number of Rishis -- not even an exact count of the Saptarishis, what to speak of the inconceivable number of others. As mentioned in our segment on Kratu Rishi, his sons, the Valkhilyas, alone numbered 60,000.
In general, the Rishis are distinguished by their empowerment to hear or envision, and impart Vedic mantras. Of course, each of these mantra drashtas also have attributed to them a long list of devotional potencies, achievements and pastimes. They deliver the Absolute Truth in sound vibration, and establish that Truth as it is embodied in all forms of social activity: science, medicine, household life, agriculture, etc. As described in the Mahabharata:
yugante anterhitan vedan setihasan maharshayah
tapasya lebhire purvamanugyatah swayambhuway

"Those are the rishis who brought back the Mantras from oblivion through their penance. After the deluge and at the end of a yuga, the Vedas were lost in the oblivion. They were brought back by the Maharshis who recreated them through penance at the beginning of another."
The Rig Veda 10.71.3 states:
yagyena vachah padveeyama
ayantamnvavindannrishishu pravishtham
tamabhritya vyadadhuh purutra
tam sapta rebha abhi sam navante

'The learned or the Rishis receive the meaning of great words through their indulgence into yajna or magnanimous deeds. The words were revealed to and received by the heart of the essence-knowing Rishis. After receiving they popularised them. In this way they expressed them in the form of prayers.' ['By means of the sacrifices they (the Brahamanas) found the meaning of the speech which they found dwelling in the Rishis.']
Beginning with the original four Rishis, the four Kumaras -- Sanaka, Sanandana, Sanatana, and Sanat -- countless Rishis have manifest over the ages. There exists a particular hierarchy and what might be loosely described as a 'transcendental competition' among the Rishis. There are the Munis who aspire to be Rishis, and Rishis who aspire, through prayer and penance, to be Maharshis and Brahmarishis.
There are also the divine kings who became Rishis, known as the Rajarishis, as well as the Devarishis, who travel freely among the demigods throughout the three worlds. Among the latter group, Rishi Narada is the most famous of all. And of course, Srila Vedavyasa is the spotless Rishi and deliverer of Vedanta.
It would no doubt take many lifetimes to catalog the glorious pastimes of the Vedic Rishis, who are scattered like gems on the beach of Sri Krsna's all-pervading transcendental ocean. But one could begin right here, with a list of more than 400 of these divine personalities:
Abhitapa
Abhivarta
Aditi
Agastya
Aghamarshana
Aghashansa
Agni
Agni Chakshusha
Agni Ghishnya
Agni Pavaka
Agni Shouchika
Agni Sthore
Agni Tapas
Agni Vaishvanar
Ahomug
Aja
Ajamilah
Akrishta Masha
Aksha
Amaheeyu
Ananata
Andhugi
Ang Aurava
Anil
Apala
Apastamba
Apratiratha
Arbuda
Archan
Archanana
Aristanemi
Arun
Aruni
Asang
Ashataka
Ashtavakra
Ashtradanshtra
Ashvinni Kumars
Ashvalya
Ashvamedha
Ashva-samudri
Asita
Asvasukti
Atharva
Atharvana
Atma
Atri
Atri Sankhya
Avasyu
Avatsara
Ayasya
Ayu
Ayungkshvahi
Babhru
Badarayani
Bahubrikta
Bandhu
Baru
Basu
Basukarna
Basushruta
Bhaga
Bhagali
Bhaka
Bharadvaja
Bharata
Bharge
Bhikshu
Bhishka
Bhrigu
Bhringira
Bhutansha
Bhuvan
Bihavya
Bindu
Brahma Svayambhu
Brahmacharis
Brahmanaspati
Brahmatithi
Brihadasva
Brihadiva
Brihaduktha
Brihaspati
Brishakapi
Budha
Chakshu Manava
Chakshu Sourya
Charak
Chatana
Chyavana
Dadhici
Dakhina
Daman
Dattatreya
Deerghatamas
Deorata
Devala
Devamuni
Devapi
Devashrava
Devavat
Dhanapati
Dhanvantari
Dharma Sourya
Dharma Tapasa
Dharun
Dhaumya
Dhaymya

Dhruva
Dhyumna
Divya
Dravinoda
Druhavana
Dulahchyuta
Durmitra
Durvasa
Duvasyu
Dyumnika
Dyutana
Edhmavaha
Ekadyu
Esha
Eta
Gagi
Garga
Gathi
Gatu
Gauriviti
Gautama
Gavistir
Gaya
Ghore
Ghosha
Godha
Gopatha
Gopavan
Gosukti
Gritsamada
Gurutmana
Haimavarchi
Harimant
Haryat
Havirdhana
Hiranyagarbha
Hiranyastupa
Indra
Indra Matas
Indra Mushkavana
Indra Pramati
Indragni
Indrani
Irimbithi
Jaimi
Jamadagni
Jaratkaru
Jatikayana
Jeta
Kabandha
Kakshivana
Kali
Kanada
Kandu
Kankayana
Kanva
Kapila
Kapinjala
Kapota
Karnashruda
Kashipa
Kasyapa
Kata
Katyayana
Kaurupathi
Kaushika
Kavash
Ketu
Khara
Krisha
Kritnu
Kumar
Kurma
Kurusuti
Kushika
Kusidi
Kutsa
Latyayana
Laughakshi
Lomasha
Lopamudra
Lusha
Lushodhanaka
Madhuchchanda
Mahidasa
Maitreya
Maitreyi
Mandavya
Mandhata Yauvanas
Mandukhy
Manu
Manu Apasava
Manu Sanvarana
Manyu
Markandeya
Marudganas
Matanga
Matarishva
Matasya
Matrinama
Mauktavaha
Medhatithi
Medhva
Mrigari
Mrikandu
Mudgala
Nabha
Nabhaka

Nabhanedishtha
Nadya
Nahusha
Nar
Narada
Narayana
Nema
Nidhrubi
Nimi
Nipatithi
Nodha
Nrimedha
Ournavabha
Paila
Panini
Parasara
Parasurama
Paruchchhepa
Parvata
Patang
Patanjali
Pativedana
Paur
Pavitra
Payu
Pippalada
Prabhubasu
Pracheta
Pradurakshi
Praibhanu
Prajapati
Praskanva
Prasyavan
Pratardhana
Pratha
Pratichhatra
Pratiprabha
Pratiratha
Prayoga
Prishadhra
Prishina
Prithu
Priyamegha
Punarvatsa
Purana
Puru
Puruhanma
Purumedha
Purumilah
Purumilaha
Pushtigu
Rahugana
Rakshoha
Ramyakshi
Ratahavya
Ratri
Rebha
Ribhu
Rijishva
Rinanchaya
Rishabh
Romasha
Sadanad
Sadaprina
Sadhvansa
Sahasra
Sakyayana
Sambanana
Samiga
Samvarta
Sandhri
Sandipani
Sanjivani Vidya
Sankusuka
Sanvaran
Sapratha
Saptagu
Saptavadhri
Sapti
Sarasvati
Sasa
Satyadhriti
Satyashrava
Satyatapa
Savita
Shakaputa
Shakti
Shaktyayana
Shambhu
Shandilya
Shantati
Shanyu
Sharangagana
Sharyta
Shasavati
Shashakarna
Shatatapa
Shaunaka
Shikhandini
Shirimbitha
Shivi Aushiner
Shraddha Kamayani
Shringa
Shrushtigu
Shrutabandhu
Shrutakaksha
Shrutavita
Shuastya

Shukra
Shunahotra
Shyavasva
Shyumarashmi
Sindhudvipa
Sindhukshita
Sishu
Snusha
Sobhari
Soma
Somahuti
Somaka
Soma-shushma
Sons of Kratu
Sons of Vrishagir
Stayavrata
Subandhu
Suditi
Suhotra
Sukadeva
Sukaksha
Sukesha
Sukriti
Suniti
Sunu
Suparna
Suparna
Surya Savitri
Sushruta
Sutambhar
Suvedas
Svastya
Svaya
Svanaya
Svasa
Tanva
Tapu Mrudha
Tiraschi
Trasadasyu
Trayaruna
Trishira
Trishoka
Trita
Uchathya
Uchchhochana
Uddalaka
Ula
Unmochana
Upamanyu
Uparibhrava
Upastuta
Urdhagrava
Urdhvakrishana
Urdhvanabha
Urdhvasadama
Uru
Uruchakri
Urukshaya
Utakila
Utathaya
Vaishampayana
Valmiki
Vamadeva
Vamdeo
Vamra
Varun
Vasha
Vashishtha
Vashistha Putragan
Vasuyu
Vatapi
Vatsa
Vatsapri
Vatsyayana
Vavri
Veda Vyasa
Veetahavya
Vena
Vibhandhaka
Vidarbhi
Viprabandhu
Virupa
Vishnu Prajapatya
Vishravas
Vishvamitra
Vishvasama
Vishvavara
Vishvamitra
Visvaka
Visvamana
Vyaghrapada
Vyasva
Yagyavalkya
Yajata
Yayati Nahusha
Yevaya

The Sun News Editorials Features Sun Blogs Classifieds Events Recipes PodCasts
Copyright 2005, 2014, HareKrsna.com. All rights reserved.