Kutsa Rishi, Part Two
BY: SUN STAFF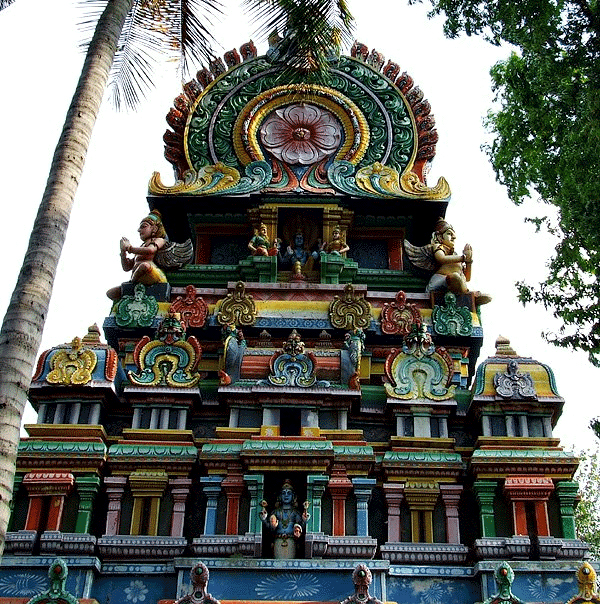 Thiru Anbil Gopuram, where Kutsa Rishi did penance
Sep 13, 2014 — CANADA (SUN) — A study of the famous Rishis and Munis of Vedic literature.
Although Kutsa Rishi is known for the quality of sweetness he embodies, his name might appear to indicate something different. The Sanskrit word 'kutsa' means 'reproachful' or 'contemptuous', and is often associated with fault-finding. But in the case of Rishi Kutsa, the name indicates that as a great sage, he was displeased by the vagaries of the material world and verbally disciplined others.
Kutsa Rishi is known for another sort of sound vibration – the Prokshana-mantram
"Om Bhoo, Om Bhuvaha, Om Suvahaâ"
This is the fourth vyahrithi, 'swvah' in the Prokshana-mantram, familiar to those who meditate on Gayatri.
Sastra states that water has the ability to purify anything it touches. This potency is transmitted to water by the power of the Prokshana-mantram. The Taittriya-samhita states that the mantra drishtas, or the personal embodiments of this mantram, are Atri, Brigu and Kutsa Maharishis.
Despite Kutsa Rishis strict observances, however, it is said that he once made a mistake in pronouncing a Veda mantram, and for this he was cursed to be a frog in a well. Once his period of atonement had passed, Veda Purusha told him that even while he was a frog, he would remember his previous birth and could be relieved of the curse if he did penance in a pushkarani (holy waters), praying to Soundararaja Perumal at Valmiki kshetram for 48 days. This the Rishi did, the curse was released, and he regained his former body.
The Valmiki kshetram referred to here is Thiru Anbil, which is situated 5 miles east of Lalgudi, in Tiruchy District of Tamil Nadu. It is the birthplace of the great sage, Valmiki, and is one of the 108 Divya Desams. The temple pushkarani (theertham) is known as Mandooka Pushkarani.
Thiru Anbil temple is believed to have been built by the Medieval Cholas of the late 8th century A.D., with later construction by the Vijayanagar kings and Madurai Nayaks. The copper plate inscriptions from Anbil indicate generous contributions by the Chola kings to the temple. A granite wall surrounds the temple, enclosing all its shrines and theertham. The rajagopuram, the temple's gateway tower, is east facing and has a 3-tier structure. The temple is located on the banks of river Kollidam. Sundararajan Perumal (Lord Visnu) is believed to have appeared to Brahma and sage Suthaba.

The Sun News Editorials Features Sun Blogs Classifieds Events Recipes PodCasts
Copyright 2005, 2014, HareKrsna.com. All rights reserved.