Servitors of Lord Jagannath
BY: SUN STAFF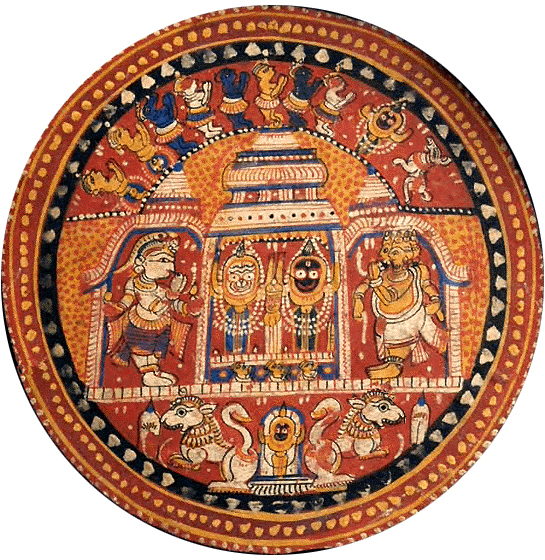 Sep 28, 2013 — CANADA (SUN) —
At the Jagannatha Temple in Puri, a tremendous number of devotees are given the opportunity to serve Their Lordships each day. Those who are entrusted in the seva-puja (daily ritual) of the Deities are known as sevayats, or sevakas. Most of these servitors hold hereditary rights to perform their particular service, which has been honed to a fine science by years of practice and excellence.
During the 13th century A.D., King Anangabhima Deva introduced the Chatisanijoga, which provided for the service of 36 nijogas who performed 36 primary types of service in the Jagannath Temple. Prior to this there were only nine Sevakas. Later historical artifacts, like the reports of the Collector of Puri, Mr. Grome, who engaged the servitors during British rule in 1805, list as many as 250 categories of temple functionaries.
Today the Gajapati (the King of Puri) holds the honour of being the first and foremost Servitor of the Temple. During the annual Ratha Yatra he can be seen sweeping, with great devotion, before the three chariots with a golden broomstick. At other times of the year he performs a number of duties on various religious occasions.
In the past, the Raj Gurus were entrusted with managing the functions of the parichha (sevayat administration). At present the Temple is being managed by a Managing Committee, and the King of Puri, Gajapati Maharaj, serves as the Committee's ex-officio Chairman. An Administrator is also appointed by the State Government of Orissa, and he oversees the day-to-day affairs of the Temple. The parichhas have a wide range of duties to perform under watch of the temple administrators.
At the present time, Patjoshi Mohapatra is the head of all Servitors. He ensures that the other sevaks perform their duties properly and that temple rituals are correctly observed. Bhitara-Chhu Mohapatra looks after the sanctity of the bhoga being offered to the Deities, and he is also responsible for the cleanliness of the temple premises. Taluchha Mohapatra is responsible for the cleanliness of the kitchens. In the King's absence, his representative Mudirath performs duties on his behalf.
Vedic mantras are chanted and japa is performed by the temple Purohit. Pujas are performed by the Pujapandas and the Puspalaks dress and ornament the Deities. Various guards, or Khuntias, protect the Deities' body while the Makaps keep watch on various paraphernalia and stored articles. The Prathiharis stand guard over various strategic points in the temple complex.
In the kitchens, the Suars take charge of cooking the Deity offerings. The Karans oversee the temple accounts, including cash expenditures and inventories. The Bhitara Gaini seva is performed by a host of Debadasis who sing songs before the deities.
The Daitas perform many hereditary duties during Snana Purnima and Ratha Yatra, and play an important role during the Nabakalebar rituals, when the wooden Bodies of the Deities are refreshed. The Daitas are decedents of the Sabara chieftain, Biswabasu, who is said to have worshipped Sri Jagannatha before the Lord came to reside in the temple.
While there are nearly 120 different categories of Sevakas, on average about 75 servitors perform services on a daily basis. These individuals do not receive a monthly salary, but they are entitled to get a portion of bhoga offered by the temple administration each day. This is known as khei. In recent days, there has been some dispute between the sevakas and temple authorities about whether or not the proper amount of bhoga is getting to the priests. Many sevakas are paid daily stipends in the form of cash, and there is a provision for special cash bonuses over and above the daily cash rewards during Ratha Yatra and special events.
The Record of Rights of Sri Jagannath Temple, which is part of the 1952 Sri Jagannath Temple Act, provides a list of 150 categories of Sevakas and the duties and privileges they enjoy, as follows:
1. Gajapati Maharaja
2. Parichha or Rajaguru - At one time managed the temple overall, but now holds the gold cane at Sakala Dhupa Patuara and other festivals.
3. Chatisa Nijoga Nayak, Patajoshi Mahapatra - He held significant power and duties in the past, but fewer at present. He is of the Puspalak class and held the key to the Bhandara till 1930. In addition to executing orders of the temple authorities, he oversees all the sevakas. He also performs Sari Bandha ceremony.
4. Bhitarachha
5. Talichha
6. Mudirasta (or Mudiratha) - He officiates for the Raja in Cherapahara and other functions when the Raja is prevented from performing them for some reason or other.
7. Deula Purohit (Karana) - Keeps accounts of the Bhandar and Changada Gharas, transfer of seva, and distributes Parvani Kheis.
8. Puja Panda - Pujakas perform puja i.e., Naivedya for the Deities.
9. Bada Panda - A puja panda appointed to oversee other puja pandas.
10. Puspalak
11. Mahajan
12. Mudra
13. Khuntias - Of various kinds, like Palia Khuntia, Behera Khuntia, Bilaijaga Khuntia, Rukuna Harana Khuntia, etc. Their main duty is to pronounce Manima Daka, etc., and watch the Deities.
14. Bhandar Mekap - In charge of Bahar Bhandar containing all the jewellery etc., required for the daily use of the Deities.
15. Palia Mekap
16. Akhand Mekap
17. Changada Mekap - In charge of Deity clothing. Others, like Palia Mekaps, have specific duties to perform. Akhanda Mekap lights Ratna Dipa of the Deities from Dwarafita to Pahuda.
18. Khata Seja Mekap
19. Pratihari - Guard the Deities, call for Bhogas, and oversee the safety of the pilgrims.
20. Daitas - Work on special occasions like Navakalebar, Ratha Yatra, Anabasar etc.
21. Pati Mahapatra
22. Patribadu - Supply Puja Upakarans throughout the day.
23. Gara badu - Serves the Gods by supplying water during Pujas and other nitis.
24. Suara badu - Suara Badus (Bhoga Saita Suara Badu, Behera Suara Badu) wash the pokharia several times, supply Khata, Chauki etc.
25. Khuri Naik
26. Mukha Pakhala
27. Ghatuari Oger - prepare and serve Anjana, Chandan and Mahadipa for daily and parbajatra nitis.
28. Gochhikars - Belong to Padhiari class who watch Jaya-Vijaya Dwara. 29. Sunagoswami
30. Muduli - Keeps charge of puja utensils and other daily puja Upakarans and supplies to Mekaps.
31. Alati Balita Sevak - Supplies Arati Balita.
32. Puran Panda
33. Dutta Mahapatra - Duttas work for Shrimukh Simhar
34. Lugadhua & Panikunda Sevak
35. Ballav Jogania - Carry articles and Ballav and supply them at required places. 36. Bimanbadu - Carry all Bije Bimans, etc.
37. Anasar Sudha Suar & Sudha Suar - Make preparations for puja (pujathan at Ballav Bhoga etc.)
38. Hadap Naik - Prepare and carry betel to the Lords.
39. Bidia Jogania - Prepare and carry betel to the Lords
40. Khatuli Sevak
41. Asan Pratihari
42. Kothabhog Jogania
43. Pradhani
44. Paika
45. Lenka
46. Suara Nijoga Naik
47. Suara Nijoga & Mahasuar
48. Jagia Mahasuar
49. Badu Suara Thala, Tuna, & Amalu Suar
50. Pantibadu
51. Amalu Tola, Pura Kharadi
52. Tolabadu
53. Rosa Paika
54. Bahara Deuli Sua
r 55. Bahara Deuli Jogania - Carries articles and Ballav and supply them at required places.
56. Rosa Dhopakhalia, Angarua,Gobar Pania & Rabadia
57. Handi Jogania Tolabadi
58. Birimunda Samartha
59. Kotha Bhoga Pania - Joganias for Kotha Bhoga, Parvajatra, Ballav and Bahar Deuli to carry articles and Ballav and supply them at required places. 60. Panikipata
61. Nikap & Gandhan Nikap
62. Biri Buha
63. Daudi Bala - Supplies rope to draw water from Shri Bimala Well.
64. Chunara
65. Sabat Nijog
66. Paniapata - Supplies water required in the temple throughout the day.
67. Mandani
68. Chakaapasar
69. Mulia Suansua - Supplies Khata Pidha, etc.
70. Binakar - Plays Bina to the Deities before They go to sleep.
71. Darpania
72. Kotha Suansua
73. Mahabhoi - Supplies curd and other milk products
74. Gitagovinda - Recites Gitagovinda before the Lord at Chandan Lagi.
75. Bhitara Gayeni - Sings songs at the time of Pahuda and other festivals.
76. Samprada Nijoga - Dancing girls who dance at the time of Patuara.
77. Dayanamali - Supply daily scented flowers.
78. Madeli - Plays Madala at the time of Patuara.
79. Prasad Badu,Badu Mahapatra
80. Tatua
81. Patar Bundha
82. Baijayanti
83. Chhatar Nijog
84. Kahalia - Blows Vije Kahalia.
85. Sankhua - Plays with Sankha, with Baijayantries.
86. Parbyatra Jogania
87. Chitrakar
88. Rupakar
89. Bania
90. Damara Bisoi
91. Karatia - Karatias or sawers work on car Construction
92. Bentabindha Paika
93. Patara Bisoi
94. Kala Bethias - Drag the cars.
95. Daraji Seva
96. Kumbhar Bisoi - Supplies Handi and Kudua and other pottery required daily.
97. Rath Bhoi - Work and supply labourers for construction of cars.
98. Mala Chula - Supplies Chula, etc., for some festivals.
99. Banua
100. Chakra dihudi - Carry masals at festivals, etc.
101. Ojha Maharana
102. Ghanta Seva - Work with Bells daily and on festivals.
103. Ghantua - Work with Bells daily and on festivals.
104. Rath Dahuka
105. Badhei
106. Baidya
107. Amunia Chhatar
108. Chhamu dihudi - Carry masals at festivals, etc.
109. Chapa dehera - work to prepare Chapas.
110. Chapa Dalei
111. Mapasaita Karan
112. Chadhhau Karan
113. Deula Karan
114. Baitha Karan
115. Kotha Karan
116. Churcha Karan
117. Dayanapatra
118. Chaula Bachha Karan
119. Matha & Byaktigata Seva
120. Tadau Karana - Keeps accounts of the Bhandar, puts seals in functions when required and puts dates about all Niti.
121. Charchiat - Sees that the nitis are performed regularly.
122. Brahmins or Purohits (including Deul purohits) - Make Ratha Anukula, Abhisek, etc. Sri Bimala Pujak performs puja in Shola-puja and Shrotriya. Brahmins are deputed for Navakalebar to perform as Acharyas and various other ceremonies.
123. Patis - work with Daitas or have special functions such as Brahmin Sevakas.
124. Simharis or pasupalakas - Dress the Lords in clothing and adorn them with flowers at all times and perform their Avakasha Puja.
125. Tulasia - Supplies Tulasi leaves daily.
126. Tamra Bishoi - Works as coppersmith for Ratha Yatra.

The Sun News Editorials Features Sun Blogs Classifieds Events Recipes PodCasts
Copyright 2005, 2013, HareKrsna.com. All rights reserved.