Srila Prabhupada in Tompkins Square Park
BY: SUN STAFF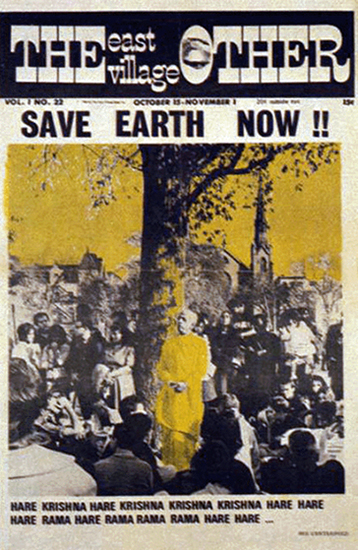 Sep 11, 2013 — CANADA (SUN) — Following our last two Feature segments on Srila Prabhupada's 1969 Address at The Family Dog auditorium, we would like to bring another piece of early ISKCON history up-to-date: Prabhupada's appearance in Tompkins Square Park. This momentous event has been written about by many devotees, and several articles on the now famous 'Hare Krishna Tree' have appeared in the Sun and HareKrsna.com.
The classic picture of Srila Prabhupada in Tompkins Square Park that appeared on the cover of the East Village Other (Vol. 1, No. 22, Oct 15-Nov 1, 1966) is now famous throughout the movement, and is often mentioned in Counterculture genre literature. In Part 3 of our series on "Krsna Culture in Music", we talked about this and other village magazines like EVO that covered events attended by Srila Prabhupada and the devotees.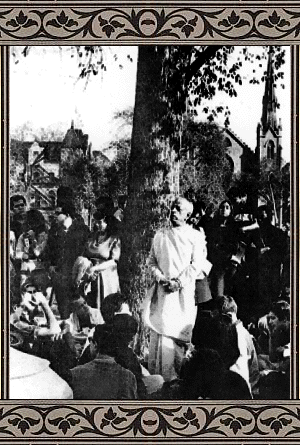 Srila Prabhupada under 'the Hare Krishna Tree'

Bhaktivedanta Book Trust
The story of Srila Prabhupada's appearance on the cover of the East Village Other came more current in March 2012, when the Arthur L. Carter Journalism Institute organized a special event called "Blowing Minds: The East Village Other, the Rise of Underground Comix and the Alternative Press, 1965-72". Along with a web exhibition and various audio interviews with EVO alumni, there was a panel discussion with editor Peter Leggieri.
In a story about the 'Blowing Minds' project, titled "Peter Leggieri's East Village Other" published in the Local East Village/New York Times in March 2012, we learn that Leggieri had only begun working with EVO in the Spring of 1966, just months before the edition featuring His Divine Grace was released.
Leggieri remembered the early EVO days:
"From the first day that I began working at The East Village Other, I was overcome by the sense that it was not only a newspaper but a strange and magical ship on a voyage with destiny. It seemed as though each issue printed was a new port of call, and the trip from one issue to the next, a new adventure."
Given that Srila Prabhupada had just arrived on America's shores from his transcendental journey aboard the Jaladuta, Leggieri's remarks are more than fitting. Certainly in the case of his publishing Srila Prabhupada's picture in Tompkins Square Park, he and EVO did indeed play a role in the unfolding of a great destiny -- the fulfillment of Lord Caitanya's prediction.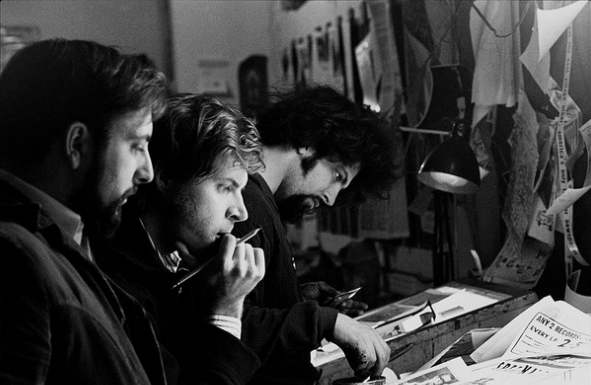 (L to R) EVO Staff: Peter Leggieri, Peter Mikalajunas and Spain Rodriguez
[ Photo (c) Gil Weingourt
Following is Peter Leggieri's narration of the famed EVO story on Srila Prabhupada in Tompkins Square Park. The New York Times article included a link to a 'Hare Krishna Tree' article from HareKrsna.com:
The Swami

EVO seemed to turn everyone who worked there into a writer or an artist or both. I was no exception and was soon pressed into service creating visuals and writing stories (always using the in-house nom de plume, Irving Shushnick, invented by Allen Katzman). One day, Bowart took an acid trip and strolled into Tompkins Square Park where he saw a new East Villager, the Hare Krishna leader Bhaktivedanta Swami Prabhupada, dressed in golden robes and sitting in a lotus position under the giant tree that now bears his name. Bowart hurried back to the office in a "STOP THE PRESSES" fit, and began insisting that we immediately do a story about the "holy man" he had seen.

When Katzman pointed out that everyone was already working on an assignment, John Wilcock interjected, "Peter, you're the only one with any theology. You do it." I refused by pointing out that I was extremely busy and knew nothing about swamis. The three of them ganged up on me and, very reluctantly, I went off to meet the holy man. I did not like what I wrote and pleaded for time to do a rewrite. The three editors turned me down and the story went to press.

It wasn't until some 35 years later that I learned the article is magnificently reproduced in the Hare Krishna's main temple in India. The cover story was transformed into a life-size diorama that includes Walter Bredel's photos. Apparently, Bhaktivedanta Swami Prabhupada always credited EVO for the great success of his ministry in this world. To the best of my knowledge, The East Village Other is the only newspaper in the history of newspapers to be enshrined in a religious temple.

("Peter Leggieri's East Village Other" - Local East Village/ New York Times)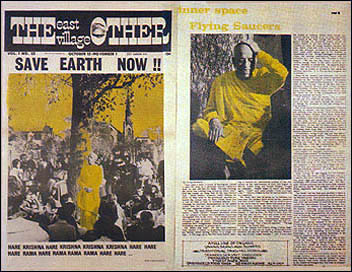 The Sun News Editorials Features Sun Blogs Classifieds Events Recipes PodCasts
Copyright 2005, 2013, HareKrsna.com. All rights reserved.