Phad Gita Govinda, Part 5
BY: SUN STAFF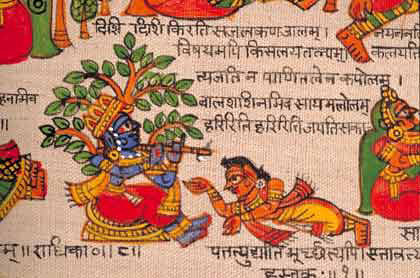 Jayadev Offering Obeisances to Krsna
Sep 30, 2011 — CANADA (SUN) — Reprise of a 2005 month-long series on Gita-Govinda.
Throughout the Gita-Govinda, Jayadev repeatedly glorifies Lord Krsna's transcendental pastimes. He shows Radha meditating upon Krsna's activities and telling her sakhis about them, in anticipation of seeing him again.
Many of Krsna's most famous Vrindavan lila exploits are mentioned in Gita-Govinda, along with pastimes of Visnu and Lord Shiva.
Below, we see a collection of these images from the Mukherjee Phad scroll.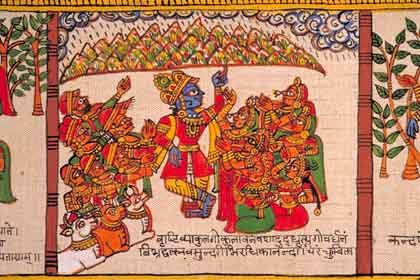 Krishna holding up Govardhana Hill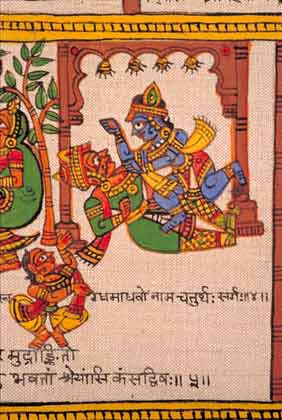 Krishna overpowering Kansa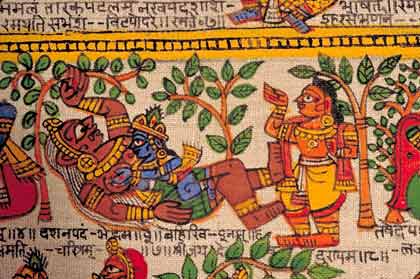 Krishna sucking the breast of Putana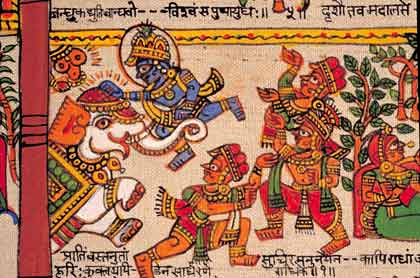 Krishna fighting with the elephant of Kansa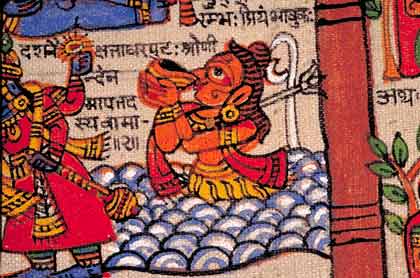 Mahesha drinking poison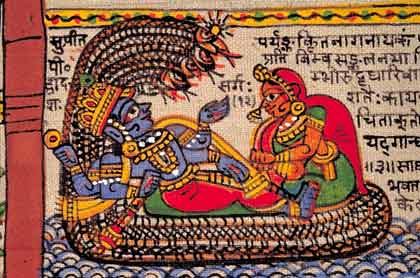 Hari lies on the coils of the hundred headed serpent and Laxmi holds His feet.

The Sun News Editorials Features Sun Blogs Classifieds Events Recipes PodCasts
Copyright 2005, 2011, HareKrsna.com. All rights reserved.