Phad Gita Govinda
BY: SUN STAFF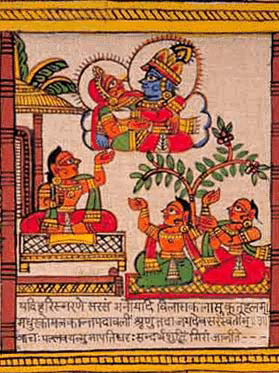 Poet Jayadev Offering his Obeisances to Sri Sri Radha-Krsna
Sep 26, 2011 — CANADA (SUN) — Reprise of a 2005 month-long series on Gita-Govinda.
For the remainder of our Gita-Govinda series, we will explore a fascinating rendition of the famous manuscript done by Sh. Pradeep Mukherjee. Mukherjee has painted the entire 292 slokas of Gita-Govinda on a single cloth, in the Phad style of Rajasthan.
Phad is an ancient tradition of scroll painting that originated in Rajasthan, and was particularly well known in the Bhilwara district. A typical Phad is a long rectangular piece of cloth with paintings that illustrate the life and heroic exploits of divine or famous personalities. The outlines of the paintings are first drawn in block and later filled with colours, both bright and subtle.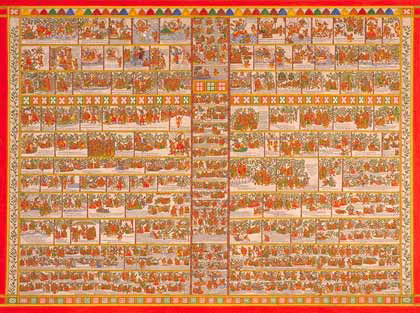 The 292 slokas of Gita-Govinda are set in twelve chapters, which are further divided into twenty-four prabandhas. Each prabandhas contains two further divisions, comprised mostly of eight couplets. Hence, it called ashtapadi. These ashtapadis are preceded and followed by verses in various meters, which number approximately thirteen.
As we see in the image above, the entire Phad scroll contains a tremendously dense kaleidoscope of text and images. Spatially, the scenes become closer and closer together as the scroll moves from top to bottom. At the top, the illustrations of Jayadeva offering his obeisances and the Dasavatara are spread out expansively. Then, as the dramatic story of Radha and Krsna's pastimes begins to unfold, an increasingly energetic tempo is set as the scroll unwinds its images. By the time we reach the bottom, the narrative images are tightly packed, creating an overall effect of the story's crescendo.
Down the center of the scroll we have a broad central panel that undoubtedly highlights important aspects of the poem. The whole is divided and enclosed in various ornamental patterns reminiscent of the trees, greenery, earth and water so prominent in Gita-Govinda.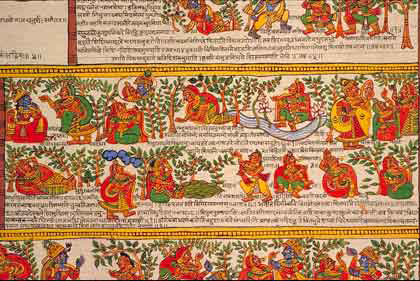 Above, in a view of Sarga VI, we can see Mukherjee's style of interspersing text with images, achieving a balanced overall composition. The text here not only tells the story of Gita-Govinda, it also serves as a frame for individual images and as a sectional border throughout the work.
Our Gita-Govinda scroll begins with a series of images of the poet Jayadev offering his obeisances to Sri Krsna and his consort, Radharani, and to various divine personalities, as seen below. These opening pranams are followed by the typical images of the Dasavatara and a number of images of Lord Visnu and Lord Krsna. Finally, the story of Radha and Krsna's loving pastimes begin.
In the days ahead, we will look at related groups of images that appear throughout the Phad scroll. For example, small collections of images describing Lord Krsna's transcendental emotions will be viewed as a comparative group, as will images of Radha's numerous interactions with the gopis.
Poet Jayadev Offering His Obeisances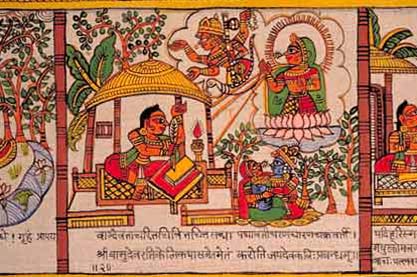 Offering obeisances to Goddess Sarswati and Sri Sri Radha Krishna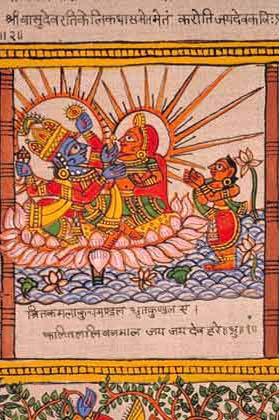 Obeisances to Kalama-Hari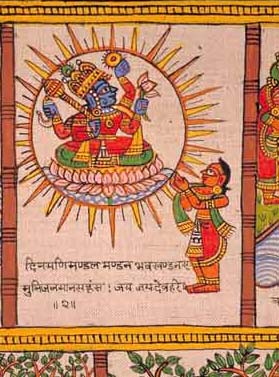 Obeisances to Lord Narayana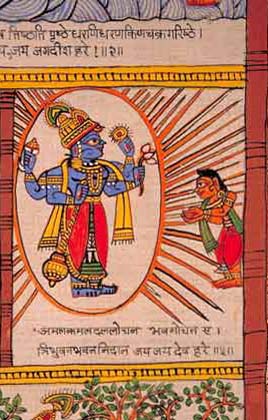 Obeisances to Hari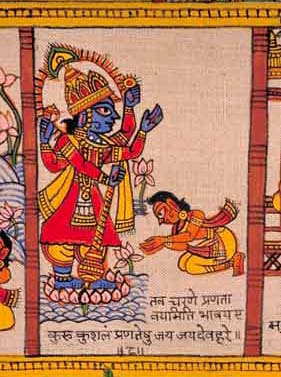 Obeisances to Lord Vishnu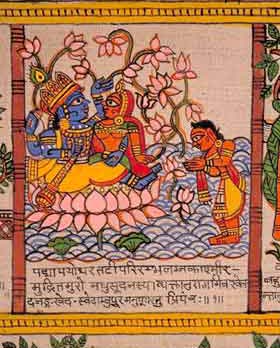 Obeisances to Lord Vishnu and Laxmi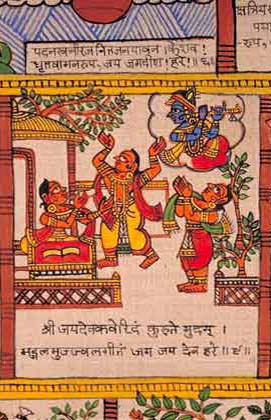 Jayadeva Singing Gita-Govinda

The Sun News Editorials Features Sun Blogs Classifieds Events Recipes PodCasts
Copyright 2005, 2011, HareKrsna.com. All rights reserved.